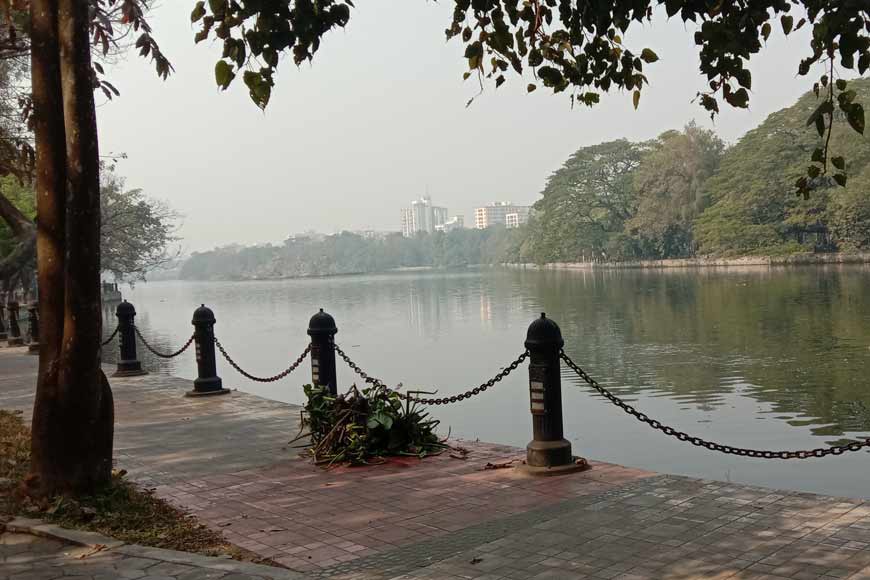 Rabindra Sarovar or Dhakuria Lake is undoubtedly the lungs of south Kolkata. But more than just a haven for morning walkers, the Lake is a rich treasure trove of rare trees that have braved several cyclones over the years and yet stood tall. A Tree Walk down Dhakuria Lake opens up a plethora of rare trees particularly in the north-east zone where birds and small mammals are found in abundance. The Lake's north-east zone starts from the Dhakuria gate and continues till where the main road takes an almost 90 degree left turn at the end of the lotus pond. This is also the area where one comes across a vibrant aquatic ecosystem with two smaller lakes, Anderson club tank and Padma pukur or Lotus pond on the fringes of the main lake. But for Tree Lovers this is an area that boasts of trees which are hardly found in the middle of a city these days.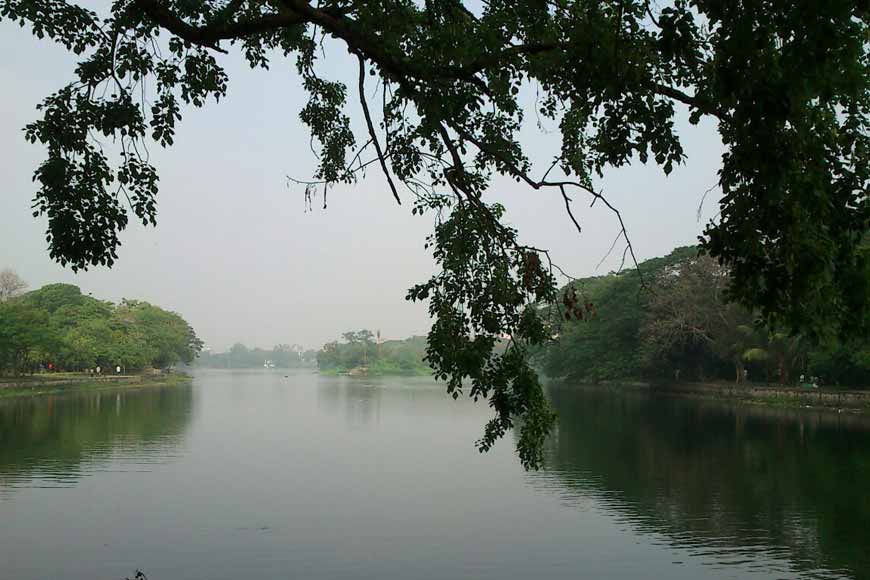 Starting off with a Tumri tree, popularly known as Pitali in Bengali is a False White Teak tree. Right after entering through Dhakuria gate side, you will find a small slanting tree with elongated heart shaped leaves almost overhanging the gate from left. It looks like it stands there to welcome the walkers, ready to shake hands with a bamboo bush nearby. This tree looks like Gamhar or White Teak that are very expensive for their wood. But this tree is False Teak, though it looks like Teak, it is not teak. Interestingly, False White Teak tree has distinct sex ---- it is either male or female. There is another tumri/pitali tree growing diagonally opposite to this one . This one is a female tree. There are other, much larger tumri trees in the lake area and locals believe they came up on their own decades ago.

For those who love fragrance, the huge Kanak Champa Tree on the cemented 3-way fork path farthest from the water, is first love. The large leaves are Palmately lobed (lobes are deeper in young branches) and underside is very whitish. Deliciously fragrant white flowers bloom in March splitting the golden flower buds into five slender segments. Kanak means gold, probably originating from the color of these flower buds. On an idle afternoon, lovers are seen savoring the fragrance of these flowers with many birds and insects attracted by the sweet smell.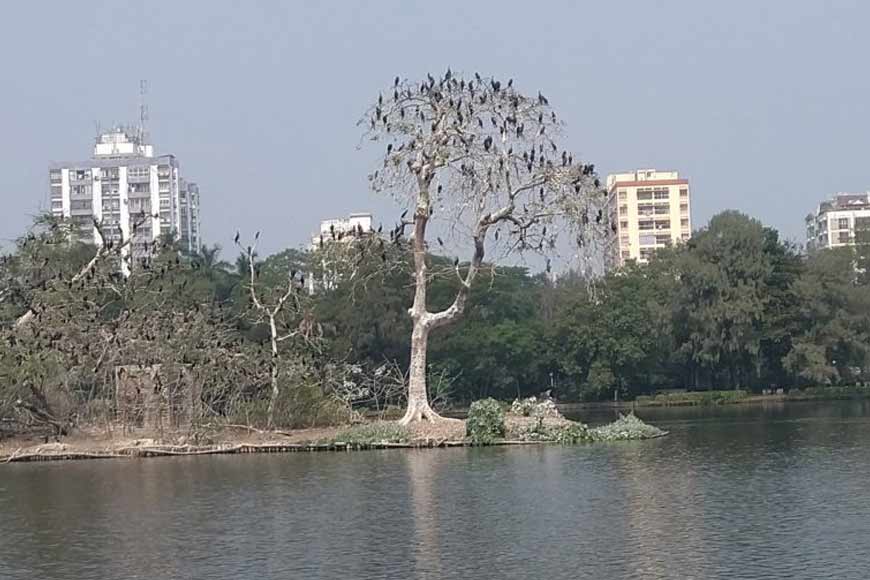 Around 40-50 steps from the Kanak Champa tree stands a Wild Almond Tree with tall branch-less trunk up to quite some height. Leaves are semal-like (Digitately compound) the common leaf stalk is conspicuously long. This tree flowers in February and it is a sight to behold. The flowers are small, red and yellow and grow in clusters. Fruits are boat shaped that turn red and finally dark brown from initial green. The tree is native of western India and probably not naturally occurring in Kolkata. Hence this Almond Tree is quite rare and has a family of similar trees across various parts of Dhakuria Lake. It is believed the small mammals in the area have helped in its pollination and spreading the fruits around giving rise to new cluster of such trees.
If Santiniketan's Sonajhuri Forest have been a tourist's heaven, Dhakuria Lake can also boast of its own Earpod Wattle or Sonajhuri Trees with leathery, sickle shaped bamboo-like leaves and dark, heavily fissured bark. Native to Northern Australia and New Guinea, this tree was introduced in India not long back. Yellow flowers grow in 3-4'' spikes mostly in September-October. Pods are twisted, initially green, ripens in February-March. These trees reach to huge size. Another exotic tree in the area is the Black Bean Tree, also known as Moreton Bay Chestnut Tree.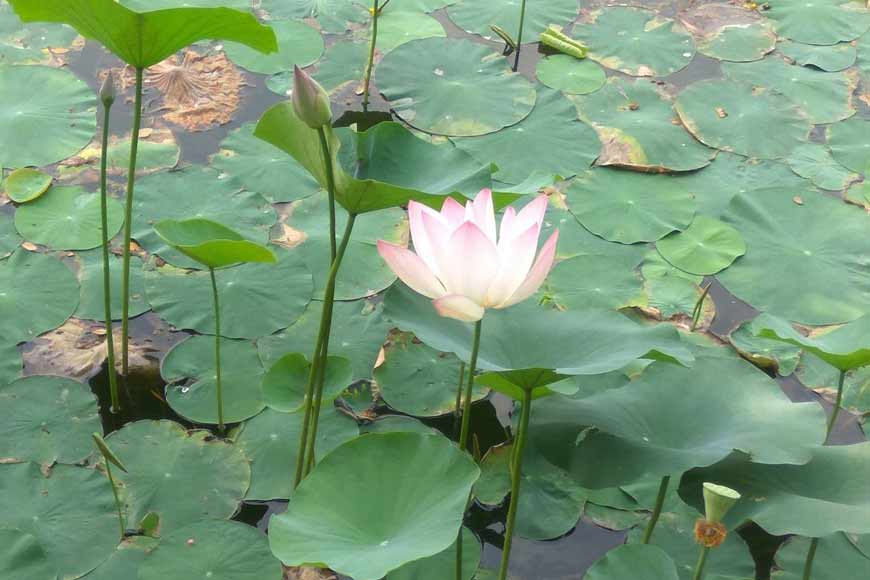 This is a tall and slender Tree with dark green glossy leathery leaves. The bark is smooth grey with some black patches. This tree is also native of Australian shores and known as Moreton Bay Chestnut Tree. The orangish pea-like flowers are beautiful but not very conspicuous, often hidden by the foliage. Such trees of the Australian shores are very rare in Kolkata.
Another tree in the Lake Area brought from a different continent is the Cannon Ball Tree, locally known as Naglingam for the shape of its flowers. Around 30 steps from the Black Bean tree on your right you will find a tree of substantial girth with cannon ball like fruits and flowers dangling from its trunk. This is an exotic species from tropical South America, called cannonball tree. It flowers multiple times in a year and even new leaves grow more than once a year after all the existing leaves are shed.
(To be continued)