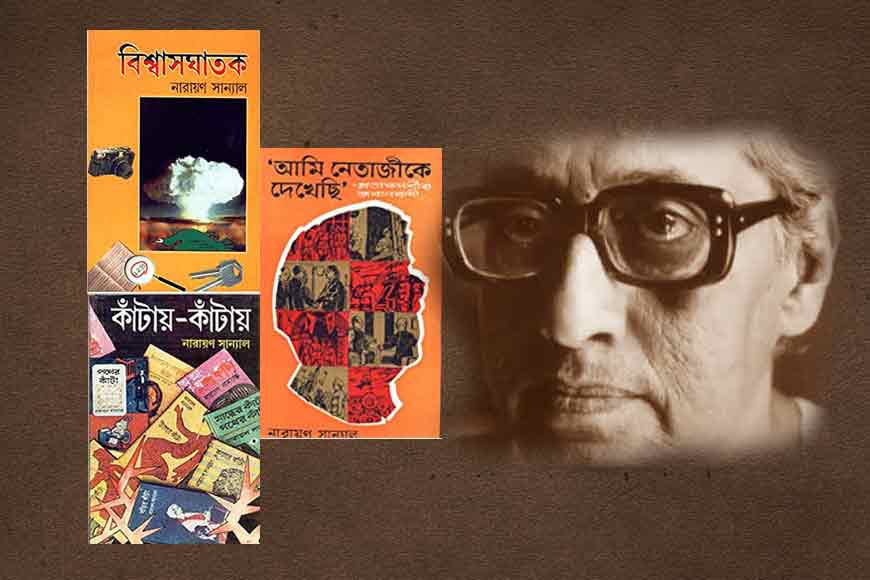 He was a civil engineer and a bright student of science. Yet Narayan Sanyal was also one of the finest authors of Bengal who did not fit into the archetype of the contemporary authors of his times. His writings were not conventional and did not confine to sentimental and emotional intricacies. Rather he flipped from one genre to the next and created a world of versatile books that explored varied subjects from art, science, history, travel, biography, psychiatry, architecture, refugee problems and much more.
Born in Krishnanagar on 26 April 1924, Sanyal graduated in science from Calcutta University and passed Bachelor of Engineering from Bengal Engineering college a year after India's independence. A time when Satyajit Ray was creating our favourite Feluda, Narayan Sanyal introduced lawyer detective, PK Basu. In 1968, 'Nagchampa,'his first detective novel of the PK Basu series was published. He penned down a series of such tales, such as Kanta series which had a framework inspired by Erle Stanley Gardner's Perry Mason. His detective fiction was adapted into a film called 'Jodi Jantem,' with Uttam Kumar playing the protagonist PK Basu. But one of his most memorable novel was Satyakam, that was brilliantly adapted in Bollywood by Hrishikesh Mukherjee and went on to become a super hit.
Narayan Sanyal loved writing on deep shadows of world-famous literary works. Ristedar-er Kanta was inspired by 'The Case of the Beautiful Beggar. Many of his stories were inspired by Agatha Christie's creations. Sanyal's 'Dress Rehearsal-er Kanta' was inspired byThree Act Tragedy. His popular science fictions Nakshatra loker Debatatma talks about the journey of human race from primitive ages to highly intelligent species who have a command over the world. It also highlights the exploration of Jupiter and HAL- the super intelligent computer. These fictions were a direct adaptation of Arthur C. Clarke's 2001: A Space Odyssey.
Critics have often raised a brow at Sanyal's style of adaptation and accused him of lack of individuality. But Sanyal chose the central theme and adopted it in a Bengali atmosphere so that it appealedto Bengali readers. He made some necessary changes in the plot and anachronisms in his writings which created interest. His most popular work was Biswasghatak which talks about the Manhattan Project,responsible for developing the first atom bomb by USA. This book is also an adaptation of Austrian Robert Jungk's Brighter than a Thousand Suns: A Personal History of the Atomic Scientists (1970). Sanyal went all the way to Japan to do a research on Netaji Subhash Chandra Bose and penned down a significant book 'Ami Netaji Ke Dekhechi'. Interestingly, Sanyal also wrote Bishupal Bodh: Uposonghar which was an attempt to complete Saradindu Bandopadhya's unfinished Byomkesh story. In his book, Monami, Sanyal writes: "You will often find characters of books speaking in the same language or tone which is far away from reality. People grow up in different environments and speak in various ways. I wanted to incorporate this in my novel."