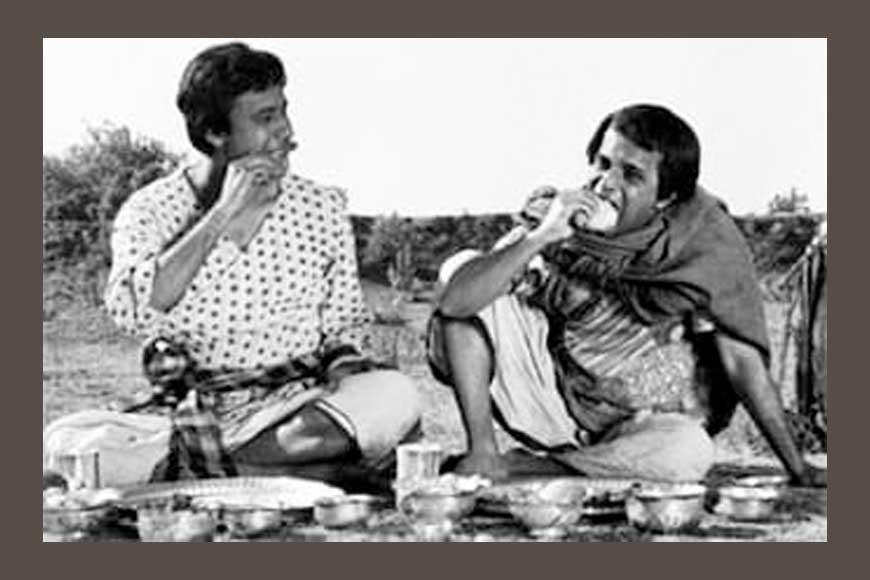 Remember Satyajit Ray's cult film, Gupi Gayen Bagha Bayen, where the two protagonists are blessed with three boons—unlimited food, the ability to travel wherever, and musical prowess by the King of Ghosts? The day after they receive the King's blessings, they feel famished while roaming aimlessly in the alien forest. In a desperate bid to satiate their hunger, they clap each other's hands to see if the King of Ghosts gift actually translates into action. They seek food and lo presto! Two silver platefuls of rich, aromatic pulao lavishly spread with cashews and raisins descend from the sky and land before them. A pinch of salt and a sliver of lemon are neatly placed near the edge of the plate. This is followed by two sets of five silver bowls landing next to the plate with cauliflower kaliya, mutton kosha, fish, chutney and to wrap up the meal, oversized 'Raaj-bhog' as dessert. The duo is bamboozled and their eyes pop out in wonder and disbelief. Bagha takes the lead and orders Gupi "Aayre tobay khaowa jak/ Monda mithai chaowa jaak/ Korma kaliya polao/ Joldi laao joldi laao." These delicacies evoke a wish to gorge on them. It also naturally makes one wonder, was Ray himself a foodie who depicted the elaborate spread with so much detailing like a pinch of salt and a sliver of lemon on the plate?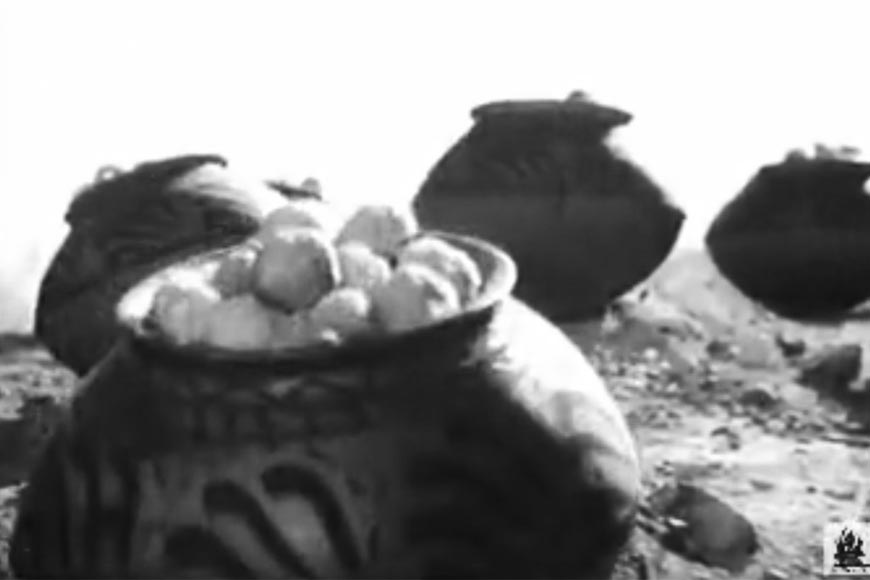 Food was an important aspect of Satyajit Ray's films and had a very distinct presence in his works. He expressed his views of the world through food and food for him was a reflection of the rich heritage of Bengali culture. Other than Gupi Gayen Bagha Bayen, there are several films where food is used to express the socio-cultural milieu he tried to convey through his films.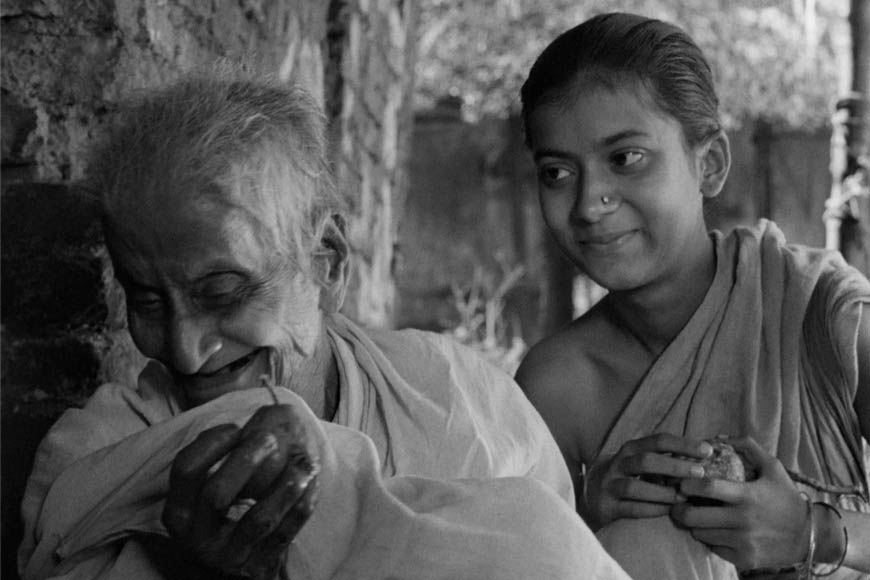 Beginning with Pather Panchali (The Song of the Road), Ray depicts how hunger alters the lives and relationships in an impoverished family in 1950s rural Bengal. The film begins with little Durga stealing guava from a wealthy neighbour's orchard. When her mother Sarbajaya discovers it, she blames her old sister-in-law Indir Thakrun and fears Indir's habits are rubbing off on her little daughter. But that's just the tip of the iceberg. Her ire stems from her struggle to feed an extra mouth with the meagre means available to her.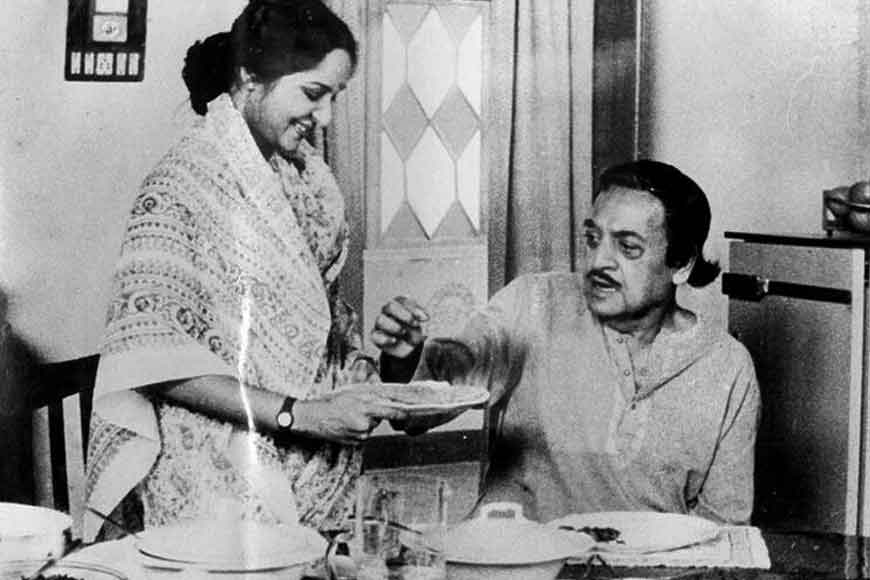 Ray directed Shakha Proshakha (Branches of the Tree) in 1990. The film traces the story of an emancipated, upper-middle-class family that has reunited after years. In the film, there is a long scene showing the characters eating a full-course meal and generally catching up on family matters. As the conversation flows freely during the meal, gradually tension builds up in the film that smoothens the transition to the next phase of the film.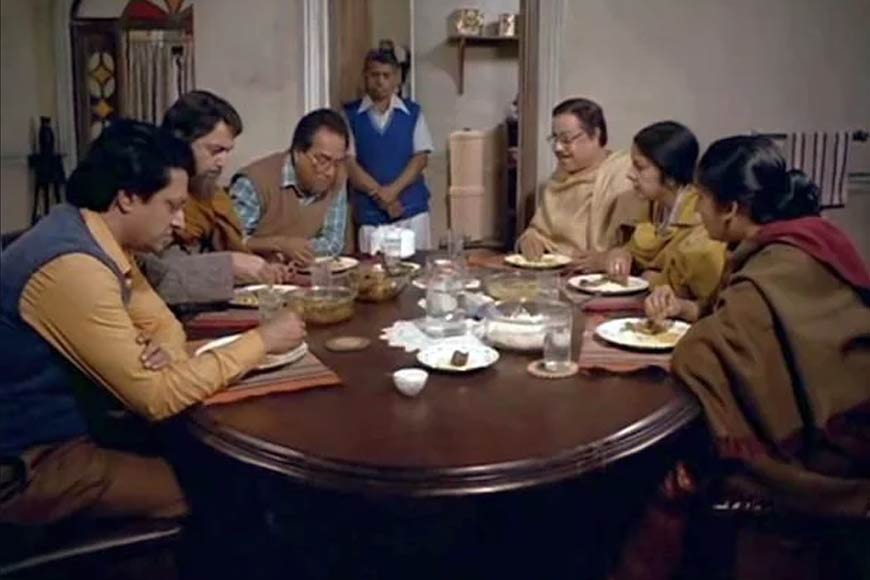 In Agantuk (The Stranger), Ray's last directorial venture, references to food pop up frequently. He depicts a typical Bengali sit-down meal. Manmohan Mitra, the protagonist of the film is a globetrotter who left home 35 years ago and then one day, out of the blue he appears knocking at his niece Anila's door. Anila never met her uncle and his sudden visit sparks a controversy about his identity. She is in a dilemma but nonetheless, welcomes him with a sumptuous spread.
It is a traditional Bengali menu. Palong shaak-er ghonto (a mishmash cooked with spinach), daal and bhaaja (lentil soup with fritters), maach-er jhol (fish curry) followed by maangsho (mutton curry). There's also goyna bori, the artistic dried lentil crisps from Midnapore. "First daal and then fish," says Manmohan, reassuring her that he has not forgotten the Bengali way of eating course-wise. Eventually, he goes for the meat instead of fish, saying: "We cannot talk freely if we have to pick bones."

Ray, as we all know was a perfectionist and gave immense importance to the minutest details in his films. So, it comes as no surprise to notice his eye for details about Bengali food items when he is depicting them in his films. This brings us to the next and most obvious question: was Ray himself a gourmet?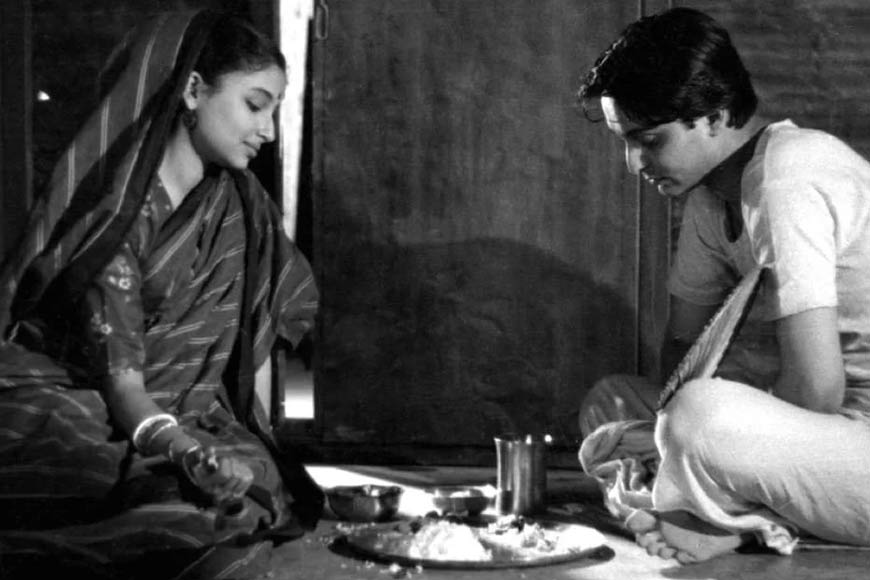 Anup Ghoshal, the popular singer who rendered a majority of songs in Ray's films including Goopy Gyne Bagha Byne, in an interview about the auteur once revealed Ray's love for luchi, arhar dal (pigeon pea lentil) and begun bhaja (brinjal fritters). He also said that Ray preferred mutton over chicken. One of his favourite snack items was muri (puffed rice) mixed with ghee and sugar. Ghosal also reminisced about Ray visiting his home and enjoying 'Bhapa Ilish' (steamed Ilish) cooked by his mother or wife and did not mind having two large slices at a go. Ray was a foodie and appreciated the good food and culinary skills of those who could rustle up tasty food with very few ingredients.
Sometimes in the evenings, when Ghoshal went to meet him, he would pick up 'shingara' (samosa) and fish chop from a shop called Ranjan near Hazra crossing. The shop used to make singaras with soft outer crusts and Ray loved them. He was also fond of fish fry though he preferred to have half at a time, perhaps due to health reasons.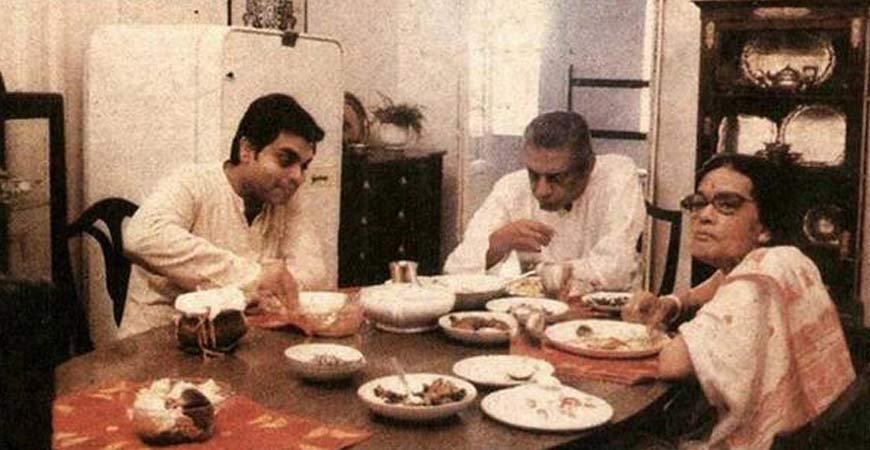 Image Courtesy Twitter
Actor Shuvendu Chattopadhyay revealed how fond Ray was of good-quality cigarettes and often offered them to his associates. He was also fond of 'diamond monda,' a special sweetmeat shaped like a diamond. Bijoya Ray, his wife used to keep a strong vigil over his food, especially after his heart condition developed. He was never a big eater though and was quite conscious about his daily eating habits and consumed in moderation. His regular food in the studio during the shooting was usually chicken sandwiches and curd.
A few years ago, Aaheli, the popular Bengali fine dining outpost, hosted a food fest called Boroniyo Manuser Smaraniya Khabar, where Satyajit Ray's favourite fare was offered as a thali. The menu was curated by his son and daughter-in-law, Sandip and Lolita Ray.
Ray loved home-cooked traditional Bengali fare. The curated thali had Luchi, Begun Bhaja, Pulao Rajnandini, Mochar Ghonto, Dal Raibahadur, and Bhaja Moslar Aloo Dum. Some of his other favourites like Chingri Malai Curry, Iish Bhapa, Bhekti Kaliya and Kosha Mangsho were also part of the lavish spread.
Finally, we can surmise quoting independent journalist Rituparna Roy that, "Like Manmohan, he (Ray) allowed his experiences to shape the understanding of his own culture and returned home (from his visits abroad) to capture what he knew best—the lives and stories of his own people. He found beauty in the ordinary and meaning in simplicity. And like a true Bengali, he saw food as a way to appreciate humanity."