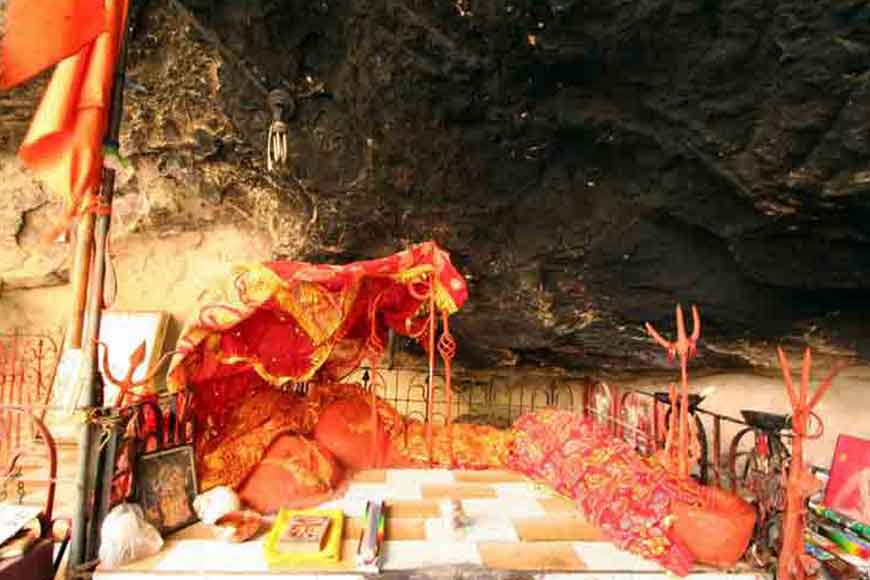 Hingol Shakti Peeth is considered supreme because Sati's head had fallen here. It is also the first Shaktipeeth mentioned in Durga Saptshati and Markanda Purana. Various mythological stories are associated with Hinglaj. Situated on 'Kanraj' Mountain in the middle of Hingol National Park in Balochistan, this place is picturesque. River Hingol flows nearby and the temple is built at the edge of a small natural cave.
Originally the temple was on open cave with the entrance around 50 feet high. The shrine is called 'Mahal.' According to folklore it was constructed by demigods called 'Yakshas.' The walls and roof of the cave are encrusted with colourful stones. At the end of the cave is the sanctum which houses the holy relic decorated by red clothes and vermilion.
The two large red stone represents Shaligrams and the Trident are for Mataji and Bhairvanath. Since it is located in a desert the shrine is also known as "Marutirtha Hinglaj" which means Hinglaj, the Shrine of the Desert.
During the pilgrimage, one also gets to see the mud volcano called 'Chandrakup' which is Asia's largest mud volcano. It is considered holy and is addressed as Baba Chandrakup and is filled with mud, instead of magma. On the mountain top there are three water wells, two of which have bitter water and the middle one has sweet water. It is believed, Lord Rama and Sita visited Hingol during their exile, when Sita felt thirsty and Lord Ram used his arrow to get the sweet water from the Earth.

How to reach
Direct flights to Karachi is available from Indian cities of Ahemdabad, Chennai, Bangalore, Delhi, Hyderabad and Mumbai. By Train: Samjhauta Express connects Delhi and Attari in India to Lahore Pakistan. Hinglaj Shakti peeth is day trip from Karachi, you can take public transport or private cars to reach Aghor River. The best way is through the newly constructed Coastal Highway which runs parallel to Arabian Sea and this takes about 2.5 – 3 hrs to reach Aghore. Buses are also available at Inter-City Bus Terminal, Baldia Town, Karachi.