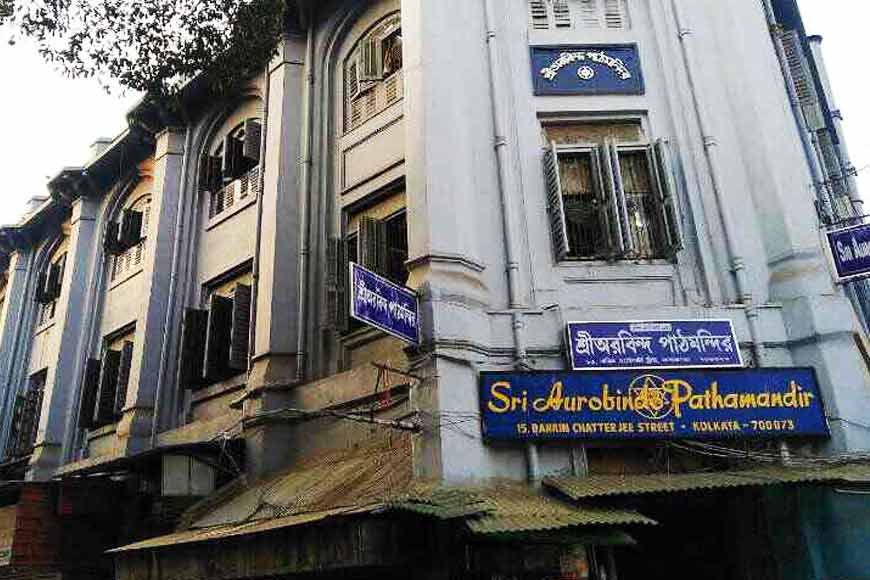 College Street is not just about the iconic Coffee House, it is also about a quaint library that holds priceless books on Sri Aurobindo. But very few of us are aware about this gem. Sri Aurobindo Pathamandir was established on the birthday of Sri Aurobindo on 15th August, 1941. It was the 150th birth Anniversary of Sri Aurobindo. The Chief guests during Pathamandir's establishment were Charu Chandra Dutta (IAS), Samir Kanta Gupta and Haridas Chowdhury. Before 1941, people had to write a letter to get permission for their entry to the Ashram. To propagate further Sri Aurobindo's ideals, Mother first allowed Pathamandir to hold such gatherings. This unique house comprises of Sri Aurobindo's "foot-stool" which he used during his long forty years of living in the then French enclave, Pondicherry (now known as Puducherry). In 1917, Sri Aurobindo's relics were kept in this building. Mother's sandals have also been kept in the house. Classes on Savitri used to be taken by eminent professors. The golden crown of the mother is displayed five days in a year- two days during Durga Puja, on Kali Puja, on Lakshmi Puja and on Saraswati Puja.
Pathamandir is situated in College Street, in the building attached to the Coffee House, which is popular for its adda sessions and a heritage site where many prominent figures had set foot and gave lectures. The whole area has a history of politics, protests and so on. The place has raised many revolutionaries. In his early years in Kolkata, Sri Aurobindo was a political activist, who was at the forefront of the protest against the British rule. Later in Pondicherry he came to be considered before the world as a sage, philosopher, poet and visionary. Many in academic circles regard him as a creative author of very high standards. He had an absolute purpose to make India independent towards which his contribution is immense. The principal reason as to why this particular spot was chosen for Sri Aurobindo Pathamandir is because this corner of the street was loved by Sri Aurobindo himself. He used to walk by the road on which the building stands till he reached the "Karmayogin" office at Shyampukur Street from May 1909 to February 1910.
The street directly opposite to the main gate of Presidency College leads you towards Pathamandir. Sri Aurobindo Pathamandir is a quaint place that has a library fully dedicated to Sri Aurobindo and the Mother. Books can be borrowed or read peacefully sitting in the library as well. This institution is fully devoted to the practice, study and propagation of the Teachings and Ideals of Sri Aurobindo and the Mother. They will be celebrating their 82nd year in 2022.
One of Sri Aurobindo's uncle's house was in 6, College square, where he took shelter after he was released from jail. In this house Swarnalata Devi (elder sister of Sri Aurobindo), British Prime Minister Ramsay Mc Donald, Rabindranath Tagore and many politically influential people has set their feet.
People even gather there two days in a week for meditation- Thursdays and Sundays. Later on, they published many books on Sri Aurobindo and the Mother written by different authors, one of their famous works is "Ma-er Rochonaboli" (collected works of the Mother) in Bengali. Pathamandir publishes Bartika newspaper every year for the last twenty-five years, which consists of all the information of their year-long activities of which any devotee can be part of.

Since the very beginning of Kolkata Book Fair, they have participated in it. Eminent authority Biswanath Roy says, "At the very beginning, the Kolkata book fair was hosted on the grounds opposite to Rabindra Sadan, then it was shifted to the opposite of Taramondal, after that it was shifted to Brigade parade, then Park Street, later on, opposite to Science City and finally in Salt Lake. Throughout the changes in the location of the book fair, one stall has remained constant, the Sri Aurobindo Pathamandir dedicatedly never missed."
Afterwards as the Sri Aurobindo memorial act passed in the West Bengal Assembly in 1972, Sri Aurobindo Bhavan, where Sri Aurobindo was born, took shape and grew in popularity. Sri Aurobindo Pathamandir, holding immensely historic value remains hugely under-appreciated and goes unrecognised by most.