Strange as it may seem, Bollywood diva Meena Kumari was related to the illustrious Tagore family!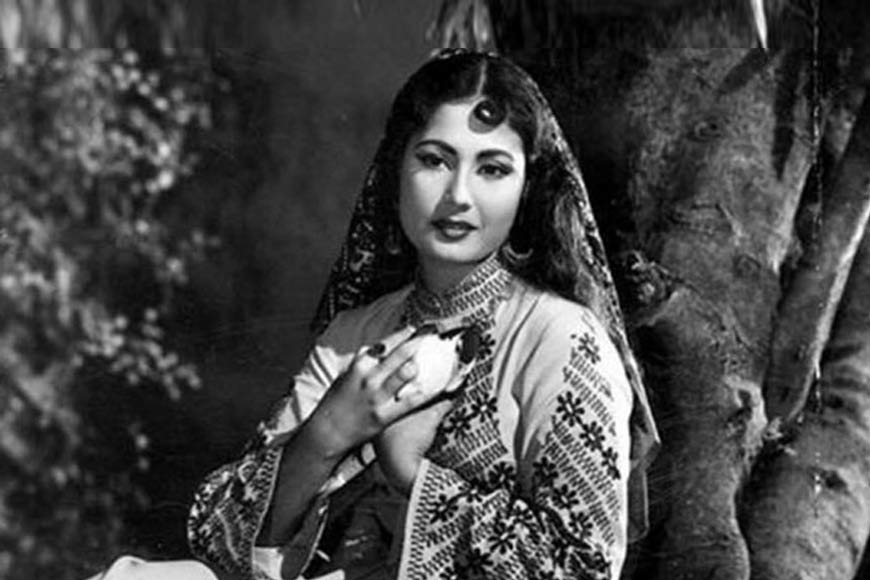 "Mere marnay pe laakh royenge/ Mere ronay per kaun marta hai?" (Millions of people will cry after my death/ But who dies when I cry?) – (by Urdu poet Jaun Aelia)
This aptly surmises Bollywood's iconic film diva, Meena Kumari's tragic life. But Meena Kumari was more than the tragedies of her life and untimely death. She was a powerful performer dedicated to her craft, and a singer and poet as well. Poet/lyricist Javed Akhtar once put it, "People like Meena Kumari are paradoxes. We try to understand them, we appreciate them, we criticise them, we pity them, we laugh at them, we admire them. But they remain paradoxes."
Born in 1932 or 1933 in Bombay as Mahjabeen, Meena Kumari grew up in a family of poor theatre artists. Her father, Master Ali Baksh (or Bux), was a veteran of Parsi theatre, music and poetry while her mother, Iqbal Begum, was a stage actor and dancer. Baksh was a Sunni Muslim and Begum, originally Prabhavati Devi, was a Bengali Christian converted to Islam. It sounds strange but Meena Kumari was related to the illustrious Tagore family of Kolkata that made its way to social eminence in the 18th century first as 'banians' to the European traders and then in the early 19th century, as business entrepreneurs, landholders, religious leaders, administrators, litterateurs, legal practitioners, social activists.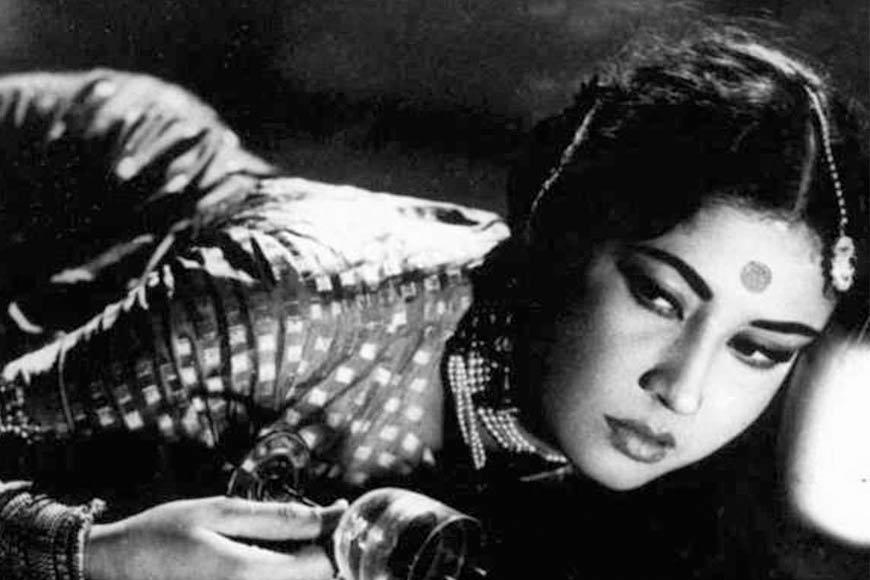 Meena Kumari's grandmother, Hemsundari Tagore (nee Mukherjee) was married to Jadu Nandan Tagore (1840-1862), who was the great great grandson of Darpanarayan Tagore and a distant cousin of Rabindranath Tagore. Hemsundari was an emancipated lady, way ahead of her times. After her husband's death, she questioned the age-old customs where widows had to go through rigid inhuman rules and took a bold and courageous decision to live life independently and left for Meerut to work as a nurse.
While working in Meerut, she met and later married local Urdu journalist and iconic Urdu poet and literary personality, Munshi Pyare Lal Shakir Meeruti (1880 -1956), who gained recognition around the early 1900s when his writings began appearing in Zamana, an Urdu literary magazine. He was a Christian and Hem Sundari embraced Christianity. The couple had a daughter, Prabhavati Devi. She was a gifted singer and when she reached adolescence, she decided to pursue music as her career and migrated to Bombay.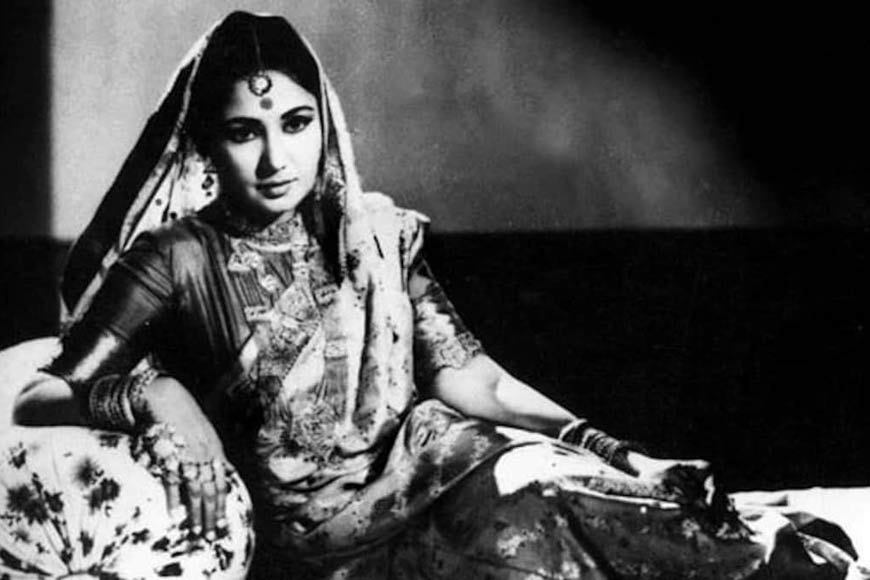 It was in Bombay that she met Master Ali Buksh, a harmonium player and music teacher by profession. They fell in love and Prabhavati Devi converted to Islam and was named Iqbal Bano. The duo married. Iqbal was a stage actor and dancer and Ali played musical instruments. They managed to eke out a decent living with their meager income but problem started when their first child, a daughter was born. Ali was hopeful of begetting a son but again a daughter was born. Utterly disappointed, Ali abandoned the baby in front of an orphanage and left. But the infant's pitiable wail forced him to retrieve his steps and pick her up and take her home. She was Mehjabin. This was just the beginning of a life of utter poverty, humiliation, rejection and loneliness for the 'tragic queen' of the silver screen, Meena Kumari aka Mahjabeen, which literally means beautiful as the moon, a beloved person.
Mahjabeen made her film debut as a child artiste in Vijay Bhatt's Leatherface (1939), playing Baby Meena, a name that stuck to her throughout her childhood until she was 13 when she was chosen to play the lead role in Bachchon Ka Khel (1946). The film was well received by audience and critics and Meena Kumari was praised for her acting and singing expertise by Baburao Patel, a well-known film journalist of the era. His observation was correct. The frail teenager won millions of hearts with her histrionics and an unforgettable screen presence in the 1950s and '60s. By the end of her 33-year-long career, she had 92 films under her belt, including classics such as Baiju Bawra (1952), Daaera (1953), Sahib Bibi Aur Ghulam (1962) and her swan song, Pakeezah (1972). She bagged four Filmfare Awards over the course of her career and in 1963, received and won all nominations as Best Actress for Sahib Bibi Aur Ghulam.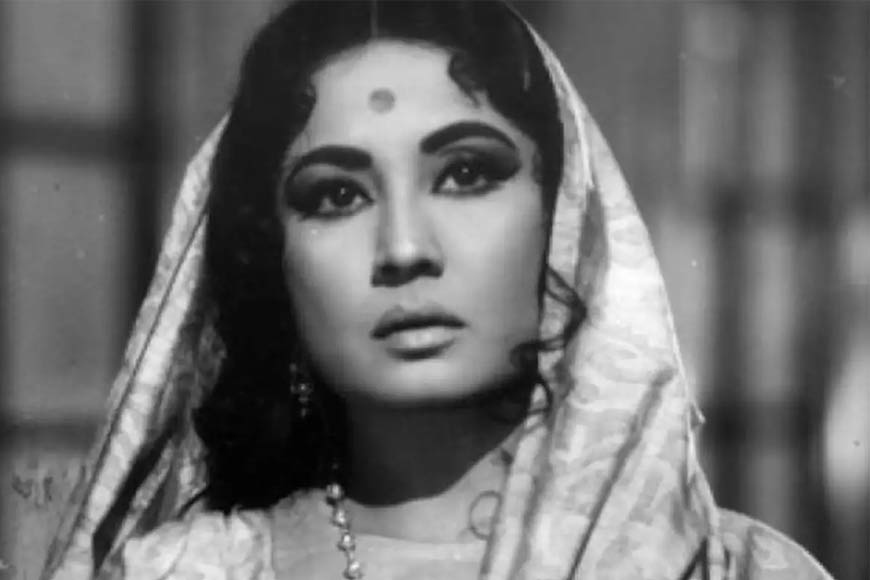 Late veteran journalist Vinod Mehta had penned a biography of the diva where he wrote, "Unlike today's stars, she had many dimensions — she read poetry, had literary friends, aspired to the higher life and was an alcoholic. She also represented that generation of young Muslim girls who were pushed into the film industry so that they could become their family's meal tickets. Meena Kumari's family too exploited her and felt betrayed when she married Kamal Amrohi."

Meena Kumari was introduced to film director and screenwriter, Kamal Amrohi by Ashok Kumar. Soon after she met with a major car accident and was hospitalized in a serious condition. During her stay in the hospital, Kamal regularly visited her and spent time with her. Love bloomed but Amrohi was already married then with three children. When the duo tied the knot secretly in the presence of her sister, Mahliqa in 1952 (shortly after the release of Baiju Bawra) he was going through extreme financial duress. Meena Kumari was barely 18 years old then. Perhaps the biggest controversy of Meena Kumari's career was her rocky marriage with Amrohi.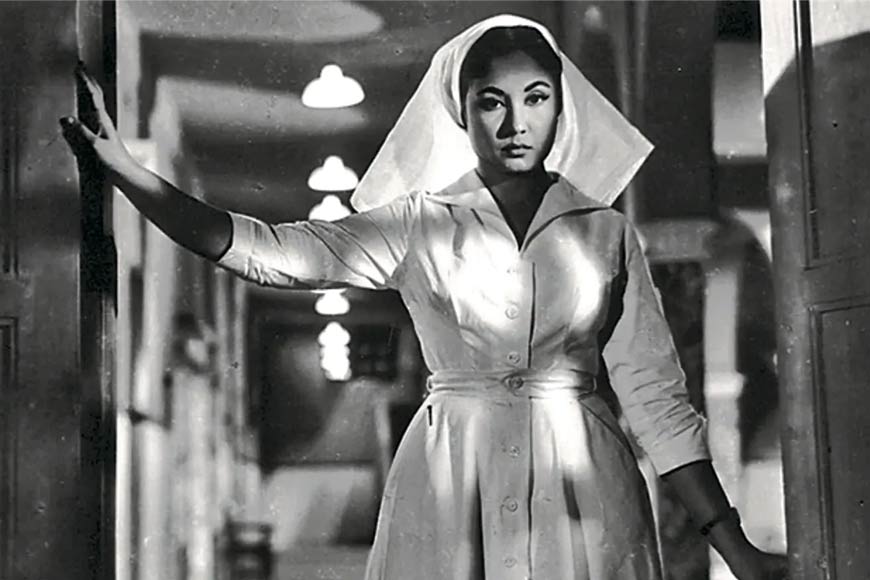 Journalist Ali Peter John once mentioned that after marriage, Meena Kumari was escorted everywhere she went by Baqar, Amrohi's friend and secretary. He kept a close tab on her. It was traumatic marriage for her right from the word 'go.' She had to abide by all rules formulated by Amrohi and that included her return home by 6 pm. None was allowed to enter her makeup room. She could only use Amrohi's car for commuting. After remaining in a dominating relationship for a decade Meena left Amrohi's house for good when Baqar slapped her in full public view during shooting. This was the last straw and she decided never to go back to him.
All this had impacted the sensitive actor and she went into deep depression. She took refuge in her poems and alcohol to fight against her inner demons and loneliness.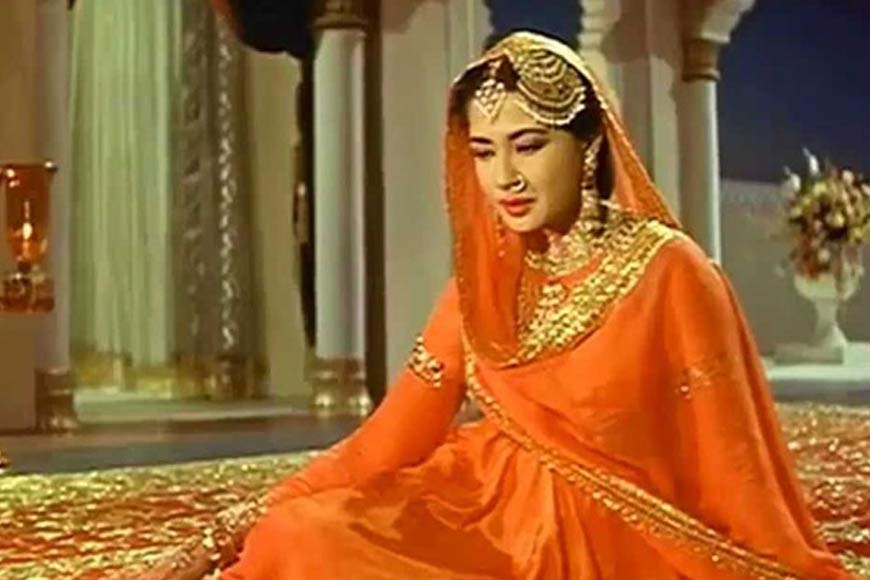 After this, Dharmendra entered Meena Kumari's life, and that gave her some form of happiness, for a while. Her close friend and confidante Nargis wrote after her death, "If Meena has ever loved anyone passionately, the person is Dharmendra. If Meena ever turned crazy in love for someone, it was Dharmendra." This was 'the most beautiful' phase of her life. However, owing to a misunderstanding, he walked out of her life and she was left heartbroken and slowly, she began to inch towards death. At this point her ex-husband contacted her with the film proposal of Pakeezah. She accepted to do the film and finished shooting for it eventually, right through her severe illness. The film was released on February 4, 1972.
Meena Kumari was an accomplished 'shaayar' (poet) who wrote prolifically under the pseudonym 'Naaz'. When she was battling against cirrhosis of liver, a record entitled "I Write, I Recite" under Khayyam's music direction was released. It contained a compilation of poems written and sung by Meena Kumari. In 1971, Gulzar's film, 'Mere Aapne' was released with Meena Kumari in the lead. She was very ill while shooting and passed on her manuscripts to Gulzar. He edited and published a compilation of her poems titled, 'Tanha Chand' posthumously. In 2014, academician-writer Noorul Hasan published 'Meena Kumari the Poet: A Life Beyond Cinema,' the first English translation of her poems. Her poems display a lyrical quality that belies her strong words.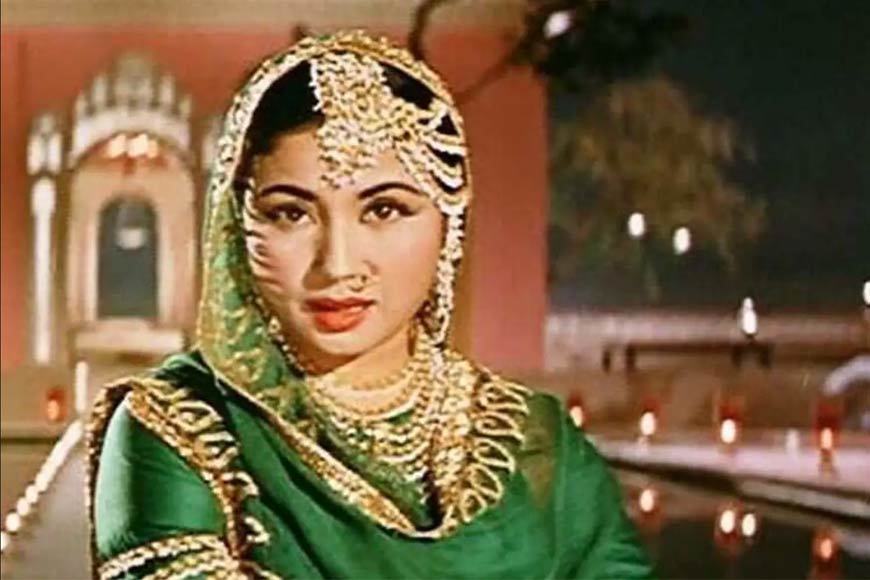 A month after the release of Pakeezah, she was hospitalized at St. Elizabeth's Nursing Home in a critical state. She was in coma for two days and then breathed her last on March 31, 1972 due to liver cirrhosis, at the age of 38. After her death, Nargis wrote a long column for an Urdu magazine reminiscing about her. She opened up about Meena Kumari's difficult life, her heartbreaks and the painful experiences that she went through during her lifetime. She began her column with the message, "Meena, Maut mubarak ho (Congratulations on your death)." Then she continued, "I have never said this earlier. Meena, today your baaji (elder sister) congratulates you on your death and asks you to never step into this world again. This place is not meant for people like you."