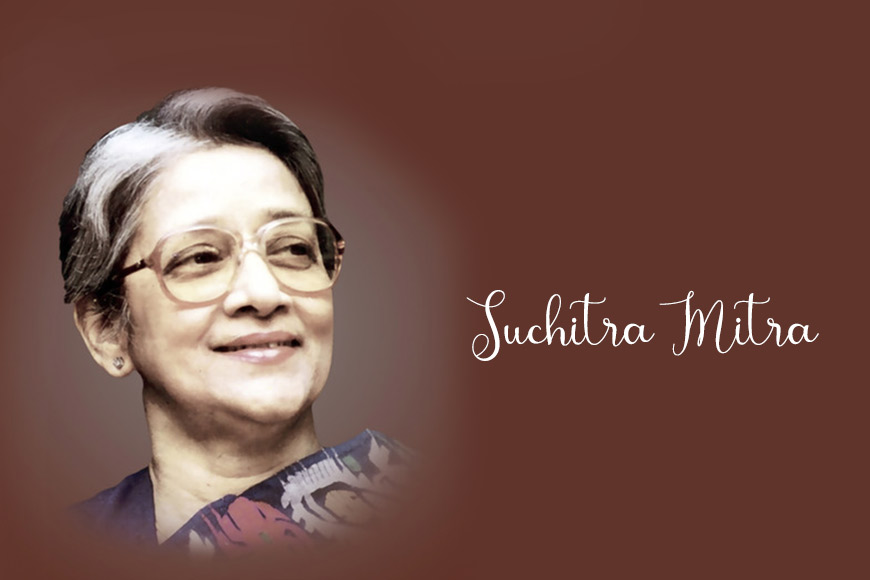 Akaash Jokhon Chokshu bojey
Ondhokarer Shokey
Tokhon Jemon Shobai Khojey
Suchitra Mitra-ke,
Temon abaar katley Andhaar
Surya uthley pher
Amra shobai khoj kori kaar ?
Suchitra Mitra-er.
Tari ganer jyotsnajoley
Bhashai Jibonkhani,
Tai to takey shilpi boley
Bondhu boley jani.
-- Nirendranath Chakroborty
Suchitra Mitra was not only an acclaimed Rabindra Sangeet singer, she was the voice of the teeming millions of Bengalis, she was the high priestess who absorbed the very essence of Rabindranath's philosophy within herself and then expressed it in her inimitable style, lending her voice to all those who wanted to, but lacked the power, the conviction to surrender oneself completely to one's 'Praner Debota' (one's soul-mate, God, within). Her songs were her offerings and through music she communicated with divinity and became one with the creator, Rabindranath Tagore.
Mitra was surrounded by the aura of Rabindranath Tagore and his music from a very early age. Her father, the celebrated litterateur, Saurindra Mohan Mukherjee, was a close associate of the Tagore family of Jorasanko. Mitra's natural aptitude in music was recognized by Pankaj Kumar Mullick, who gave her first lesson in Rabindra Sangeet.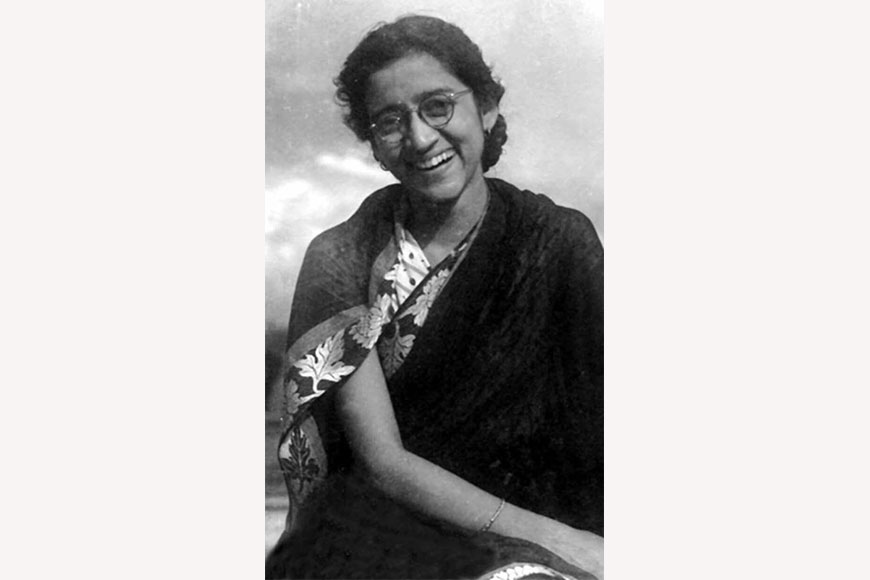 Suchitra Mitra in her early years
In 1941, Mitra received a scholarship to Sangeet Bhavana in Santiniketan, where she had the rare privilege of learning from the greatest names in the world of Rabindrasangeet – Indira Devi Chaudhurani, Shailajaranjan Mazumdar and Sahntidev Ghosh. Mitra obtained her Diploma from Santiniketan and returned to Calcutta in 1945 to complete her studies from Scottish Church College. Since her college days, Mitra was a socially conscious and politically active person who never hesitated to reach out or take up cudgels on issues that she regarded right. She believed that an artiste is part of the society and cannot play a passive role and remain aloof from the burning issues of the day. Like every fellow citizen, it is the duty of every artiste to approach every issue with an open mind, mingle with ordinary people, find out the causes of disharmony in society and criticize the evils. It was her deep-rooted conviction that led her to join processions by protestors who demanded the release of all those imprisoned by the British government on charges of Chittagong armoury raid. She walked on the streets of Kolkata with flags and remained unfazed when the British police force retaliated by firing tear gas shells indiscriminately. During those volatile days, she was a regular participant in political rallies and quite often face the ire of the police force who never missed a chance to manhandle her and her comrades. In 1960, Rabindranath Tagore's birth centenary celebration was organized on a mega scale by the Government of India. Mitra was invited to Delhi to sing at the All India Radio (AIR) national programme.
She performed songs from Rabindranath's dance-drama, Balmiki Pratibha. Jawaharlal Nehru, the then-Prime Minister of India misinterpreted the songs and believed they were insinuating him personally and depicted him negatively. She was immediately de-listed from Akashvani and deprived from music presentation at AIR for the next six years. Nothing or none could ever stall her from her faith and she was very curt and open about saying what she thought was right. This trait in her character was firmly ingrained and remained with her till the very end, even when she had distanced herself from active politics.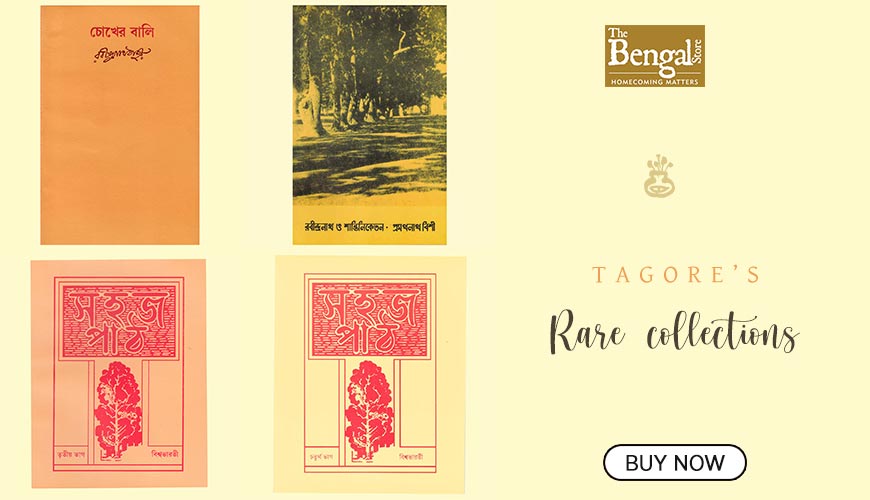 Mitra joined Visva Bharati about 20 days after Rabindranath had left for his heavenly abode. The young slim teenager with her sharp intellect had been the apple of senior Ashramites ever since she went to Santiniketan. She seemed the very incarnation of 'Saraswati' as Gurudev had envisioned in his Balmiki Pratibha. In 1946, when the city was in turmoil following widespread communal violence and anarchy, Mitra represented the artists and protested against the senseless violence and wide-scale manslaughter. Chinmohan Sohanobish had recounted the incident in one of his writings. He wrote, "I remember the processions taken out by writers and artistes. As soon as they walked on the deserted road, thousands of people would mob them and surround their vehicles. Once, I noticed Suchitra suddenly stand atop a truck surrounded by hordes of people who were baying for blood and she started singing, "Sarthok jonom amar…"
Held by the British police during political rallies she joined frequently, the condition of our countrymen following the perpetrated by political leaders.
Ramkinkar Beij sculpted Mitra's bust. Subrata Ghosh and Raja Sen made documentaries on her. Ustad Amjad Ali Khan described her as a "glorious emblem of Tagore." Renowned Bengali poets have dedicated poems to her. We conclude with a poem written by Arun Mitra.
Ei Kontho
Ei Ghorey Rabindrasangeet
Ei konthey Shobdodhwani dana meley
Paar hoye jay bahaarbati Phulshaaj Chaar deyal
Dripto Jhapotey Haoa tolay
Abaar niley niley bheshey choley,
Ei konthey shobdodhwani manush prithibi ritu niye
Pranshutrey dinraat-ke bandhey
Taray Taray dipto shikha jalay
Akaashbhora Surya-tarar majhkhaney
Ki jey Bishshoy jagay
Aar ki jey bhalobashey sonar banglar dhulomatir chhoyay
Moynaparar mathey kalo horinchokher mayay joray,
kokhono ognibaney kokhono borishoney
kokhono jhorer meghey kokhono aloye aloye
Bachar muhurtoguloke rupey rupantorey photay.
Ei konther shobdodhwani kothay pouchhoy.
Jekhaney kachhey durey hridaytapey batash kapey
Jekhaney akaash miliye jay mohashunyer nilshabujey.
Ei kontho Suchitra Mitra.
Ami ghorer modhye gaan shuni.
Ghor ? Koi Ghor ?
Ami to ek Ononto Bhuboney !!
--- Kabi Arun Mitra
Mitra would have been 96 today. May she live forever among us.
Story Tag:
Rabindrasangeet, Rabindranath Tagore