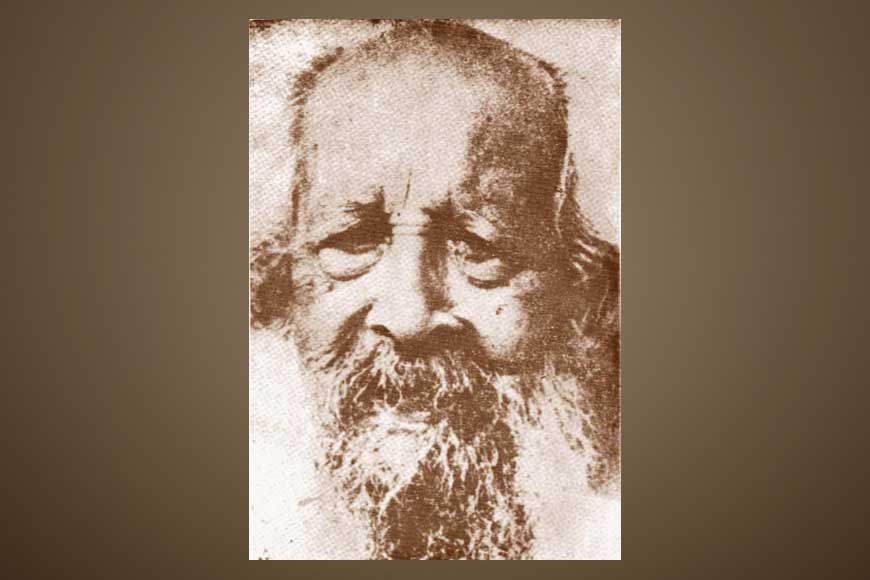 It seems somewhat like a coincidence that two contemporary geniuses born in the 20th century shared the same name and both were tremendously influenced by the Bard of Bengal who took them under his wings and nurtured their talents. Prabhatkumar Mukhopadhyay – one was a renowned short story writer and there was another namesake, librarian and teacher at Santiniketan who wrote the four-volume monumental biography of Rabindranath Tagore titled, 'Rabindra-Jivani.'
When Prabhatkumar was 18, Rabindranath blessed him on his birthday. Again, when he turned 22, Rabindranath wrote a double entendre verse to wish him on his birthday. (A double entendre is a literary device that can be defined as a phrase or a figure of speech that might have multiple senses, interpretations, or two different meanings, or which might be understood in two different ways).
Probhater poray dokkhin koray/ Robir ashirbad – Nutan jonome nabo nabo din/ Tomar jeebon koruk nobeen/ Amol alokey dhuye hok leen/ Rojoneer aboshaad
(Robi the poet places his hand on Prabhat's crown and blesses him. Again, Rabi also means the Sun that dispels the darkness and blesses Prabhat which literally means early morning or dawn. The poet says, each day you are born anew and every morning you shake off your night-long exhaustion and let the rays of the sun refresh you once again)
The words of the poet were prophetic indeed. Prabhatkumar proved his mentor right and in his labour of love -- the four-volume exhaustive biography of the poet, he focused on the lesser-known and untold facts about the poet which opened up new vistas for Tagore researchers. Readers discovered the various facets of Tagore from the biography.
The boy from Ranaghat in Nadia district was destined to reach Visva Bharati one day and find his life's mission in researching and writing about his icon. During his school days, Prabhatkumar participated in a rally against the Banga-Bhanga Movement (Partition of Bengal, 1905) and was expelled from school. After that, he took the entrance examination conducted by the Calcutta National Council of Education and ranked fifth. But he could not complete his education because of ill-health. He could not complete his college education as well and went back home due to poor health issues.

In 1909, Prabhatkumar was 17 years old when he came in contact with Gurudev Rabindranath who asked him to join Brahmacharyashram at Santiniketan. That was the beginning of his life-long association with Santiniketan. The place was a haven of peace and tranquility for Prabhatkumar. Unknown to him, his destiny was preparing him for greater responsibilities that would lead to a fruitful life and greater glory. Once Prabhatkumar was compelled to leave his job at Santiniketan due to financial reasons and take up an assignment at City College in Calcutta. But the mesmerizing natural beauty of Bhubandanga had cast its spell on Prabhatkumar and he missed Santiniketan. And then Rabindranath himself wrote him a letter which said, "I need someone to take care of the library and teach English as well. For the time being, I am teaching but my way of teaching is tough. I want to train someone to take over the responsibility from me. I am not too confident to ask any stranger to come and take up the work, so I thought of you. If you can come here with your wife, I can train you to take over the responsibility."
Prabhatkumar's wife was Sudhamoyee Devi. As soon as he received Gurudev's letter, he returned to Santiniketan , lock, stock and barrel. He took charge of the Visva Bharati library and also taught history and geography. He was a profound scholar and writer who loved his peaceful life amid books. He was very close to Sylvain Levi (1863 - 1935), one of the world's great orientalists, who had been the first visiting Professor at Visva-Bharati and the duo shared a guru-shishya (disciple) relationship. Prabhatkumar learnt Chinese and Tibetan from him and engaged in research in that area.
When Jawaharlal Nehru sent his daughter, Indira Priyadarshini (nee Gandhi) to Santiniketan, Prabhatkumar was his teacher and taught her Bengali. He authored a few children's books including Gyanbharati, a short encyclopedia for children. He also wrote Pracheen Itihaser Galpo (1912), Bharat Parichay (1921), Bharatey Jatio Andolan (1925) and Banga Parichay in two volumes (1936 & 1941).
Prabhatkumar founded the Rabindra Parichay Sabha and the members of this organization assigned him the task of writing the biography of the poet. It took around a quarter of a century to complete the project. The first volume, published in 1933, was the only one the poet himself could see. The four-volume 'Rabindra Jivani' laid the foundation for further research on Rabindranath. His other books on the poet were: 'Rabindra Grantha Panji' (1932), 'Rabindra Jiban Katha,' 'Rabi Katha', 'Rabindranather Chenashona Manush', 'Santiniketan Visva Bharati', 'Rabindranather Gaan – Kalanukromik Suchi' etc.
Prabhatkumar was actively involved in community based integrated sustainable development programmes, female literacy and other social work. He was honoured with many awards for his works. In 1965, he was honoured with Deshikottama. Other universities conferred the honorary D.Lit degree on him. He was honoured with a Padma Bhusan in 1981. He once wrote, "I did not waste my life's capital (purpose)." True, he never did!