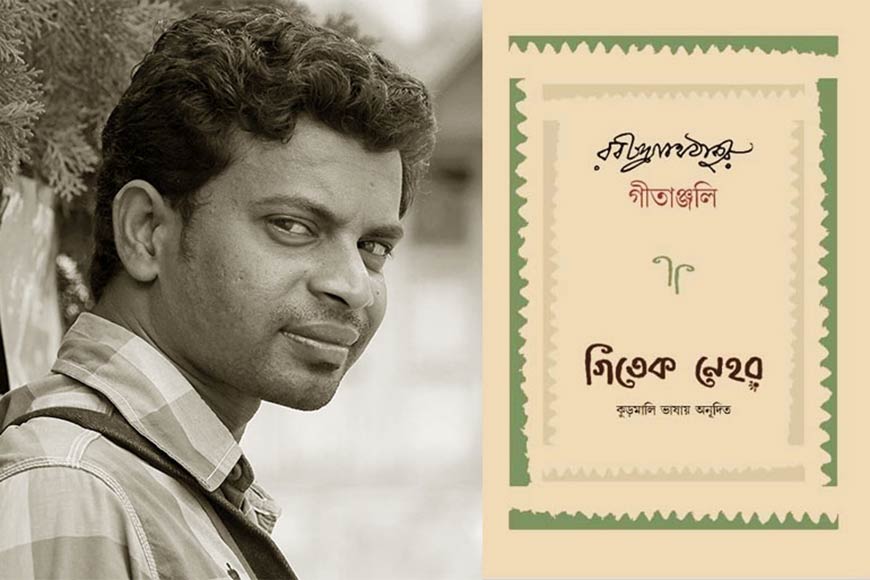 Kurmali, one of the ancient languages of the indigenous tribes, is spoken in various states of India including West Bengal, Jharkhand, Odisha, Assam, Chhattisgarh and Bihar. A sizeable number of Kurmali people also reside in various parts of Bangladesh. Kurmali is the mother tongue of the Kurmi tribe and is spoken by about four crore people all over India. The governments of Jharkhand and West Bengal have already recognized Kurmali language. However, the Central government has not yet given constitutional recognition to the language. Yet there is a substantial body of work in Kurmali language and recently Abhimanyu Mahato, a prominent poet-journalist, translated and published Rabindranath Tagore's 'Gitanjali' into Kurmali language and named it 'Gitek Nehar'. This is a commendable achievement and this will help people who do not know any language other than Kurmali, to discover the works of the Nobel Laureate in their own language. The project was very close to Abhimanyu's heart and he slogged for four years to translate the poems and complete the book.
The Department of Indigenous Languages at Ranchi University in Jharkhand had introduced Kurmali language as a subject way back in the 1980s. Later, two more universities (Kolhan in Odisha and Hazaribagh in Jharkhand) introduced Kurmali as a subject of specialization. The language is taught from class IX in several schools in Jharkhand. In West Bengal, Kurmali is taught in two colleges in the undergraduate level and is offered in the post-graduate level at Sidhu-Kanhu-Birsa University. Although Kurmali language does not have a script of its own, regional languages including Bengali, Hindi, Assamese and Odia alphabets are used to write in Kurmali. Abhimanyu has used Bengali alphabets to translate 'Gitanjali'in Kurmali. Abhimanyu is a well-known Kurmali poet and author who has penned several books of verses. His book, 'Johar,' published a few years ago made quite sensation in the literary circle.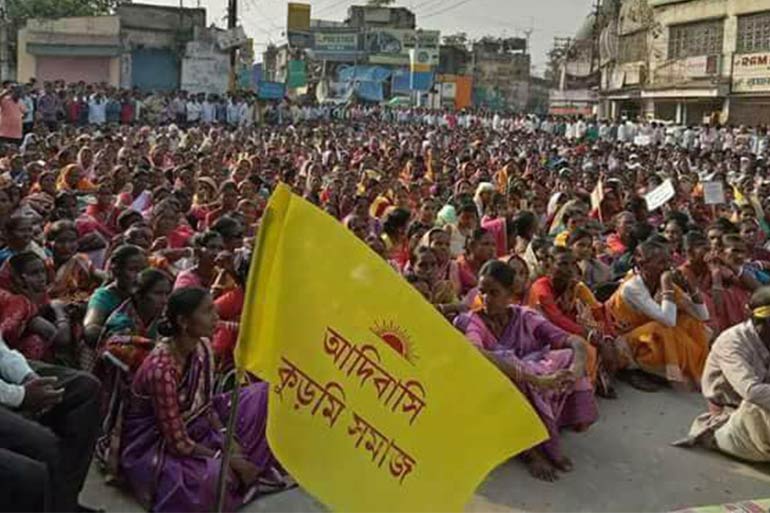 Kurmali Tribals
Abhimanyu Mahato was working in Bankura in 2012, when he zeroed in on publishing a book of poems written in Kurmali. "I have been translating Rabindranath since then and some of the translated works were published in Kurmali literary magazines. Later as I shifted base to Krishnagar for work, I occasionally visited Kolkata to meet poet-editor Gautam Ghosh Dastidar. During one such visit, he insisted to see my translated poems of Rabindranath." He later advised Abhimanyu to translate Gitanjali in Kurmali so that the book could reach Kurmali readers who would get an opportunity to discover Rabindranath in their mother tongue.
Abhimanyu's love affair with Kurmali language began in 2014 when he, along with his friend, Yudhisthir Mahato, spent days at Jhalda in Purulia, hanging around Kurmi villages and ghettos. They spent days on the banks of Kangsabati (Kansai) and Subarnarekha Rivers. Meanwhile, Abhimanyu planned to stage Rabindranath's dance-drama, Chitrangada in Chhou folk dance form. The script was translated from Bengali in Manbhum language. This programme was presented in Kolkata as well and revered poet Sankha Ghosh attended the programme. After watching 'Chitrangada', he advised Abhimanyu to present more dance dramas of Rabindranath in indigenous languages and forms. But by then Abhimanyu was inspired to translate Gitanjali and lacked the time to focus on dance dramas.

Abhimanyu concluded the translation of 'Gitek Nehar' in November 2018. He shared the manuscript with his friend and fellow poet, Shakti Mahato for a thorough check. He had spoken to Sankha Ghosh earlier and sought his opinion about the approach he should take while translating Tagore's seminal work. Ghosh advised him in favour of transliteration. "After completion, I took the manuscript of Gitek Nehar to him and requested him to write the introduction of the book. He did not turn me away. Instead, he asked me to collect it from him after a month," says a starstruck Abhimanyu.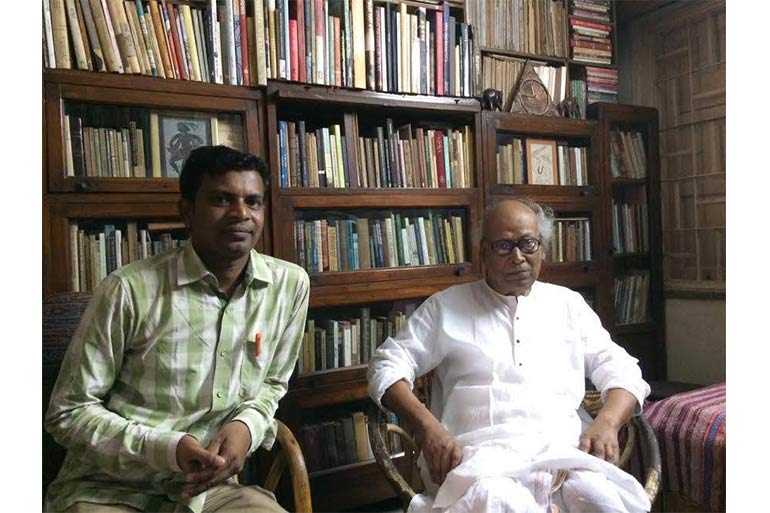 Abhimanyu Mahato with Shakha Ghosh
The Kurmali version, 'Gitek Nehar', is not a translation of Bengali 'Gitanjali' which has 156 poems. Instead, there are a total of 103 poems like the English 'Gitanjali.' In the introduction to the book, poet Sankha Ghosh writes, "It gives me immense pleasure to see a young contemporary poet translating the English Gitanjali into another language. The book, which has already been translated into many languages (of which at least 27 translations are currently housed in Rabindra Bhavan), will now be available in Kurmali too. "
Abhimanyu has deftly retained the flavour of the original poems in the translated versions and they read as beautiful and authentic as the primary ones. This is the joy of reading translated works. Take for instance, the song, "Tumi kemon kore gaan karo hey guni,/ Ami obak hoye shuni/ Kebol shuni…. Which was translated in English by Rabindranath himself thus: "I know not how thou singest, my master!/ I ever listen in silent amazement/ The light of thy music illumines the world…Abhimanyu's Kurmi version reads -- "Tan kesan karike git gau / ahe guman, tan kesan karike git gau / Thir heike hame anau ..." Those who don't understand Kurmali will also love the book because throughout the volume, Abhimanyu has been able to capture the inherent rhythm that Rabindranath created.
Abhimanyu is a talented poet and a representative poet of the contemporary times. He has already published a number of books of verses and notable among these are 'Khilipan', 'Mati', 'Langal, Shuncha?', 'Aola Barsha Dhani'. In 2014, he received the Sahitya Akademi Youth Award for his book 'Mati'.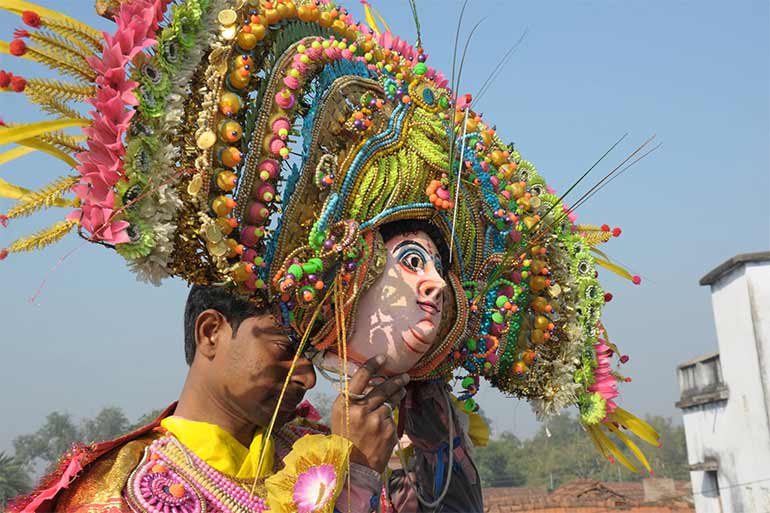 Abhimanyu Mahato - Chou Dancer
Abhimanyu, who hails from Sharberia, a tiny village in Purulia district, has interest in folk dance and theatre as well and he is an accomplished Chhou dance practitioner. He, along with his family members and friends, has a Chhou dance group and they perform during different social and religious festivals. Abhimanyu's brilliant translation of 'Gitanjali' has brought smiles on the faces of the marginalized people who are excited to discover Rabindranath in this new avatar. Although Kurmali has not yet been officially recognized by the Union government, Kurmis continue their battle against the administrative shortcomings and negligence of the government shown towards them and Abhimanyu Mahato is the representative voice of protest of the marginalized indigenous people of India.