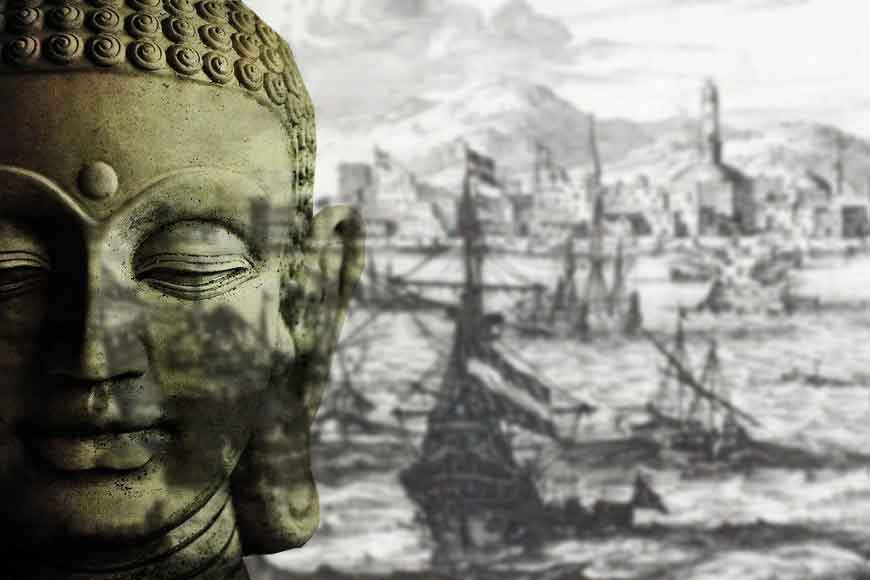 The mines at Singbhum have been producing Copper since the last 2500 years. Hindustan Copper Limited extracts copper from these mines. But the port that once used to export copper no more exists. This was called Tampralipta, a port that primarily exported copper. One of the most thriving ports of Eastern India, it got its name from the Tama or copper that it exported. The ships used to sail to Burma and even further to China taking off their anchors from this port on the banks of river Rupnarayan. This port was the gateway to Eastern India for the sailors, traders and even religious leaders. Ships full of Indigo, silk and copper used to sail to Ceylon (today Sri Lanka) and Africa from this port.
According to historical and literary sources, the golden era of this port was between 3rd B.C to 8th A.D. It is said that Emperor Ashoka invaded Kalinga in order to get hold of this port. This port was of great importance during the Maurya dynasty. People used advanced road to travel to Pataliputra from Tamralipta.
This was again a port that had a big role in spreading Buddhism from India to South and South East Asia. Jataka's Tales mention this port many times. Ships used to sail to Subarnabhumi, which is called Thailand today. Sanghamitra and Mahendra, had visited on behalf of Emperor Ashoka to south-east Asian countries by boarding a ship from this port and carrying seedlings of the tree 'Bodhu Brikhya' (the peepal tree under which Siddhartha became Lord Buddha after attaining salvation). This journey has been well described in Buddhist scriptures as well as in authentic Ceylonese literature. The journey from Pataliputra to Tamralipta took seven days and Tamralipta to Ceylon took another one week.
Tamralipta was so important during those days that no travel story could be imagined without its reference. Pliny, the great Roman tourist and philosopher, has also referred to Tamralipta in his book in the 2nd century A.D. Fa Hien, Hiuen Tsang, Yijing have described the port in different ways in their writings. This busy port was an important centre for the Buddhists. Fa Hien landed here in the 5th A.D. According to him, 24 Buddhist monks used to reside in 24 monasteries near this port.
However, the port lost its relevance due to the low tide. Though the exact reason for its decline is not known, but it is believed that changes in the course of Rupnarayan could have been the primary reason. Populations along the coast were gradually becoming poorer with each passing day. Thus, the glory of the Tamralipta port started fading out. Today its shadow exists in Tamluk of Midnapore, but the port is no more.