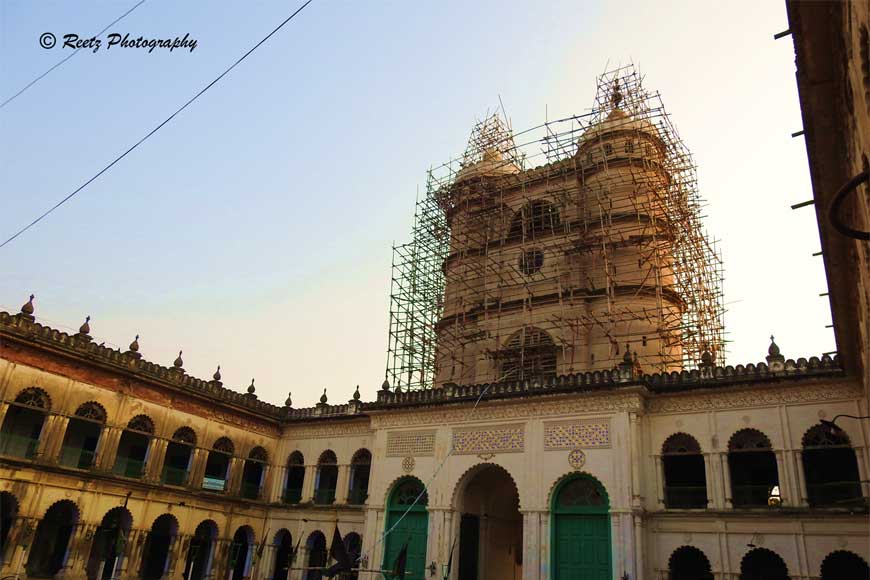 'Imambara', meaning 'abode of the angels', a congregation hall of Shia Muslims which is mostly in use during the holy Muharram days. There is a century old Imambara located on the northern bank of Hooghly River near Bandel, whose sun dial gives correct time even today. This Imambara is one of the vintage Muslim edifices of Hooghly district that dates back to the 18th-century. The one at present is the new building, reconstructed by Haji Mohsin Khan, a pious philanthropist, in the year 1841. Prior to that there used to be a one-storied lavish Muslim residence of the Motahar family in its place. A Bollywood film starring none other than Big B, Amitabh Bachchan was also recently shot here.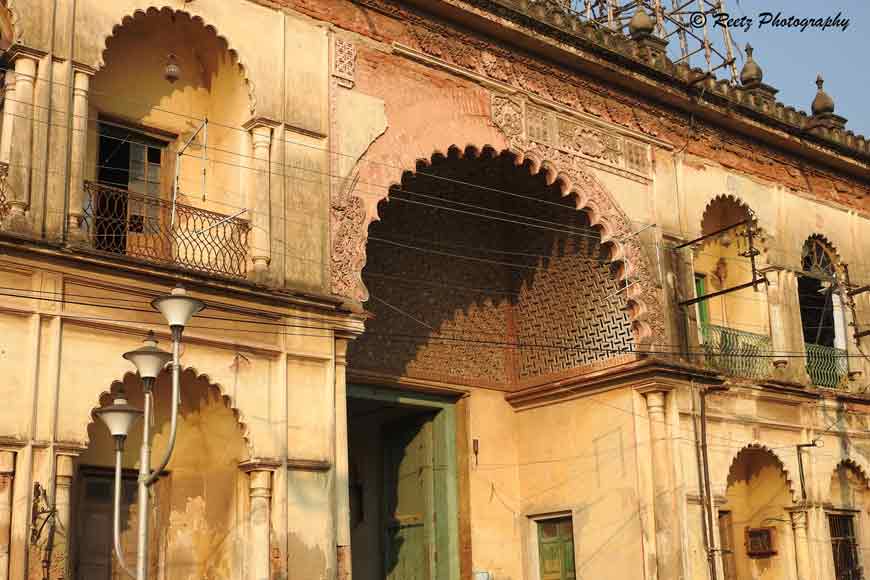 Arched Entrance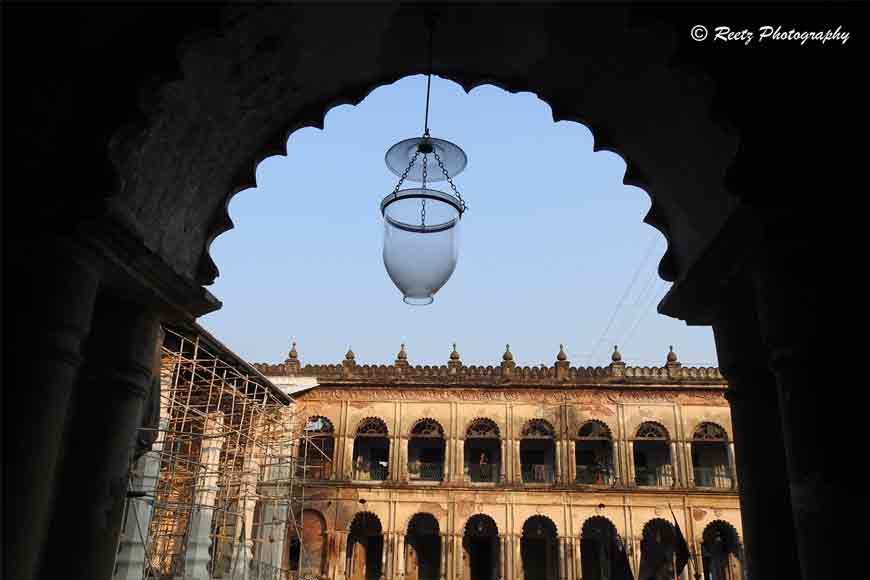 Eastern wing of the Imambara
After a three hour drive down GT Road, we reached Hooghly Imambara by four o' clock in the afternoon. Purchasing entry tickets at the gate, as we walked in, we were welcomed by a grand arched portico, decorated with motifs, broken glass lanterns and scriptures from Quran. Entering through which we discovered two giant tazias kept on either side of the main gate which are taken out for procession on Muharram every year.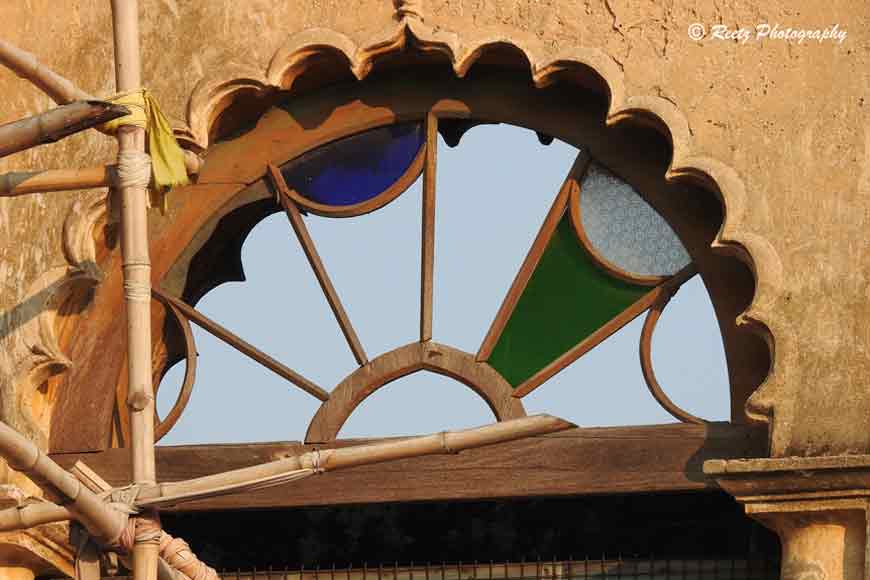 Broken glassworks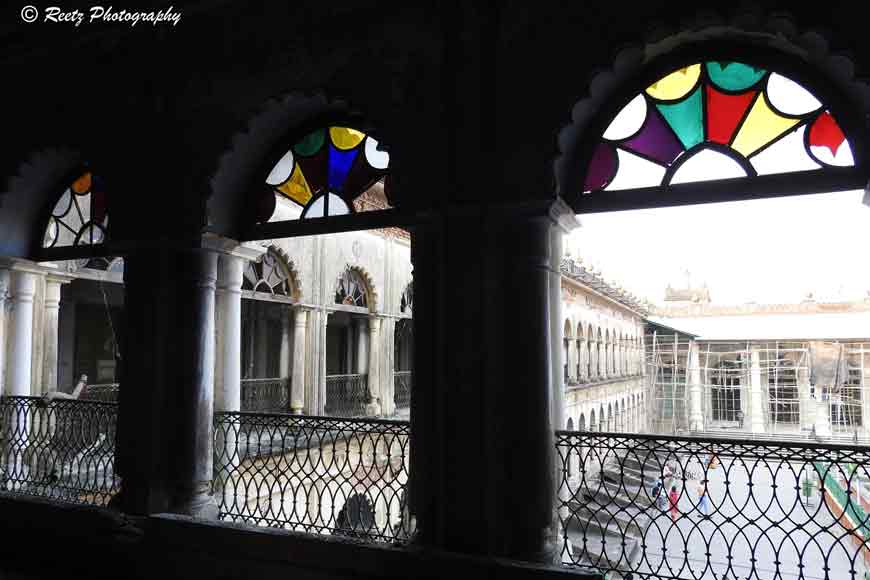 From first floor balcony
But the biggest surprise of this structure is the famous clock tower at the entrance of the Imambara. The tower is supported by twin turrets. It was under maintenance during our visit. Many say the clock was manufactured by the makers of London's Big Ben and was imported from England by Mohsin Khan against a hefty sum. There is a central courtyard, rectangular in shape, with an array of fountains; though none of them are functional at the moment. There are two identical wings – East and West, with two floors each and both are flanked by innumerable rooms with a long corridor. These rooms were earlier used for public accommodation during Muharram but now they have been converted to a madrassa.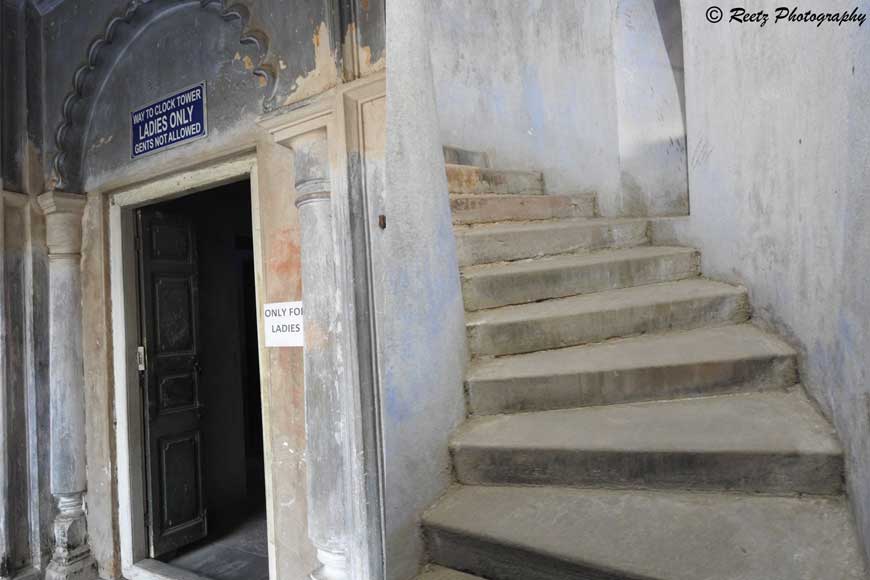 Gender segregated spiral staircase to clock tower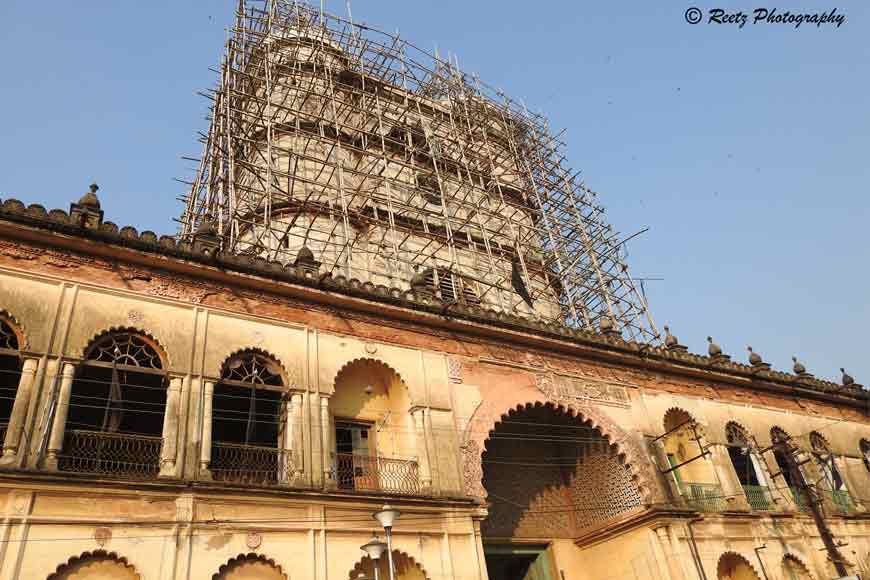 Clock Tower of Imambara
One is not allowed to climb to the top of the clock tower as the condition of the building will not support crowds of tourists romping up. But luckily we were allowed till the first floor. Separate stairways were there for men and women. Stretching ourselves through a flight of spiral steps, we finally landed at the Eastern balcony of the Imambara.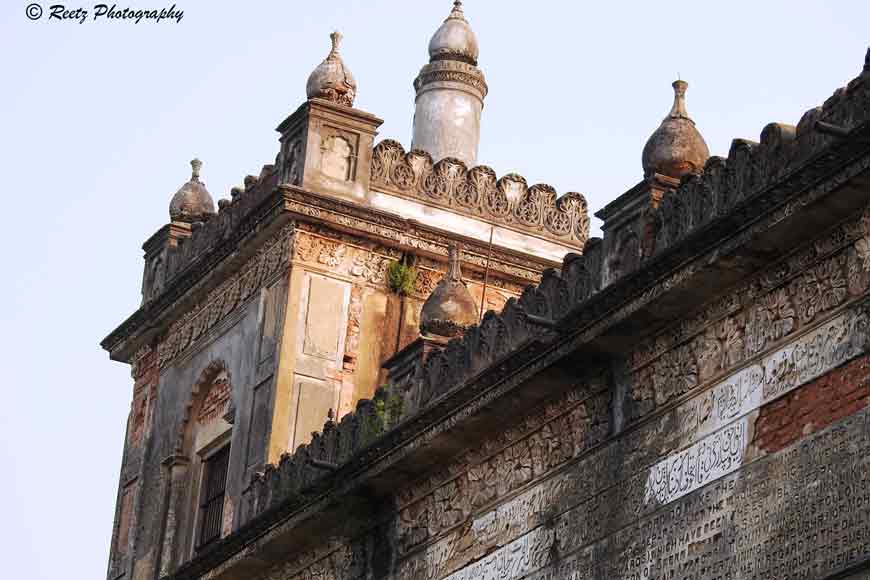 Quran scriptures on Zaridalan wall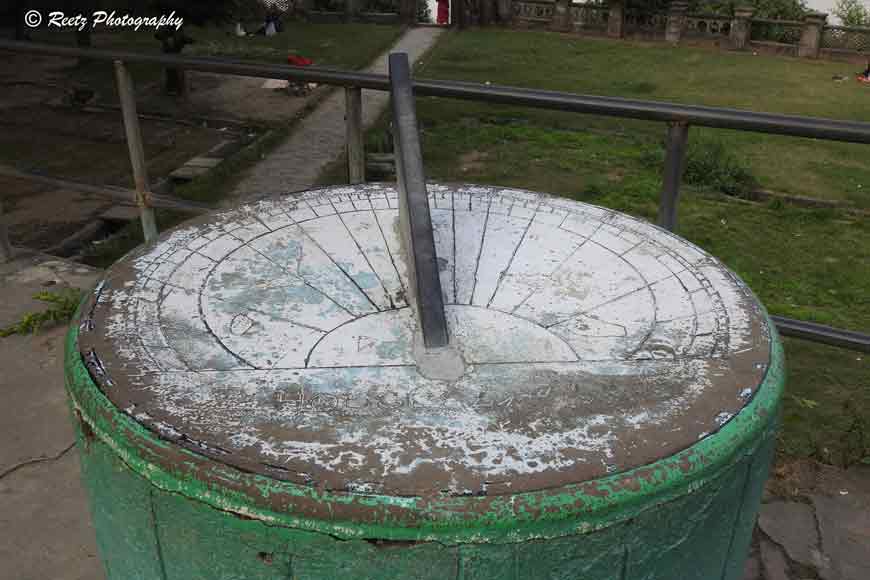 Sun dial
The northernmost end of the Imambara houses the Zaridalan, the main prayer hall which is still in use. Gender segregated seating arrangements are available on either side of the Muazzin's chair. Photography is strictly prohibited inside the hall. At the backside of Imambara, there is a private jetty. The sun dial is right here which indicates the exact time even today, centuries after it was made. The panoramic view from this jetty is not only awesome, but gives a rare view of the flowing Hooghly River that silently passes behind the Imambara. On the opposite side we could see the red cross of the Bandel Church. The hooter of an electric locomotive on the Jubilee Bridge brought us back from our dreams and we bid goodbye to the Time Machine on Hooghly Imambara as the sun set in the West.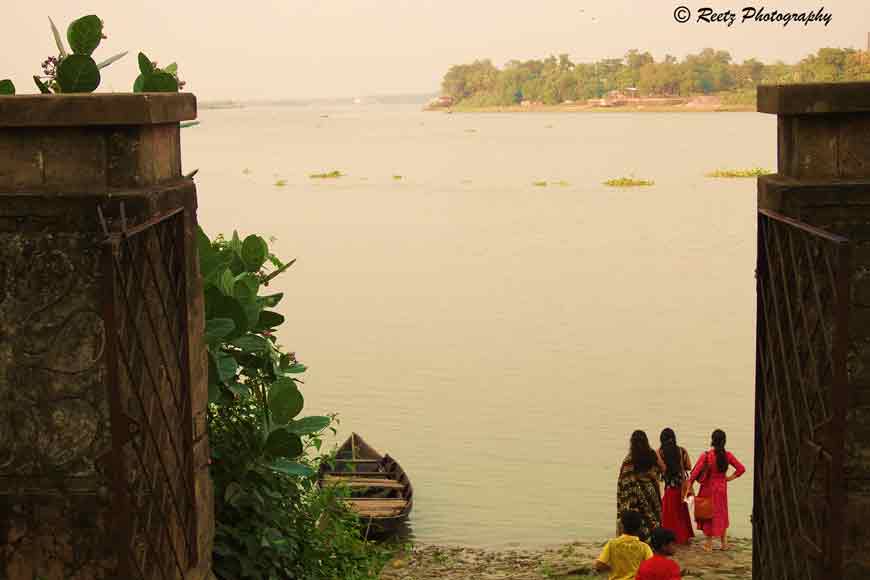 Private jetty at backside of Imambara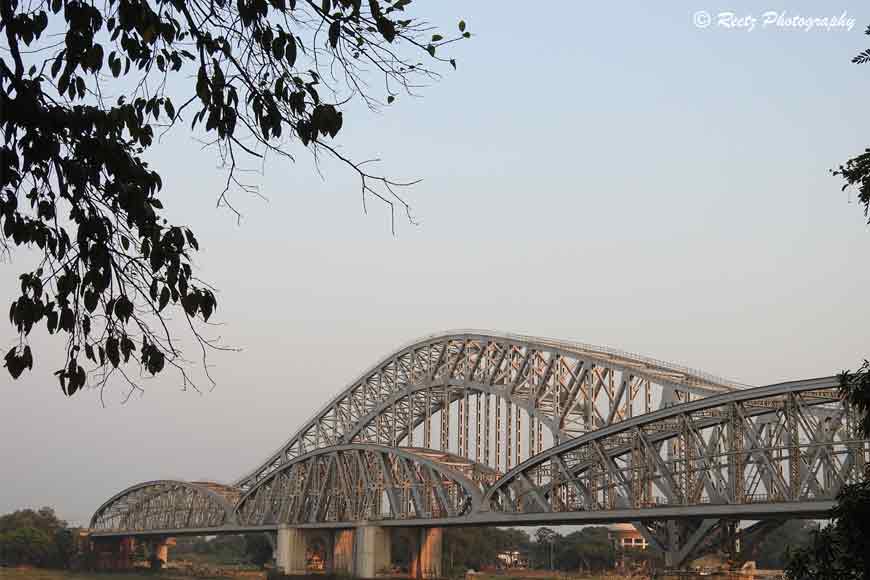 Jubilee bridge on Hooghly River as viewed from Imambara
How to Reach:
Located at a distance of 60 km from Kolkata, Hooghly Imambara can be easily reached by local train or by road. If you are coming by train, better to board a Howrah main line EMU and get down at Hooghly station. Ample rickshaws are available to drop you at the gate of Imambara. If you are self-driving, which we always prefer over any other medium of transport, best is to take GT Road and follow GPS for the inner lanes. There is a fee parking ground opposite to the entrance of Imambara. Road conditions are good but quite congested throughout the stretch.
What to see around:
Bandel Church, Mohsin Khan's tomb. You can also indulge a boat ride on Hooghly River
Fooding & Lodging:
No hotels or eateries nearby. Best suitable for a half day trip from Kolkata.