It was one of the most picturesque trail I had taken in years. I was indeed taken aback at silk smooth roads criss-crossing villages lined by yellow mustard and tomato fields in the heartland of Bengal, and that too in an area that was once upon a time considered as impoverished. Travelling through the length and breadth of Bankura to reach the famous Terracota village of Panchmura, was an eye-opener. It was like viewing Bengal in a new light, metalled village roads as good as national highways, prosperous fields with vegetables around as my car sped at a speed no less than 100km. Our perception of only North Indian highways scoring above the rest of the country, took a backseat. My car had to leave the National Highway as it was clogged with traffic and we meandered smoothly down village roads without the hint of a single pothole.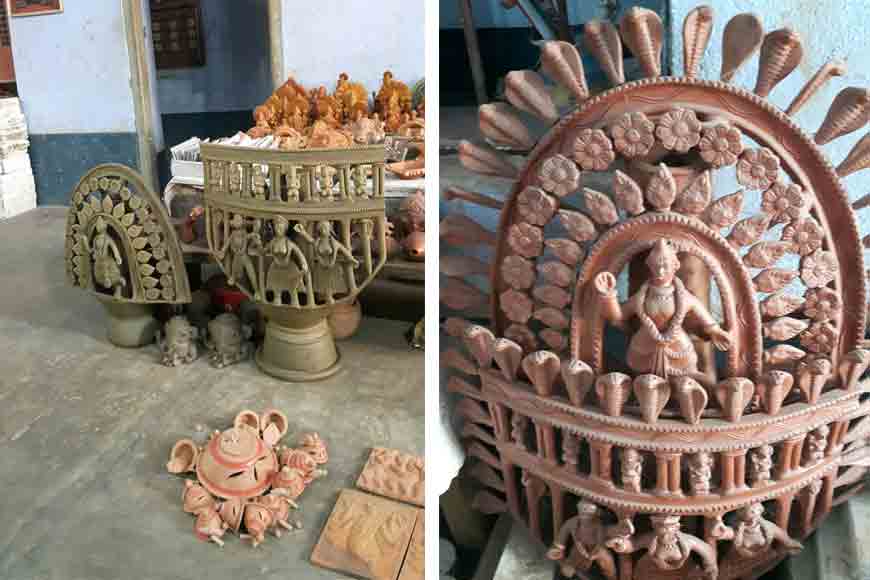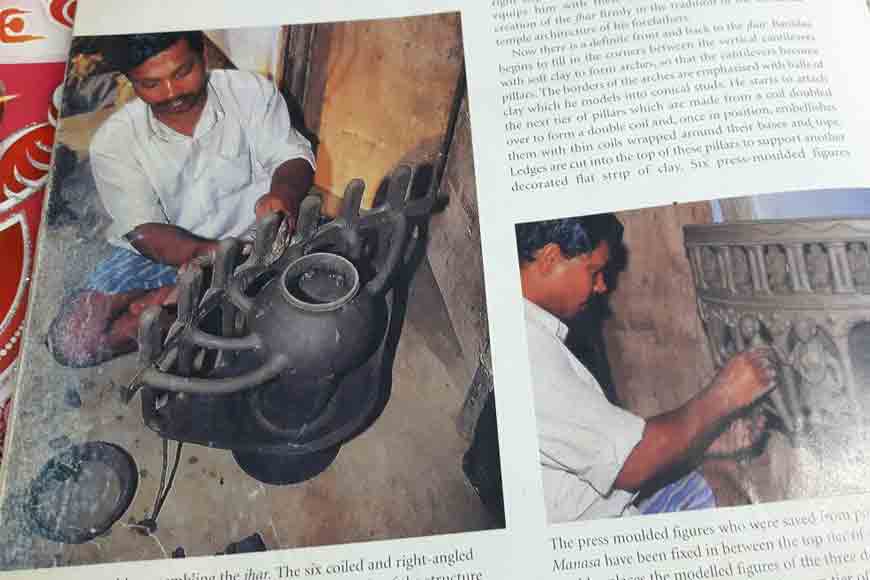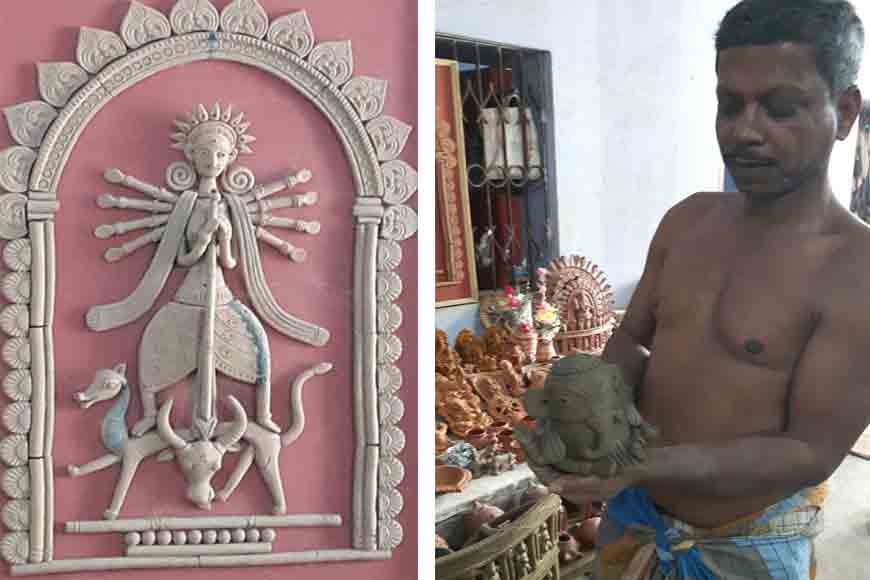 After travelling for almost 45 minutes from Bankura town, a lane drops down from the main road into the Terracota Village of Bengal. The first thing that caught my eyes was a huge well-like structure on the ground with broken pieces of burnt terracotta artefacts strewn here and there. It was almost like entering Troy after the victory of the Trojan Horse. Indeed, there were horse heads simply staring at me drying in the sun, infront of mud and thatched houses. My driver said this was a village where every household had a terracotta artist and the well I saw was the one where terracotta items are burnt by the entire terracotta community of the village. I was however keen to meet particularly one artist, Baul Karmakar, the man who has got awards from almost every country of the world, from Honolulu to Hong Kong and who has been featured in well known art and craft books written by world renowned art critics. I probably expected an artist sitting in his studio and instructing others or working on his own creation with an air of superior detachment that we usually visualise at studios of our city-bred artists. But the man I met was clad in a simply lungi, working silently on a Durga idol that I later got to know had to be sent to a Kolkata shop the next week with only a young girl in a frock assisting him. No plush studio, no sign of chaos that one imagines in an artist's corner, but a simple red floored room with hundreds of terracotta artefacts lined in rows and a man meticulously giving shape to a Durga. As I introduced myself, he gave me a seat and I refused to sit on a chair while he was sitting on the floor. Though we relate Terracota of Bankura primarily to horses, his studio had a very few of them. Rather he had a very rare series of Dashavatar Tiles. Most of us are acquainted with Dashavatar Taash of Bankura, but not tiles. One room had all the raw clay tiles drying with the ten different images of Lord Vishnu meticulously brought to life through the most intricate clay work I had ever seen. The room also had a clay Baul, goddesses, animals, owls and even a Hojoborolo cat!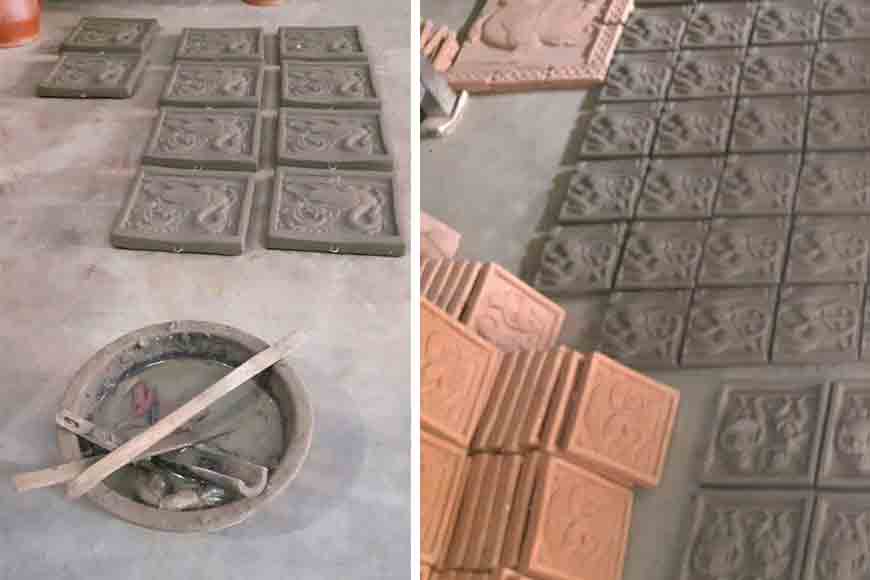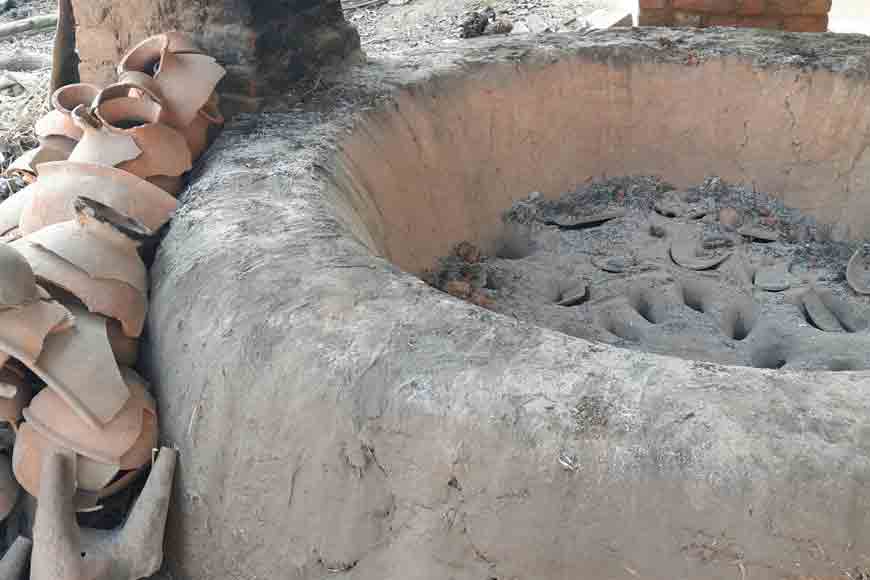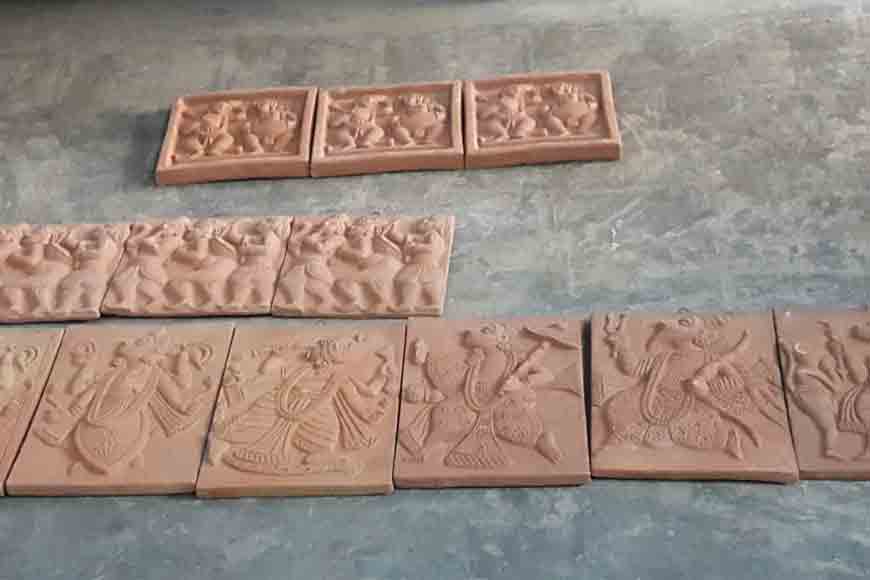 Karmakar introduced me to the young girl as his niece who studies in a secondary school and helps him on and off. His own son is pursuing Phd in a city college and daughter doing MSc in Mathematics. And the pride of being the father of first generation educated children glistened in his eyes. But when asked who will carry on with his legacy, he looked a bit sad, but pointed to that young girl and said: "May be she, or may be no one." I left his home and hearth late afternoon, forgetting to even take my bag that contained my purse full of cash, credit cards and important documents. I was so excited with the Dashavatar tiles I bought along with the cat! I did not even remember to take my bag. Till I had travelled a few kilometres and my phone rang with Karmakar saying: Apni bag phele gechhen (You have left your bag). Thankfully I had given him my contact number as I had ordered for a replica of the Durga he was making!
Such was the Terracota Man of Bengal, the son of the soil, who plays with clay and has a heart of gold!