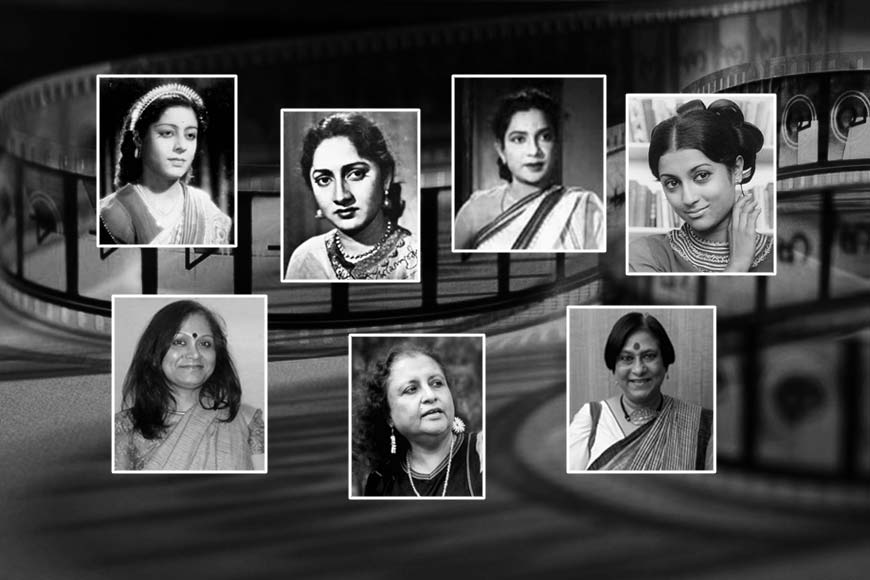 The story of women filmmakers (mainly directors) may date back to World War I, but in terms of numbers, they have remained minimal. If and when auteur critics and film scholars turn to the study of women directors, they typically look for ways in which women directors conform to or diverge from patterns followed by male directors. Given the Western tradition of dividing human nature into dual but parallel streams, attributes traditionally associated with the masculine are valued, studied and articulated, while those associated with the feminine tend to be ignored.
Bengali cinema has made many advances since the earliest days of celluloid, one encounters a similar paucity of women who took to direction, though they were very successful as actors. For the handful who have made their mark, most have and still are constantly exploring spaces of negotiation between the conditioned roles women have to perform, and the options that could open up new thoughts, lifestyles and perspectives. They have explored stories that tried to draw women out of enforced isolation and marginalization, raising questions about their self-denial and martyrdom, either in the audience, or within the characters in the films, or both.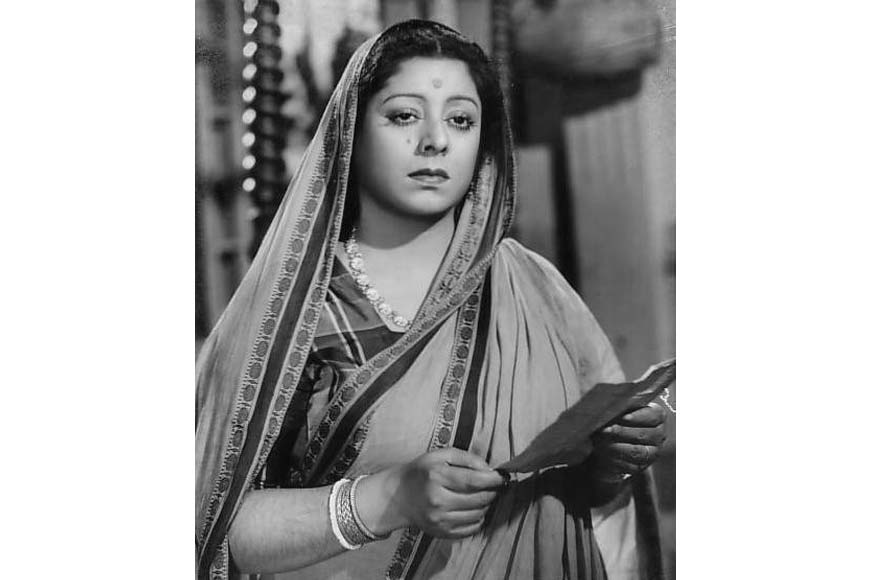 Kanan Devi
Kanan Devi, one of the most respected and successful actors of her time, did not venture into direction, but created her own banner called Shreemati Pictures in 1949 and produced around a dozen films between 1949 and 1965. Most of these films were based on classics by Sarat Chandra Chattopadhyay, and the directorial team she created and named Sabyasachi included her, alongside Ajoy Kar and Binoy Chatterjee. Though the films did not meet with great commercial success, they were well received by critics. With the launch of her production banner, Kanan Devi, having given up her music long ago, graduated to playing character roles in her own films because she was sure that she no longer had the charisma of a leading lady.

Among the productions of Shreemati Pictures, Andhare Alo (1957) based on a novel by Sarat Chandra Chattopadhyay won the All-India Certificate of Merit for the Second Best Feature Film at the 5th National Awards at the hands of Rajendra Prasad. It also won the President's Silver Medal for the Best Feature Film in Bengali and the inaugural film at the Karlovy Vary International Film Festival. Rajlakshmi O Sreekanto (1958) was perhaps the biggest hit under her banner. Indranath, Sreekanto O Annadadidi (1959) was a well-crafted film that featured Kanan Devi as a very layered Annadadidi and marked the debut of her son. Abhaya O Sreekanto (1965), the last film under the Shreemati Pictures banner, managed to recover costs. Kanan Devi remains one of the most outstanding and versatile creative artists Indian cinema has ever produced.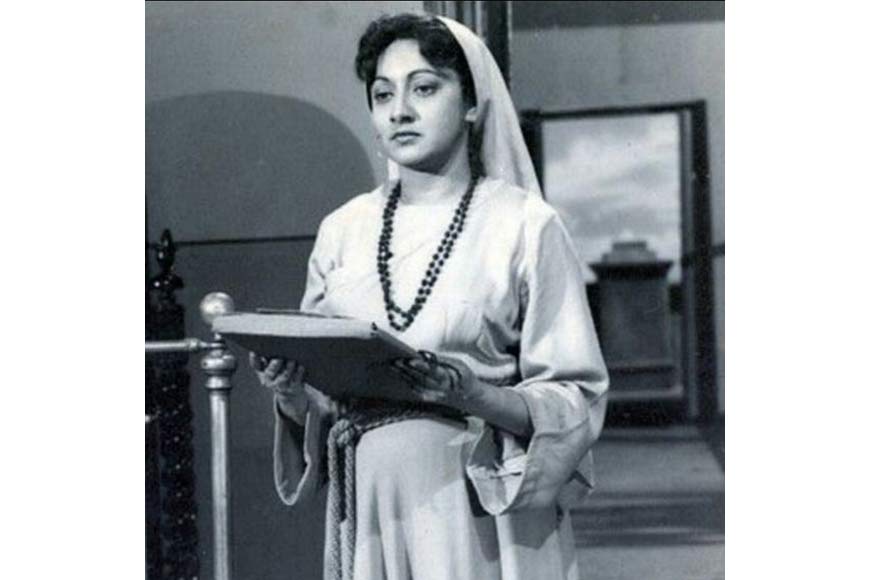 Arundhati Devi
Arundhati Devi was one of the most educated and aristocratic actors in Bengali cinema, having acquired a postgraduate degree from Santiniketan. She ventured into direction with a lyrical film called Chhuti (Holiday) in 1967, and followed up with two more films, Megh O Roudra (1969) and a lovely film for children called Padi Pishir Bormi Baksho. Then came Deepar Prem and Gokul, a telefilm, in 1983. Chhuti, for which she also wrote the script and music, won a Certificate of Merit at the 1967 National Awards.
She turned producer with Bicharak (1959) directed by Prabhat, which bagged a Certificate of Merit as the third Best Feature film at the National Awards in 1960. This was based on a novel by Jnanpeeth-winner Tarasankar Bandopadhyay and is one of Uttam Kumar's most outstanding works as an actor.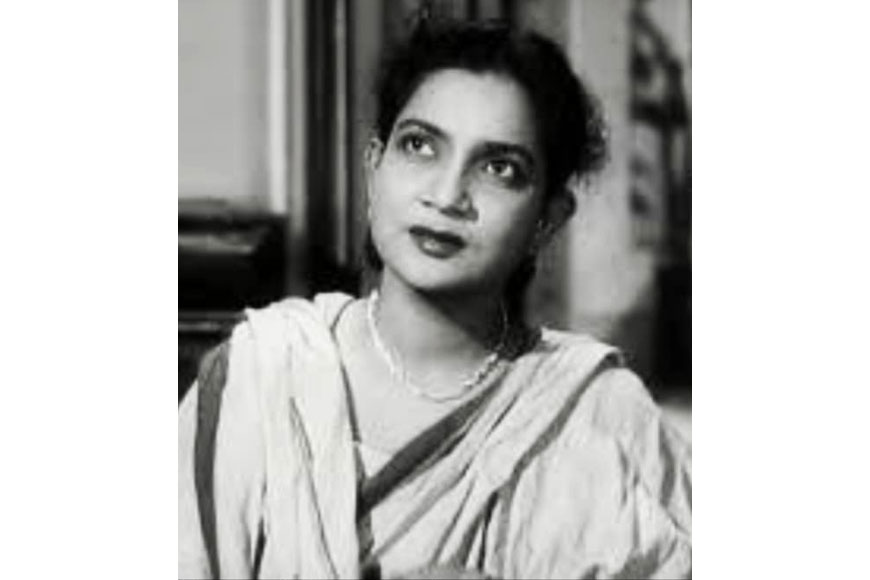 Manju De
Manju De, a contemporary of Arundhati Devi, was a very powerful actor who took to direction with Swargo Hotey Bidaye (1954), a comedy with melodious music and songs. In 1962, she represented India at the Jakarta Indian Film Festival. This was followed by Abhishoptoo Chambal (1967) based on a famous novel by Tarun Bhaduri. Manju Dey produced the film, wrote the screenplay along with Bhaduri, and acted in it. Her third directorial film was Sajarur Kanta (1974), a Byomkesh Bakshi thriller based on a Saradindu Bandopadhyay novel. She also directed and acted in Putlibai, a film based on a woman-outlaw, though the film was a miserable flop.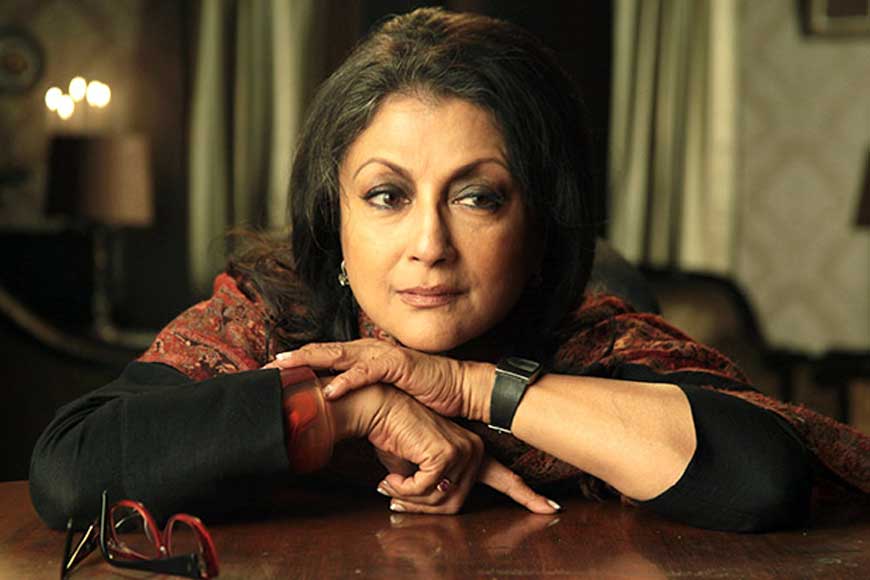 Aparna Sen
Aparna Sen is one director in India who has made her talent felt without trying to compete in the numbers game. As an actor, she ruled mainstream Bengali cinema for more than 25 years. As director, she has graced the screen with her rare insight into unusual human relationships. Over the years, beginning with 36, Chowringhee Lane, she has emerged as one of India's major filmmakers. Aparna is unique in that not one of her films can be compared with her other films. After the thundering critical acclaim Mr.& Mrs.Iyer received, with several National Awards and some international ones too, Sen shifted to the making of another film in English, 15, Park Avenue with an impressive star cast spanning three generations of actors – local, national and international. Her films cannot be boxed within the commercial mainstream, but in terms of their approach, the directorial treatment and the overall plot or theme are always rich in content and the form is left to the talented director to choose. Films such as 36, Chowringhee Lane, Yugant, 15, Park Avenue, Iti Mrinalini, Goynar Baksho, Sonata and Ghare Baire Aaj have featured working women from different walks of life.
"My films mainly revolve around loneliness, individuals, friendship, and sisterhood. I do not make experimental films. Nor do I make formula films. I make films that are true to my artistic vision. I think it is important to make films that do not alienate the audience. I think a director can induce the viewer to come to the theatres by making films that are both entertaining and realistic. Every filmmaker wants to see their film succeed at the box-office. We cannot only screen films at festivals. It is equally important for the films to make money," she says.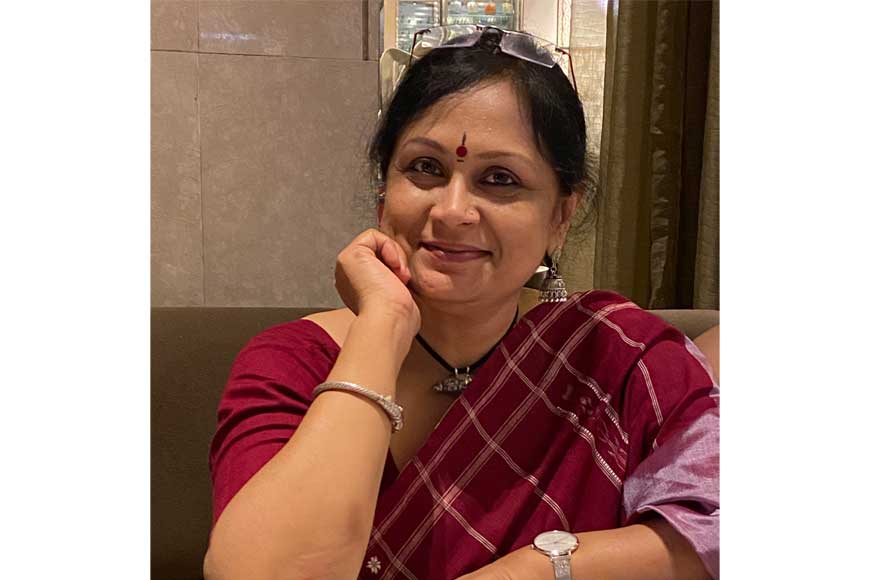 Satarupa Sanyal
Satarupa Sanyal stepped into direction after her split with partner Utpalendu Chakraborty, once a noted filmmaker of parallel cinema. Though she studied Veterinary Pathology for her Masters degree, she switched over to vocal music and trained under different masters. She is also an established poet and lyricist and won the National Award for best lyricist for Utpalendu Chakraborty's Chhandaneer, part of the Indian Panorama at the Calcutta Filmotsav in 1990. She also runs a literary magazine called Aw, and her daughters Chitrangada and Ritabhari are established actors in Bengali and Hindi cinema and OTT platforms.
After assisting Utpalendu for eight years and working as an actor in Bengali films and television, she founded her production house SCUD and directed her first full-length feature film Anu, screened in the Indian Panorama at the Filmotsav in Hyderabad and won several awards. She has directed films such as Atatayee, Tanyabi Firti, Kalo Chita, Once Upon a Time in Kolkata, Tobuo Basanta, and Onyo Opalaa. Satarupa has also directed around 25 films for television.
She has made some very good documentaries as well. Her subjects for feature films run an undercurrent of protest and rebellion countering some social issue, as she is also a social activist and a noted poet who writes in Bengali, besides creating short fiction.
Sudeshna Roy
Sudeshna Roy directs jointly with Abhijit Guha, and is often left out from lists of woman film directors. But she has a very long track record as a journalist, a television anchor, a versatile actor and a director. She has a very powerful personality and is an inspiration for women in the Bengali industry. Her directorial debut Sudhu Tumi (2004) scored well at the box office. She then came up with films like Cross Connection (2009), Teen Yaari Katha (2012), Bapi Bari Ja (2012) and Biye Not Out (2014), all of which were loved by audiences. She and Abhijit make films on socially relevant issues, with a simple comic twist. Her recent films Bitnoon and Mayer Biye received rave reviews both from the critics and audience. Another feature film, Sraboner Dharar Moto, is one of the best performances of this director duo, though it did not do well commercially.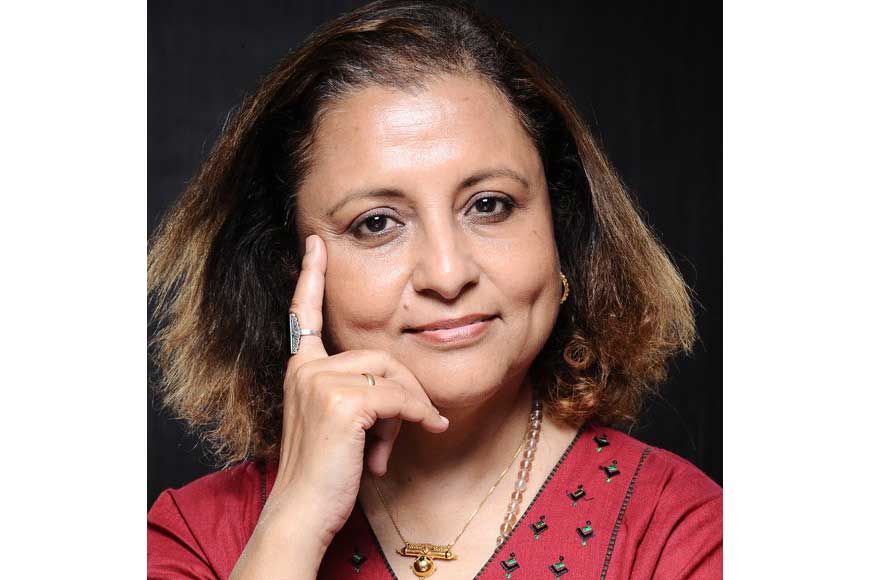 Nandita Roy
And finally, Nandita Roy, once married to talented art director Nitish Roy, stepped into direction after migrating to Kolkata from Mumbai. She joined forces with Shiboprosad Mukherjee to direct films that had a definite social agenda but was targeted at the mainstream audience. Today, they are considered to be the biggest crowd-pullers in the Bengali film industry not only as directors but also as producers. Their films do have melodramatic excesses, but most of them are addressed to a universal audience.
Their first feature film together was Icche, a very bold subject on a mother's obsessive possessiveness about her son which nearly destroys his life till he decides to walk out on her. Praktan was the highest-grossing Bengali film of 2016 and swept the West Bengal Film Journalsits Association Awards, including Most Popular Film. Bela Seshe and Icche also had highly-successful theatrical runs of 250 and 125 days, respectively.
The directorial forays of most of these women, however, have been rather skewed in terms of frequency of release and the quality of the product. They have not necessarily confined themselves to the woman-question. But in this very conscious striving to keep away from the predictability of women directors tackling women's issues, their work seems to have suffered in certain ways. Sometimes, the effort appears a bit contrived, forced. Nevertheless, in an environment where certain forms of representation are culturally dominant, such as mainstream and off-mainstream cinema directed by men, alternative forms have a tendency to be interpreted as a challenge to dominant forms even if that was not their creators' intention. None of them have consciously sought to "mobilise the cinema in the service of women's liberation". In a country where the number of films produced nears a thousand every year, a couple or more films made by a handful of women directors can hardly scratch the surface of dominant ideologies perpetrated by male directors. Nevertheless, they have it in them, to move beyond modes of expression prevalent within patriarchal ideology.