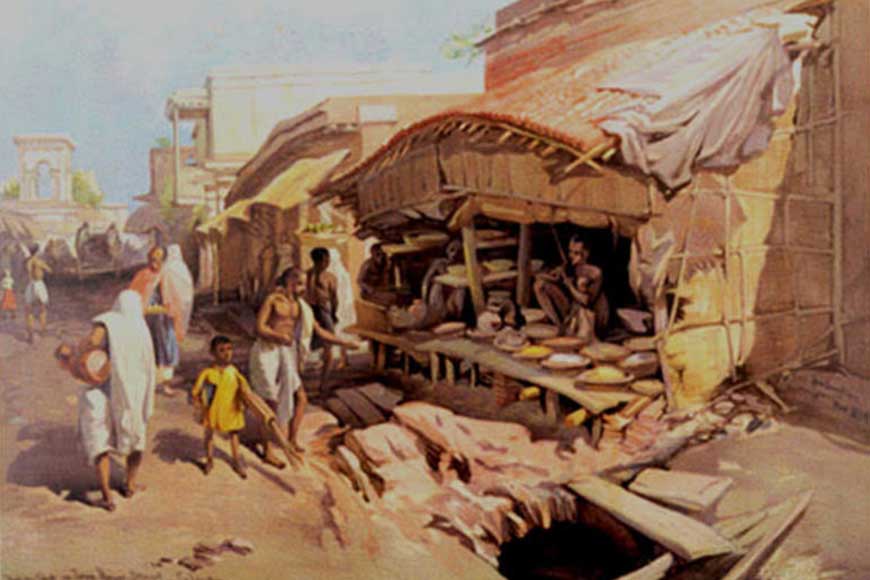 Burra Bazar has a distinct chaotic outlook all day long, that rings a chord with the chaos and warmth of Kolkata. But how did this trading district of Kolkata look in the British era? When most of us these days, trace the architectural splendours of the buildings of Kolkata, very few of us actually know how the trading hub came up. After all, this is still the nerve centre of Kolkata's business community.
Price's Observations has this much to say about the English in Calcutta: 'When the English first settled at Calcutta, the little body of Merchants, instead of affixing themselves on the west side of the river, as all other Europeans had done before since, determined on a very small of rising ground on the east side. Their reasons for this choice were, that it was situated near to several populous villages, filled with cloth manufacturers. Clive Street was, in fact, found to be the highest point in the whole modern town of Calcutta. The high bank of these rivers always has some elevation above the flat inland. The rise of the old high bank, now many hundred yards inland, is perceptible and abrupt as you enter the 'Burra Bazar' from the Strand Road near Mint.'
It was the skill and influence of Dr. Gabriel Boughton, who helped the British get permission to trade with Bengal. Calcutta grew much later, on a part of alluvial deposits in the Gangetic delta with an elevation more than 20 feet above sea level. Bustees or native villages, with huts made of mud walls and covered with straw, crowded a large part of the northern area. These hutments were on bare damp ground, huddled together without ventilation or drainage. These were often clustered round a tank Among them, those who owned by the better-off were brick built, two to three stories high, and flat-roofed.
The hub of trading consisted of bazaars-in the Northern Division including Radha Bazar, Old and New China bazar and Burra bazar. Burra Bazar sold all kinds of merchandise, ranging from piece goods, Kashmiri shawls, jewelry, precious stones to hardware of every description. The large stocks of goods appear just as fascinating as the quaint little shops tucked away on mazy lanes. There is also an array of invisible commodities which have to ferreted out. The buyer has to have all his wits about him and has to do some hard bargaining, naming his 'asking' price which has to be considerably lower than what he will finally settle for.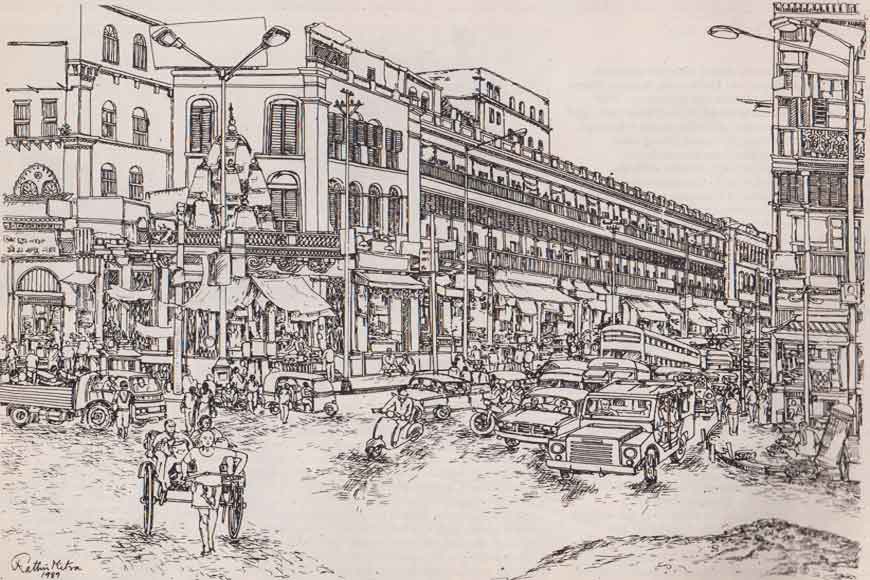 Drawing by Rathin Mitra taken from CALCUTTA THEN AND NOW
When it all began, Burra bazar was under the control of Bengalis. Nemai Mullick, Baishnava Sett, the Basaks, Kundus, Tagores-they all had their 'gaddis'in this area, from 1700-1757, when the battle pf Plassey turned into a watershed in the history of Bengal. The next 130 years witnessed a sharp plummeting in Bengali supremacy in trade and commerce in and out of Calcutta. Big money and businessmen in large numbers started infiltrating from western and northern India and swamped the city's business centres. Bengali traders had to say goodbye to Burra Bazar and the neighbouring areas of Jorabgan and Hatkhola. And thus began the era of Gujratis, Marwaris and Banias from Uttar Pradesh.