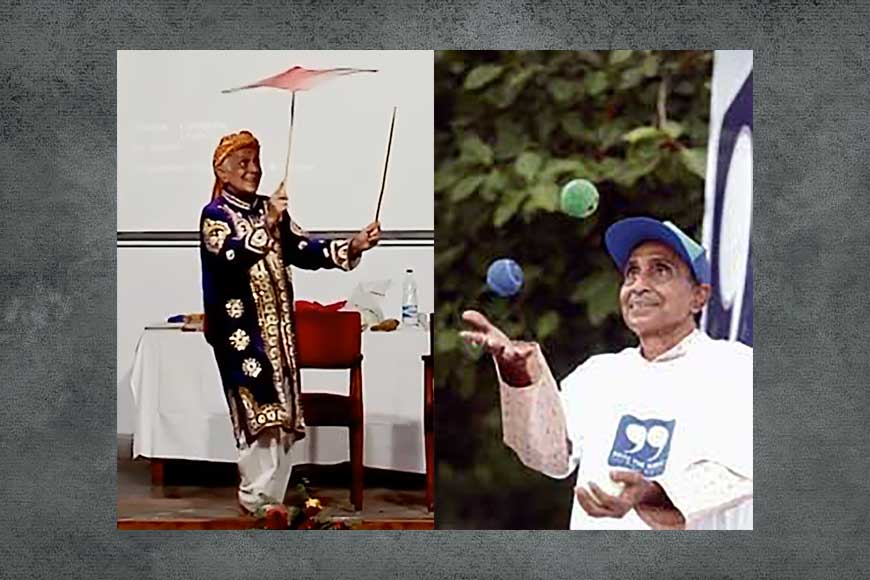 Remember that scene from Satyajit Ray's famous Feluda movie, Joy Baba Felunath, where Jatayu puts up a brave face as Magan Laal Meghraj's juggler Arjun hits one dagger after the other showing a dangerous jugglery game? Though on-screen all saw Kamu Mukherjee in the role of the dagger thrower, the real hero who acted as his dummy was famous juggler Abhay Mitra. We find Mitra again cast in Phatikchand — playing the dummy, again, for a flame-catching Kamu Mukherjee — and Goopi Bagha Phire Elo, where he played himself on screen, balancing on rollers while juggling two hammers and a ball.
Abhay Mitra is often known as Ray's juggler and he passed away last week, leaving behind a dying art whose reins he had one day taken up to keep the art of jugglery alive. He was so passionate about jugglery that he even set up an institute, his long-cherished dream and the first of its kind in the country. The institute that will train budding jugglers in an art that is inching towards extinction. Academy of Juggling at the Boy Scouts of Bengal tent on Maidan ran for free almost as Mitra had a wish that the younger generation would take up this art form and keep it alive.
Mitra himself had inherited the skill from his father, Kalosona Mitra, who died when he was just seven, has now passed it on to his children. His institute takes in any kid between six and 16 years of age and even admits physically-challenged and mentally-retarded children for Mitra always believed juggling in step with the rhythm of music, work wonders for such children.
Despite being a low profile person, Mitra had travelled the globe showcasing his skills. The past took him to Paris, saw him work with the legendary Satyajit Ray, meeting Mother Teresa, magician P.C. Sorcar (Jr) and so many more. From dagger-throwing act, to juggling balls and pins, to ball-and-stick-and-hammer-juggling, ribbon-dancing, sword-balancing, hat-throwing act, and many more, Mitra was always happy to bring a smile to all.
After having staged more than 5,000 shows in the past 50 years, Mitra's death will leave a deep void and his intent to spread the magic of juggling far and wide might take a back seat. Still his students would probably keep the show going. Hope Bengal's jugglery would survive.
Story Tag:
Abhay Mitra, Indian Jugglers