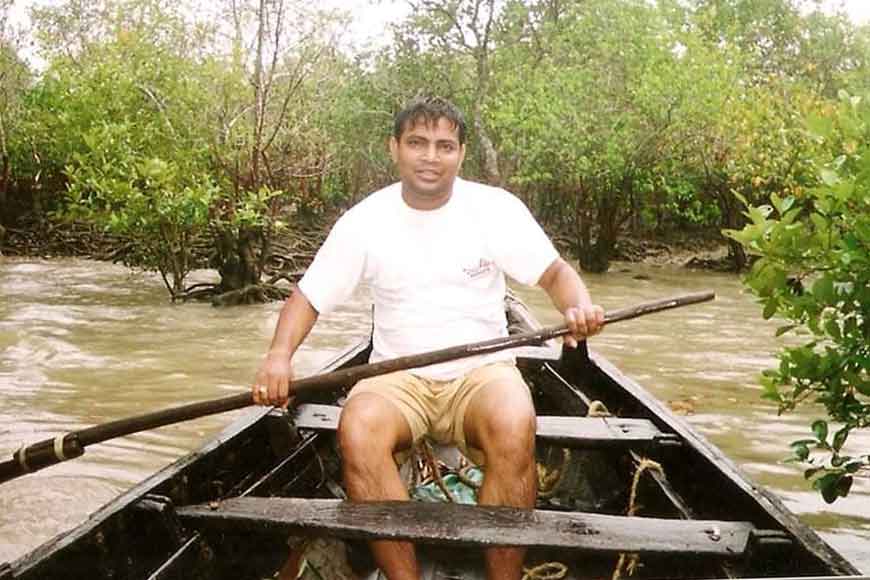 If one person is trying to save the fragile endangered Mangroves of Sundarbans, he is Umashankar Mandal, popularly known as the Mangrove Man. The Sundarbans is the largest mangrove forest in the world that has a big role to play in saving the largest delta from natural disasters. In the Sundarbans, 26 different species of mangroves surround the entire forest and maintain the ecological balance as well as become the high wall in the face of cyclones hitting the Bay of Bengal coast.
Umashankar took an important decision early in life, for he knew how important these mangroves are for Sundarbans and how the entire island area will be wiped off, if they are not saved. He decided to plant 10,000 mangrove trees on July 26, a day declared as the International Day for the Conservation of the Mangrove Ecosystem by UNESCO. "Those who love the Sundarbans should come forward to help with mangrove saplings, the more the merrier. At first, I got 4,000 saplings through donations, then while asking for more over social media, people did come forward and donated 6,000 saplings. I am overwhelmed that I could fulfil the target," Umashankar told GB.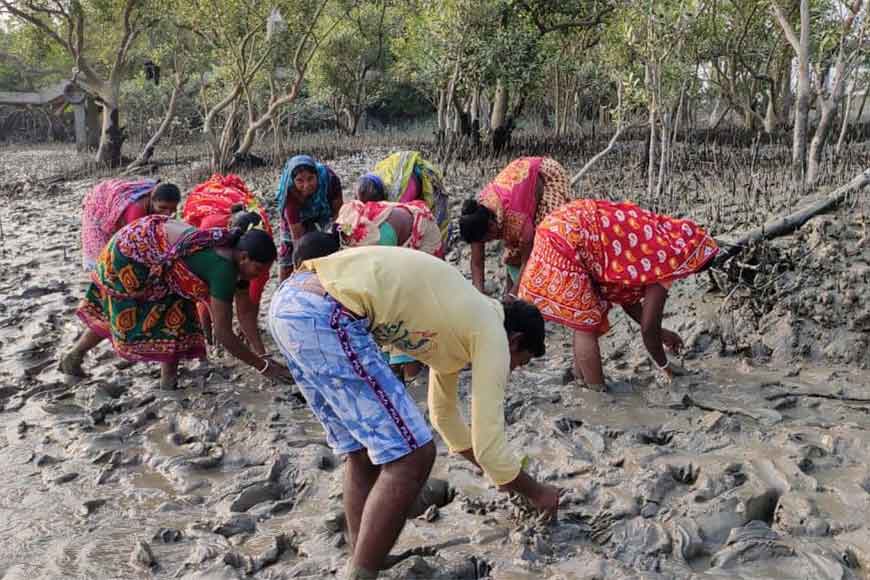 Umashankar Mandal is a resident of Chargheri, on Satjelia Island in Gosaba. Previously, he was a geography teacher at a high school in Jangipur, Murshidabad. His wife is also a teacher. Though he had left Sundarbans for work, his knowledge of geography changed his outlook. In his own words: "I understood early in life that humans will survive if they save nature." The truth further dawned on him in 2009 when devastating cyclone Aila hit Sundarbans. "Waves of six-seven feet high lashed upon the river. One such wave hit a house and lifted it off the ground. I was a witness to this whole catastrophe. I was devastated." Even today, Umashankar's voice trembles while relating the incident. "That day I had pledged to plant more and more mangroves that will act as a natural protective wall for Sundarbans," said the Mangrove Man.
After Aila, he started planting mangrove saplings like Bain, Garan etc. in the vicinity of Chargheri. Many mangrove seeds floated in the river. He collected them from the women of the village. Then he buried them on the riverbanks, that germinated into mangrove saplings. Thus, he collected six and a half lakh mangrove saplings in the last 10 years. Next came the planting drive. He along with the women of his village started planting the saplings in a place called Parashamani near the Garal river on Satjelia Island. The women here have long been involved in mangrove plantation. Umashankar encourages everyone to plant mangroves in various ways.

He has planted six and a half lakh mangroves within 12 years since 2009. Mangroves are now much larger, with the ability to take storm drills. "But more is needed. Nowadays villagers, especially women are coming to plant saplings. Some are given saris, some mosquito nets and other clothes, or sanitary pads, in return for their hard work. Everything is given from the donations of well-wishers," adds Umashankar.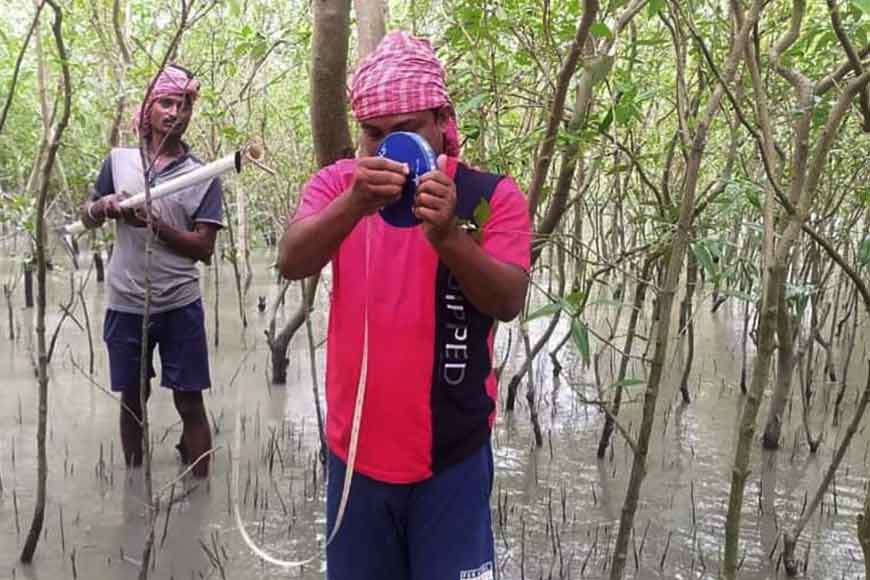 Dr. Pranabes Saynal ex Chief Conservator of forest, West Bengal, says, "I visited Umashankar's Mangrove Plantation drive. The plantation shows high survival percentage as well as excellent biodiversity of mangrove species." The initiative taken by Umashankar is commendable. This model can be easily replicated in other parts of the island. Umashankar has not forgotten to express his gratitude and thankfulness to those who have supported him in this endeavour.
Dr Jayanta Gour, Assistant Professor of Geography, Sambhu Nath College, Labpur, says: "I have been working with Umashankar Mandal for more than a decade and haven't found such a dedicated and devoted naturalist who has been relentlessly and tirelessly helping the people of Sundarbans during the crisis moments. I hope his noble contribution in protecting Sundarbans will be highly evaluated in the history of the islands."
When asked how he felt being called the Mangrove Man of Sundarbans, Umashankar speaks in a shy voice: "I see it as a recognition of my service. It is the same with the badges on the chests of the volunteers. The work is convenient, it feels good."