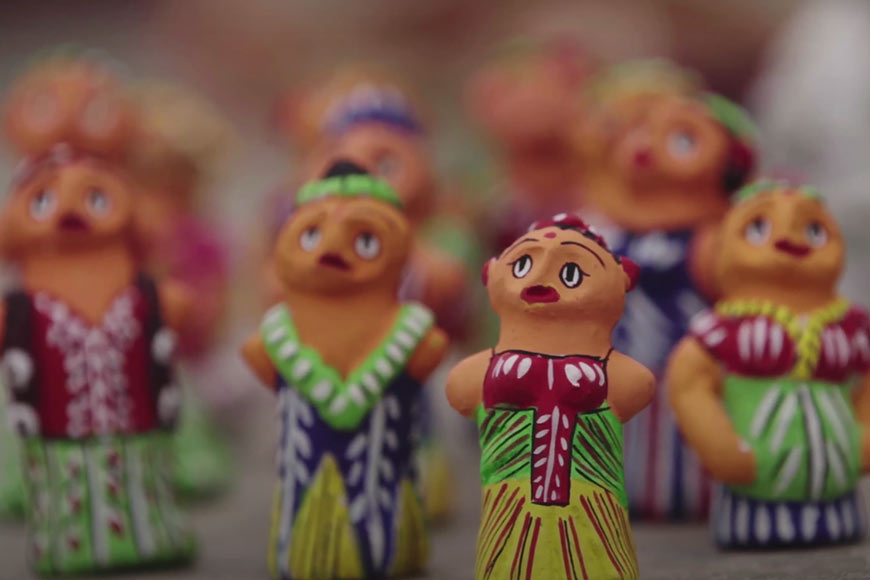 Nobody does terracotta (burnt clay) quite like Bengal. And this skill has stood the test of history. For centuries, Bengal's craftspeople have used terracotta to craft objects ranging from enormous temples and mosques to small dolls and articles of daily use. In part, the use of terracotta was driven by the relative absence of more traditional building materials such as stone. But those early craftspeople also recognised terracotta for its inherent qualities, and its eco-friendliness too. The still standing mosques and temples of Malda, Murshidabad, and Bishnupur also provide ample testimony to the longevity of terracotta.
However, we aren't here to talk only of large buildings, but of small clay dolls and figurines too. Different districts of Bengal have come up with their own versions of clay dolls, such as the Ahlad-Ahladi dolls created by Majilpur artisans of South 24 Parganas, whose subjects include woman with pitcher, village belles, animals and birds, and formally dressed European gentlemen and ladies, the Rani Putul of Howrah district, sculpted in the form of Queen Victoria, terracotta dolls of Panchmura, Hingul and Tusu dolls of Bishnupur, Jo dolls of Medinipur, Kanthalia dolls of Murshidabad, Shoshthi dolls of Coonoor, Manasha Pot of Dakshindari and Shiva Head of Nabadwip.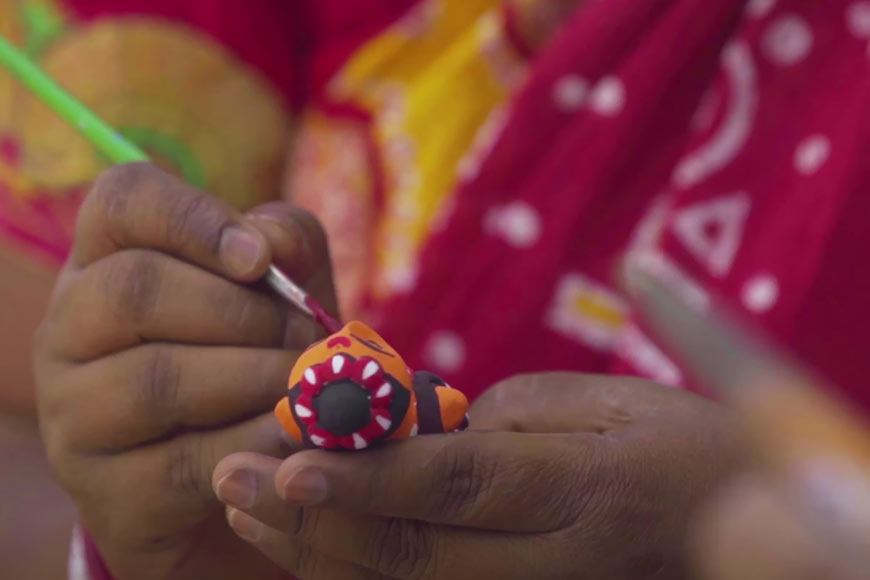 Some of these dolls have religious significance, but most are intended either as playthings, or decorative objects. They also function as important cultural markers, reflecting the cultural and social influences on a particular region. Among these, the Hingul dolls of Bishnupur (also sometimes called Heemputul) seem to be enjoying a revival of sorts. While many of the traditional crafts are now sadly neglected and dying, the Heemputul artisans of Bishnupur report a renewed popular interest in their craft, perhaps owing to a recent spate of media reports and features about it.
Hingul aka Heemputul dolls are the folk version of the traditional Shoshthi dolls. The basic difference between a Hingul and a Shoshthi doll is that the latter will always be shown as carrying a child. Heemputul are made of clay, dried under the sun, and dyed with various herbal colours which make them look vibrant. Traditionally cinnabar (locally called hingul, a bright red mineral consisting of mercury sulphide) was used as a pigment to colour these dolls.
Historically, terracotta mother figurines and Shoshthi dolls (Shoshthi being the goddess of fertility and motherhood) have been used in worship in different parts of Bengal. Different kinds of such terracotta figurines have even been found during archaeological excavations. The ritual is popularly known as Shoshthi pujo (performed in the month of Jaistha, or May-June). These figures vary in shape and size from region to region. However, they are all made of terracotta. Praying for a child in the family, these dolls are brought into the house and worshipped by women. The matriarch of the family reads the story/chants (bratakothaa). Once the prayers are heard and a child is born, these dolls are left under a banyan tree.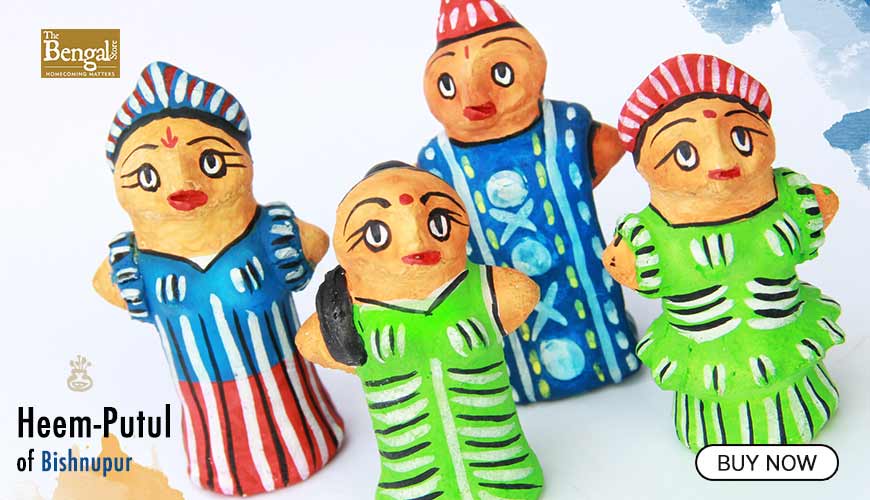 In Bishnupur, Heemputul are predominantly made by the Faujdar family, whose women continue making these dolls even today. Made of clay, traditional cinnabar is used to colour the dolls, mined from Bankura (of which Bishnupur is part) and Purulia districts. The most interesting aspect of these small dolls is their attire. Most Heemputul appear in frocks, hats, and show plenty of Western influence in their structure. Western-style dolls called 'tepa putul', made by pressing the clay with the fingertips, have a lot of bearing on Hingul dolls.
Today, Sheetal Faujdar and his family are involved in making these dolls. Sheetal is a descendant of Kartik Faujdar, the brilliant artist who first created the terracotta Dashavatar cards for the great Malla monarch of Bengal, Bir Hambir. The family tradition continues and now Sheetal Faujdar's household, especially the women in the family, carve out exquisitely beautiful Heemputul. They also paint Dashavatar cards and Durga Pata, as they have been doing for generations.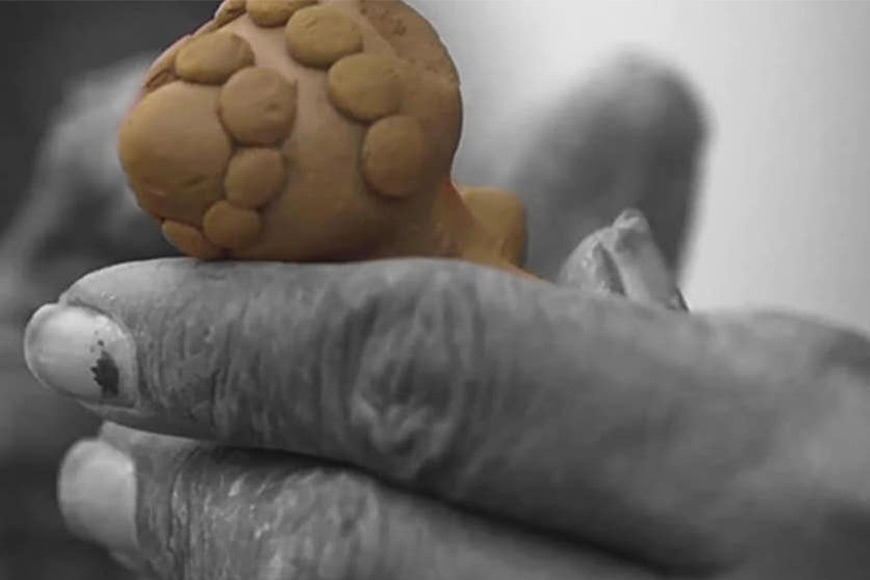 When next you visit Bishnupur, therefore, don't confine yourself to its magnificent terracotta temples only. Seek out the Heemputul artisans and watch them at work, buy their products so you can do your bit to conserve the cultural heritage of Bengal. Getting to Bishnupur by road is easy, and the drive takes a little over 4.5 hours. Train and bus services are fairly frequent under normal conditions, but in these pandemic times, are liable to be irregular. The train journey takes just about three hours, and there are several trains departing from Howrah station, but make sure you find out which ones are currently operating.
Once you get there, the beautiful Bishnupur Tourism Property, run by the West Bengal Tourism Development Corporation, offers excellent and ample accommodation, which you can book online. For more information on that, contact
West Bengal Tourism Development Corporation Ltd
DG Block, Sector-II, Salt Lake
Kolkata 700091
Phone: (033) 2358 5189, Fax: 2359 8292
Website: https://www.wbtdcl.com/
Email: visitwestbengal@yahoo.co.in, mdwbtdc@gmail.com, dgmrwbtdc@gmail.com