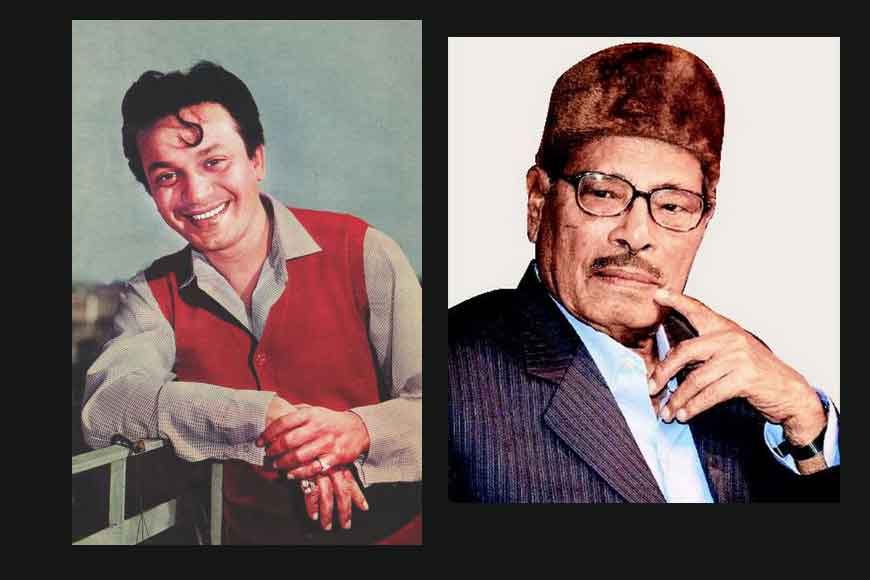 'You listen to my songs?'
'I listen only to Manna Dey's songs,' was what the legendary singer Mohammed Rafi once said to his fans. Manna Dey was the soul of Bollywood music. With his versatility and masculine yet melodious rendition, he created a distinct space for himself in the arena of playback singing.
Manna Dey was equally at ease both in Bombay and Calcutta. But when he play-backed for the all-time 'Monarch' of Bengali cinema, Uttam Kumar, it was a coup of sorts.Things didn't happen so smoothly as they sound.In Calcutta, superstar Uttam Kumar's voice was synonymous to Hemanta Mukherjee. When Sudhin Dasgupta, music director for the Uttam Kumar-starrer Shankhabela (1966) (Ke prothom kachhe eshechhi) wanted to use Manna Dey, everyone was aghast. "It was a calamity," Dey would say, smiling. "The producer and distributor said, 'Impossible. It has to be Hemanta.' But the music director was adamant. The songs were huge hits. Later in the film Stree, Dey sang for Uttam Kumar while Hemanta Mukherjee was the voice of his co-star Soumitra Chatterjee!

Dey recounts, "I specially remember when I started singing for Uttam. It was the film, Goli Theke Rajpath(music director: Sudhin Dasgupta, 1959; Lag lag lag bhelkir khela). I was in doubt whether I could reach the level that Hemanta had set as Uttam's voice. He, after all, was the ghost voice of Uttam Kumar. But after I rendered the songs of Antony Firingee for him, Uttam said, 'Manna,no other singers could have given the effect yougave to these songs.There can be no comparison between Hemanta (Mukhopadhyay) and you, as both of you are equally great in your own ways.'
Manna Dey might have been feted across the country, but Calcutta was always his home and hearth. 'I used to stay in Bombay and later in Bangalore. But my heart was always in Calcutta. I used to look for work in Calcutta, especially during the Durga Pujas, so I could visit. The cultural atmosphere of Calcutta in the '50s, '60s and '70s was the best in India — far better than the commercial atmosphere of Bombay,' he would say over an adda.
The trio --- Sudhin Dasgupta, Uttam Kumar and Manna Dey produced several superhit combination in playback singing in films like Kokhono Megh(1968; Ek dui tin), Manjari Opera (1970; Maron tomar Har), Chhadm¬abeshi (1971; Ami kon pathe je choli, Banchao ke achho morechhi je prem kore..), Har Mana Har (1972; Eshechhi Alladin, Eshechhi ami eshechhi, Lekhaporata shikey tuley, Tomar deher bhangimati and many more.
Manna Dey and Uttam Kumar worked together in 54 movies. He sang for other music directors as well and all of them went on to top the charts. Antony Firingee (1967, music director: Anil Bagchi, Ami je jalshaghare, Ami jamini tumi shahsi he, Champa chameli golap, Maa tui amay doya korbi, Keu ba korchhen barrister, Satya bate ami je tete), Nishi Padma (1970; music director Nachiketa Ghosh; Na na na aaj rate aar jatra…, Ja khushi ora bolay boluk) , Alo Amar Alo (1972, music: Pabitra Chatterjee, Ei eto alo, eto akash), Mouchak (1974, music director: Nachiketa Ghosh, Pagla garod kothai acche nei bujhi ta jana, Ebar molay suto hobo, Ta bolay ki prem debona), Baghbondi Khela (1975; music director: Dipankar Chattopadhyay, Tukro hasher tol phoara), Hotel Snow Fox (1976, music director: Nachiketa Ghosh, Sura pane nesha hoy na, Tash tash tash angoorey, Aamra ghurchhina, Onek prasanga ajasra, Darwin saheber mate) Debdas (1979, Shawano raate Jodi) -- the list could just go on. Each and every song specified here and many others not mentioned were all superhits. In fact, they are all cult numbers and are as popular now as they were when they were released.