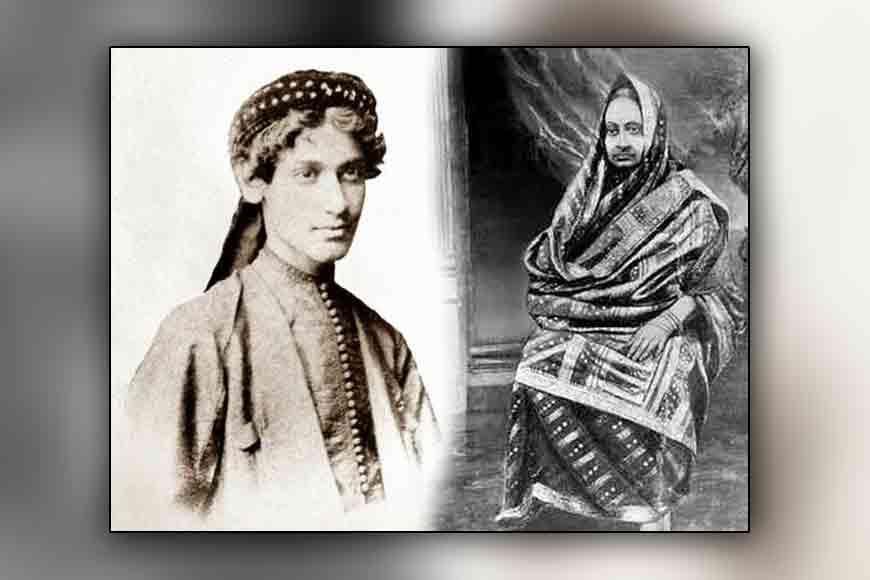 After giving birth to thirteen children, when the eighth son marked his presence in her womb, she was around 35 years of age. She was Sarada Devi of Jorasanko Thakurbari. After thirteen years, this eighth son, none other than Rabindranath Tagore, recalled the memory of a disastrous night: "Cannot recall the exact time of the night when an old servant was heard screaming, a catastrophe has taken place in your family. Amidst the dim light of the room, I felt an unrest within me. I could feel my heart sinking but I could not understand what had taken place."
Well, not comprehending the intensity of the situation was likely to him, as he was too young. When the long agonizing night was finally over and the crimson rays of the day broke out, he came out to the balcony and saw his mother's decorated corpse lying in the courtyard. A sensitive soul even at the age of 13, Rabindranath Tagore's eyes could not believe the morbid sight that lay in front. "Looking at her, one could hardly understand that death could be so menacing. When her corpse was taken to the crematorium, I followed her with the crowd, and gradually could feel an inexplicable void within me. The only thing that I kept thinking is she will never come through the door from which she finally left for her last journey."
But have you ever wondered, why Tagore hardly ever dedicated any book or any of his literary success to his mother? Saroda Devi stepped into the Jorsanko Thakurbari after marriage at the age of only six. She had come from Dakhindingi of Jessore. Saroda Devi's uncle had heard that the Tagore family of Jorasanko was on the look out for a suitable bride. He came to the village, took her and got her married in Kolkata. Saroda Devi's mother had gone to take a holy bath in Ganga and was completely unaware of the incident. When she returned and got to know her daughter had been taken away without her knowledge, she was so traumatized that she fell down under a tree and started crying hysterically until she blinded herself to death. This is what Gyanadanandini wrote in one of her memoirs.
Gyanadanadani also gave out a further detail which throws light to the relationship shared by Maharashi Debendranath Tagore and his wife. "Whenever Babamoshai was at home, he used to call my mother-in-law at wee hours of the day when the children had hit the bed already. Ma used to wear a fresh cotton sari and applied atar and went to his room."
In 1908, Tagore spoke about a dream sitting in a temple of Santiniketan. "Let me talk about a dream. I always felt that I was motherless since childhood. Even when I grew up, my mother was mostly non-existent for me. Last night, I saw that I am still stuck in childhood. Ma is sitting in a room of a farm house just beside the Ganga. She was there as always without making her presence felt. Without paying any heed to her, I passed by. When I reached the balcony, I went to the balcony and something struck me. I went inside and touched her feet. She touched my hand and said, 'You have come!' This is where the dream ended."
The mother's indifference towards her children is evident in various excerpts, though the family thought these were signs of a typical aristocratic family. But Rabindranath Tagore expressed his pain about not receiving adequate love, care and affection from his mother. "Never got to see Ma from close quarters. She used to stay in her own room and play cards with Khurima. We seldom studied in her room. The servants took us away as fast as possible as if we were nothing less than a burden. Could never understand the significance of a mother in one's life."
Throughout his life, he wrote so many novels, dedicated to so many people including his family members but none of the dedication columns featured the name of his mother! May be Tagore could never forgive his mother for not giving him the company and closeness he deserved as a child.