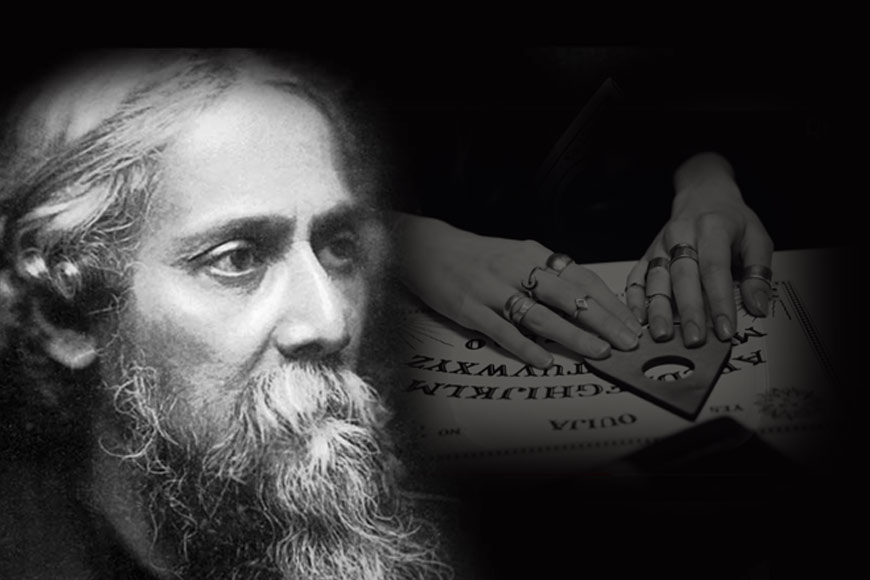 Bengalis have an eternal fascination for anything paranormal. And this preoccupation clearly reflects in Bengali literature, films, and some of the age-old customs. Quite startling may it seem, but a number of Bengali litterateurs including Rabindranath Tagore, actually participated in planchette, an umbrella term in Bengali for séance. Technically speaking, a planchette is a wooden device equipped with two-wheeled casters and a pencil-holding aperture pointing downwards, used to facilitate automatic writing. The use of planchettes to produce mysterious written messages gave rise to the belief that the devices foster communication with spirits as a form of mediumship. The devices were popular in séances during the Victorian era.
Rabindranath experienced the death of his family members time and again and often in quick succession. Tragedy first struck Tagore at the young age of 14 when his mother, Sharada Devi, passed away in 1875. Then, in April 1884, Kadambari Devi, Tagore's confidante and muse, his 'Notun Bouthan,' committed suicide. In November 1902, tragedy befell Tagore once again when his wife Mrinalini Devi, passed away at the age of 30. Within a few months of Mrinalini Devi's death, Tagore's second daughter, Renuka, died in September 1903 when she was only 13. In 1905, his father, Maharshi Debendranath Tagore, died. If the tragic deaths of his wife, daughter, and father were not enough, Tagore suffered another devastating blow when his youngest son, Samindranath, suddenly died of cholera in 1907 at the age of 13.
To grapple with so many deaths of his near and dear ones, Tagore took refuge in the Hindu philosophical belief that we are all bound in the cycle of life consisting of births and deaths. We go from one life to another. So, death is just one incident in life. And, in this cycle of life, the soul is transcendental and indestructible. He became engrossed in the study of the life after death. He was drawn to the occult and tried various means to connect with his family members and friends who had departed through seances. In the later part of his life, he was very active and often hosted planchette sessions to communicate with his friends and family from the 'other world.' Written accounts of his conversations with the deceased have been recovered from eight notebooks kept at Rabindra Sadan in Santiniketan. The details of these conversations were recorded by Rabindranath's then-secretary, Dr. Amiya Chandra Chakravarty, and Mohanlal Gangopadhyay, a close follower of Rabindranath. These books, preserved under the title Bhoutik Prasanga', contain some important information about Rabindranath's encounters with the supernatural world in late 1929.
Although Rabindranath had been practicing planchette sporadically for a long time, on November 6, 1929, he took the help of a medium for the first time to commune with the spirit of the deceased genius, Sukumar Ray (1887-1923, father of Satyajit Ray) in a séance held at his Jorashanko residence. Abanindranath (1871-1951), Rabindranath's nephew, was in attendance. Rabindranath enlisted the help of Uma Devi aka Bula, daughter of his friend Mohit Chandra Sen, who acted as the medium and conveyed the message from the spirits in writing. Rabindranath held several sessions with Bula between October and December 1929. The spirit of Manilal Gangopadhyay (1888-1929), Abanindranath's son-in-law, was made to draw a picture with the assistance of Bula and the legendary painter Nandalal Bose (1882-1966) at a séance held at Santiniketan.
But who was Bula aka Uma Gupta? Not much information can be found about her. She was the daughter of scholar and professor of philosophy, Mohit Chandra Sen, a close confidante of the poet. He was the editor of Rabindranath's first collection of poems, 'Kabya Granthabali' and worked as the principal of Brahma Vidyalaya in Santiniketan for some time. She was later married to Sisir Kumar Gupta. She was a budding poet and two collections of her poems, Ghoomer Agay and Batayan were published with a foreword by the poet himself. 'Batayan' was published posthumously. She died young at the age of 25, two years after assisting Rabindranath as a Medium in the séance sessions he conducted.
Rabindranath was clearly skeptical at first when he was introduced to Uma's unique ability to act as a Medium and connect with the spirits of deceased people. But on the first day, his doubts were somewhat removed and interest was aroused. In a letter to Rani Mahalanobis on November 6, 1929, he wrote: "Bula came that day. Suddenly, it was revealed that she could speak with a pencil in her hand. Needless to say, I laughed and decided, 'Well, let's see'. Her initiation into the world of the occult in the Tagore household began and the first name that emerged was Manilal Gangopadhyay. Manilal had a typical way of speech and when he was answering through the Medium, the answers sounded like he was replying." This incident made the poet more receptive towards Uma and she too, managed to gain his trust to some extent. That's why, with Uma's help, he kept calling out to his loved ones.
During every planchette session, Rabindranath and Uma would be surrounded by his close associates. The sessions would be held sometimes at Jorasanko or Udayan in Santiniketan. Rabindranath himself used to ask questions. Uma Devi would sit in a trance-like state with a pencil and notebook held ready in her hand. As the desired spirit appeared through the medium, it would answer the poet's questions through Uma, who would scribble furtively. In a letter to author Pramathanath Bishi (1901-1985), Rabindranath informed he had once met the poet Michael Madhusudan Dutta (1824-1873) via planchette. After Rabindranath's sister-in-law, Kadambari Devi committed suicide in 1884, he tried to interact with her spirit on several occasions. Similarly, it was rumoured that he consulted his deceased wife Mrinalini on important family matters.

Rabindranath's eldest brother, the poet and essayist Dwijendranath (1840-1926), was a founding member of the Bengal Theosophical Society, which set great store by communication with the dead. His sister Swarnakumari was the Secretary of its women's chapter. Madame Blavatsky and Colonel Olcott, founders of the Society, were frequent visitors at her Kasia Bagan residence in the 1880s.
While Rabindranath remained obsessed with seance, it also made him contemplate. In a letter written to Maitreyi Devi, the poet said, "Tell me how (Bula) used to write everything? Isn't that surprising? ... Why would she talk? What's the point of her doing this? ... She would utter things that were way beyond her comprehension. When she joined the session, she did not know what questions I was going to ask her but she seemed ready with the answers. For instance, she couldn't know how I used to speak to Notun Bouthan. She (Notun Bouthan Kadambari Devi) used to chide me and say, 'Stupid boy, you still don't have any sense?' Only she could speak to me thus but it was impossible for Bula to guess. Bula also wrote a lot of other things during her trance that she couldn't have known or expressed. Once she dictated a very pertinent reply. She asked 'Why do you ask us so many questions? Just because we died doesn't mean that we have all the answers to all our questions. She would write such weird things. She used to write so swiftly without taking any breaks, it was all very strange. I don't think Bula is lying. What would she gain by lying to me?"
Rabindranath seemed to be craning towards faith confidently and Uma Devi, the mysterious girl was close at hand to connect him to his beloved family and friends who had willingly agreed to help the poet. Not much is known about Uma Gupta though. The debate over Uma's role as Rabindranath's planchet and medium will never end. But our interest in this mysterious young woman will remain to stoke our imagination. Uma died on February 22, 1931, at the age of 27. Did she beckon her own death or was the burden of the existence of so many souls in herself too heavy to carry? Her untimely death left many questions, and many mysteries.