Wish to cook Niranjan Agar's Dim'er Devil at home? Try this recipe - GetBengal story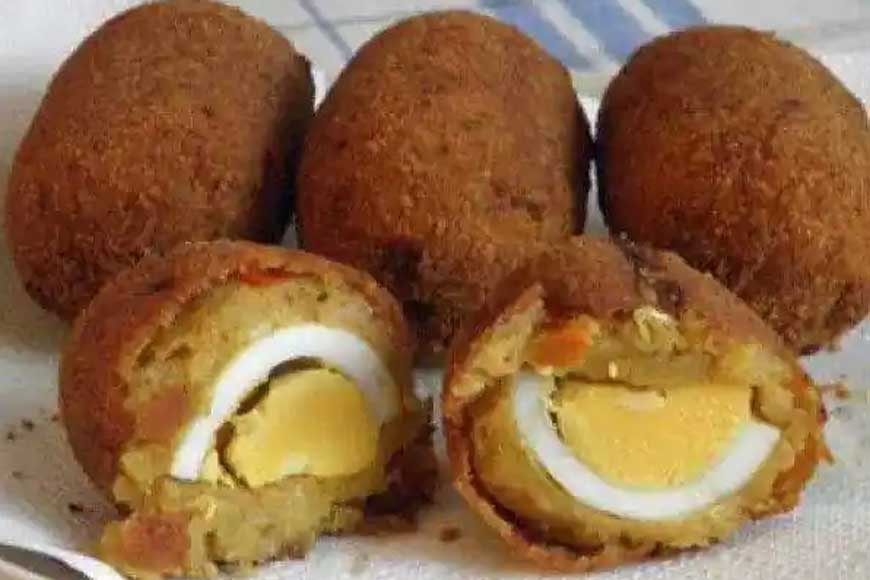 Niranjan Agar's dimer devil
For Bengalis, Durga Puja is a gathering of a community, a cultural event celebrated with laughter, music, colour and festivities. Durga Puja offers a great opportunity for friends and family to reconnect and chat for hours over a humongous supply of chop cutlets. This Puja, we are offering you options to try your hands at making some of the iconic recipes from famous cafes at home and rest assured, your family and friends will be bowled over by your culinary skills.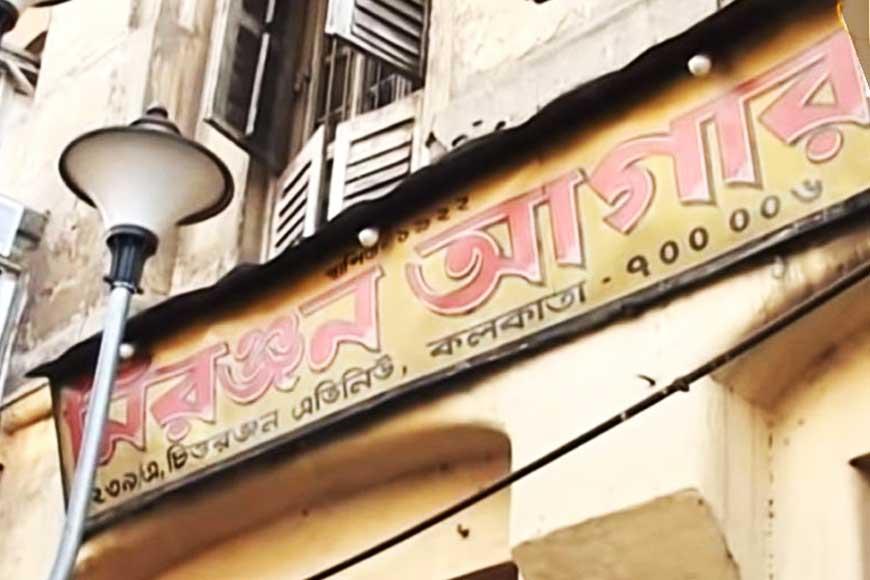 One of the most popular joints in the Girish Park area, Niranjan Agar is a heritage eatery located at 239A, Chittaranjan Avenue, near the Girish Park metro station. Established in 1922 by Niranjan Hazra. Niranjan Agar is renowned for its special Dim'er Devil made of duck eggs. Dim'er Devil may sound like devilled eggs but the two have no similarity beyond egg being a common ingredient. Instead, Dim'er Devil is quite a closer version to the Scotch egg or Nargisi kofta. A basic Dim'er devil has one or half an egg encased in a spicy wrapping. The hard-boiled egg is wrapped in minced meat and cooked with spices. Finally, the whole thing is coated in breadcrumbs or in a batter and deep-fried. Dim'er devil is served with kasundi (mustard sauce), and a simple salad of onions, cucumbers and beetroot.

Niranjan Agar makes the snack by cutting the egg into four halves and stuffing it with minced mutton. The whole egg is then given a thin layer of mashed potato, coated in breadcrumbs and deep-fried. Here's the recipe you can try at home any time:
Ingredients:
• 6 large eggs (boiled and halved)
• 200 grams keema (mutton/lamb)
• 20 grams of mustard oil
• 4 bay leaves
• 200 grams of onions
• 12 grams ginger
• 6 grams garlic
• 3 grams green chillies
• 3 grams of coriander powder
• 3 grams of cumin powder
• 2 grams of turmeric powder
• 3 grams Kashmiri red chilli
• 1 tsp garam masala
• 1 tsp dry roasted spices
• 1 tsp amchur powder (dried mango powder)
• 10 grams ketchup
• 8 grams salt
• 8 grams sugar
• 50 grams coarse breadcrumbs (plus extra for coating)
• Refined flour for breading
• vegetable oil for deep frying
Method
Keema mixture
Add 150 grams of water to the keema. Mash the keema with water until it forms a slurry. This prevents it from clumping when cooked.
Mix cumin powder, coriander powder, turmeric powder, Kashmiri red chilli powder, salt and sugar in a bowl, and keep it ready.
Finely chop onions, ginger, garlic and green chillies.
Heat mustard oil in a wok. Temper it with bay leaves.
Then, add the finely chopped onions and sauté on medium heat for 10 minutess.
Add ginger and fry for one minute. Now, add the mix of powdered spices that you prepared earlier.
Cook until the raw smell of the spices goes. Sprinkle warm water from time to time while sautéing the spices. Make sure to keep adding water and continue frying until the spices are well cooked.
Sauté the mixture on medium heat until the oil separates. This should approximately take 6–8 minutes.
Now lower the heat and add the keema slurry. Break any remaining lumps.
Turn up the heat and dry off the excess water. Add garlic. Adding it towards the end gives the keema a nice garlic-y flavour.
Add garam masala and ketchup, and continue cooking until the mixture is completely dry. Add amchur powder and mix well. Now, discard the bay leaves and turn off the heat. Finally, add dry roasted spices, green chillies, and 50 grams of breadcrumbs.
Mash the keema with your hands, so that the egg can be encased within the minced meat mould. If the mixture is swaggy, add more breadcrumbs. If it is too crumbly, add some beaten egg.
Breading the devils
Divide the mixture into 60-gram portions and flatten across your palm. Place half a boiled egg on it, flat side down. Now, mould keema around the boiled egg. Egg devils should ideally be oval, and egg-shaped.
For breading, in three separate dishes, take breadcrumbs, refined flour (maida), and beaten eggs. Season each of them with some salt.
Double-bread the devils to get a substantial, crisp crust. For that, first, lightly dust the devil in flour. This step will prevent the crust from sliding off the filling later.
Next, dip it in the egg slurry and shake off the excess. Roll it in breadcrumbs, pressing them on, so that they stick to the egg. Repeat this once again.
Heat vegetable oil and deep-fry the devils on medium heat (oil temperature: ~170°C), until they are evenly brown on all sides.
Serve the piping hot devils with mustard sauce (kasundi), with a side of sliced onions, cucumber and beetroot.