Asura, the quintessential anti-hero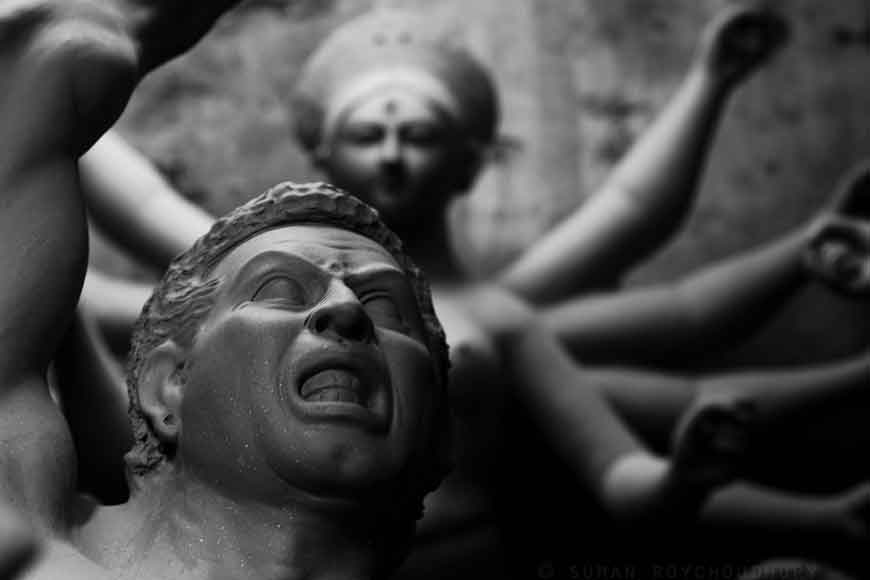 In the humdrum and business associated with Durga Puja, Asura has a prominent place in the scheme of things. His looks have changed over the years. In aristocratic families, where Durga puja rituals adhere to traditions from the Puranas, the Asura is always painted in green and seen fighting Goddess Durga. He gets wounded but doesn't die. He is defeated and dejected and prays to the Goddess to spare him and this posture of ultimate subjugation is interpreted in numerous ways by artists.
There was a time when the country was swept by Swadeshi Movement and Bengali circus troupes proudly featured renowned body builders like Gobor Goho and Shyamakanta. They were brave and powerful men who came out unscathed even after regular wrestling bouts with ferocious wild animals. This was the glorious age of body builders and they were highly respected and worshipped for their discipline and prowess. Their jaw-dropping display of well-built front and rear lat spread, front double biceps, side chest, side triceps, taut abdominal and thigh muscles, they inspired an entire generation more so as they stoked the fire of Swadeshi among youngsters. Their physique inspired the artisans of Kumortuli. They were no longer satisfied with their traditional creation of the green Asura. They wanted to come out of the confines of tradition and experiment with new forms. Thus, began their journey of creating muscular and fearsome Asura. They modeled their villain on the body builders of the time.
Ramesh Pal took the initiative and experimented with the form of Asura. His idea took off instantly and was a major hit. Gradually, the colour of Asura's body, underwent transformation from green to pink like a Westerner. He was adorned with golden mane. His supine position also underwent change. Artists began to depict him lying prostrate in front of the Goddess and the decapitated head of the buffalo lying below, in some idols, the Asura was shown accepting defeat with a benign smile. Many artists were inspired by terracotta murals on temples and depicted a duel between Asura and the lion. Artists who did not belong to the Potua-para of Kumortuli, also utilized the freedom to depict the Asura in myriad ways, when they made Durga idols. Once renowned artist Bikash Bhattacharjee was assigned to make the idol of Durga at Bakulbagan community puja and he created an Asura as a huge dark warrior. But Asura is a very important person, at least amid the art fraternity, because without him, Durga Puja is incomplete.
(File Picture)