Bengal's apathy to age old Mekhli craft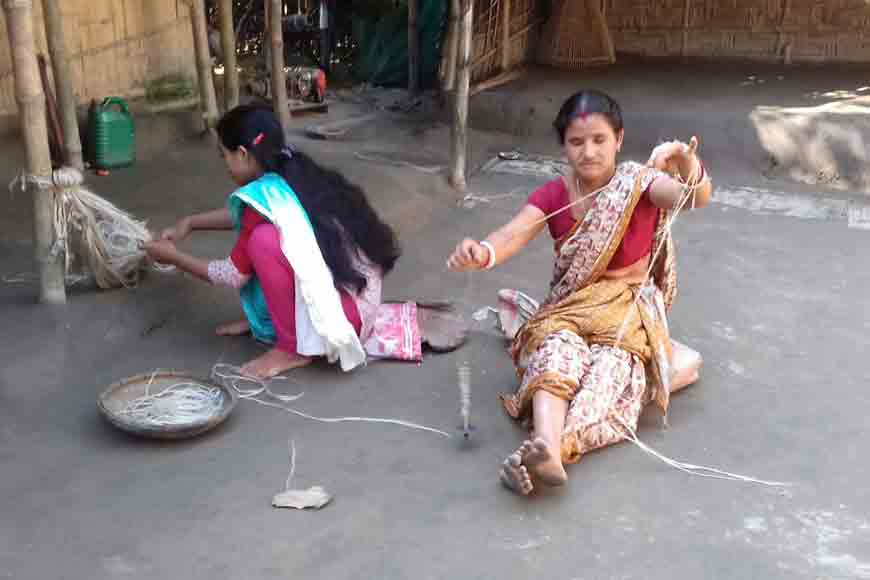 While pursuing to keep pace with the ever changing world of fashion and allocating crores of funds for doing so, the Bengal government is also seen turning a blind eye to some of the unique textile crafts of the state. Crafts which not only have the potential to sell worldwide but are also embedded with a strong sense of belonging and talks of women empowerment- the buzz word of our times.
The rivers flow silently near this quiet hamlet, where life too seems to take its own pace, no rush to blend with the humdrum of the world, no urge to excel in a jet-set life. The blissful peace of Mekhliganj is all about a subtle passion, that of being on one's own and a commitment to stick to one's dying past. Instead of burying it, the dream of keeping a tradition alive in the face of poverty and apathy --- that's the story of Cooch Behar's Mekhli. A struggle that refuses to lose and has a conviction to win, come what may.
Mekhli is an ancient village in the Mekhliganj sub-division, about 100 kms from the Coochbihar town of North Bengal. Mekhli is woven with the threads made from jute which is abundant in the area. The products generated were very popular in the region since ancient times and gave the place its name. Owing to more refined mechanically-manufactured textile products coupled with a complete negligence from the government, this craft is on the verge of dying like many. Yet, the women of Mekhliganj refuse to give up. They are still passionately involved in making Mekhli, despite being a victim of successive government apathy.
This craft does not have a place in the crafts map of Bengal!
When you open the official government site of Coochbihar district you will only find mention of Shitalpati. This is surprising and is the first sign of indifference/neglect to this age-old craft of Bengal. The Mekhli craft dates back much before independence, well before Maharaja Viswa Singha founded the Koch dynasty in 1510 AD. This ancient art is still practiced in many pockets of Mekhliganj, including Kuchlibari, Bagdabra, Phulkadabri, Neech Taraf and Bhotbari. At a time almost each house had the Mekhli craft, but now it has come down to around 250/300 artisans. Interestingly, the craft is practised only by the women of the village, who do it in their spare time and after they return from paddy fields. We speak of women empowerment at seminars and conferences, but think twice to support such craft exclusively practised by women, let alone popularise them. Such is the hypocrisy!
Individual efforts and the zeal to keep the craft alive, are the only incentive for these women, who work against all odds. Deepika Roy, Shanti Roy, Jayanti Roy are all experts in manufacturing Mekhli and Deepika has taken the initiative to teach and spread the art among the women of her village. But she confesses: "It requires a lot of hard-work and dedication which is not compensated by the price a Mekhli product fetches in the market." Hence most women are reluctant to learn the art but undeterred by such impediments, a handful of them are dedicated and continue to make Mekhli, because they feel proud of their heritage, one that is synonymous with the place. Deepika works as a farm hand and for her, making Mekhli is a form of relaxation. She has already taught this art to her two daughters, Pallavi and Tanushree, who also enjoy making.
Mekhli like their mother. However, they complain, there is no counter to sell the products in the market. They even sought help from the government and began organizing temporary training centres at different areas of Mekhliganj. The MSME department has been spending a fortune to revive crafts, but this dying craft of Bengal has no takers. The weavers get no design input, no technical support, no banks or other institutions come up for financial support The women study group from Calcutta University visited Mekhliganj with assurance of Indo American support, but as usual nothing matured.
Being in the trade of ideating and selling genre of products and services, I can only say that the craft has an enormous potential to compete with others given a minimum push for technical knowhow and skill development initiatives. The making of the thread from jute, which now is done manually, is the primary impediment to timely delivery. Design inputs and converting the craft into functional products is also a challenge to be addressed.
The demand for Mekhli only increases during the wedding season, because the tradition of gifting Mekhli during any Rajbangshi wedding or Annaprashan is still widely prevalent. A Mekhli bedsheet fetches a price between Rs 1500 and Rs 1800 and a piece of asan sells for Rs 150 only. But despite this bleak picture, around 300 families in Kuchlibari are still involved with Mekhli craft and are determined in their conviction of keeping this dying art alive.
Getbengal, through its plan for outreach initiatives has started exploring ways to stand beside this dying craft. The women are our inspiration. Their sense of belonging has shown us the way forward, just as the negligence to the Bishnupur Gharana prompted us to take up the cause.
Who knows someday people like Tarun Tahilani, Manish Malhotra, Sabyasachi Mukherjee and others might wish to have a look at this exquisite weave by some exclusive women from Bengal to value add their range. As always, I have always been an optimist.