Call of Biswa Bangla Sharad Samman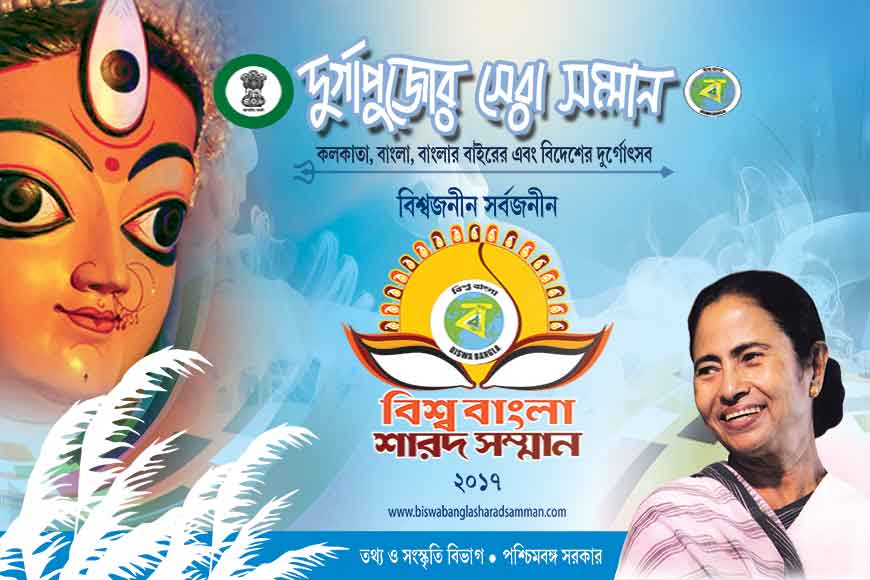 Separated by oceans or mighty mountains, united by Durga Puja. One of the largest street festivals of the world, Bengal's Durga Puja is none less colourful and vibrant than the Rio Carnival of South America. If economic globalisation has breached international barriers in the modern world, festivals like Durga Puja has crossed the borders of Bengal, and found a place across Europe, America, Australia, Asia and even in remote Africa.
A Dhunuchhi Naach to the beats of an African Masai drum is no more a figment of imagination. It is reality at Chingola, the copper mining heartland of Zambia, where Maa Durga is showcased by the Copperbelt Durga Puja committee. Let alone Africa, the enthusiasm of celebrating a traditional puja rocks the golden coasts of Australia, suburbs and towns of the Silicon Valley, even churches and community halls of Europe or temples of south-east Asia. A dashing sindoor khela, natak rehearsals, endless adda over weekends and brainstorming on a special bhuribhoj menu – have turned part and parcel of the international Bengali diaspora.
From growing hibiscus and banana in their own gardens year-round to offer to the Goddess during Puja, importing fibre glass idols from India, flying down purohits, the enthusiasm among non-resident Bengalis across the globe is infectious. Inspired by this fervour and excitement that the Durga Puja celebrations usher in, West Bengal government had introduced the Biswa Bangla Sharad Samman in 2013 to recognise and further encourage the Bangaliyana that this festival generates. In a bid to bridge the gap of thousands of miles away from one's homeland, this Sharad Samman will be including as many international puja committees this year and give them a platform to showcase their brilliance and innovation.
Inspired by Bengal's Chief Minister, Mamata Banerjee, the Information and Cultural Affairs Department organises this event to nominate and reward the best pujas, throughout the world, thereby highlighting the core concept of Biswa Bangla. Honouring those who have taken Bengal's tradition to the international audience, is the primary objective of this competition.
It is in this context that www.bengalineurope.eu makes a humble attempt to provide the festive spirited diaspora across Europe, a larger audience with a single digital platform, for publicity of information around your Pujo. As we extend this initiative to a larger global platform, we gratefully acknowledge every volunteer who has contributed, every Pujo Committee who gladly accepted this concept and participated till now, and every individual who officially or unofficially supported us.
We now throw open this concept to the global community, where there is no entry bar, no age, no region bar, no location bar and no selective preference – Bangaliyana is the sole criteria.
Come join the festive mood and let your endeavour be known at home and abroad alike.