Maa Durga worshipped sitting on Lord Shiva's lap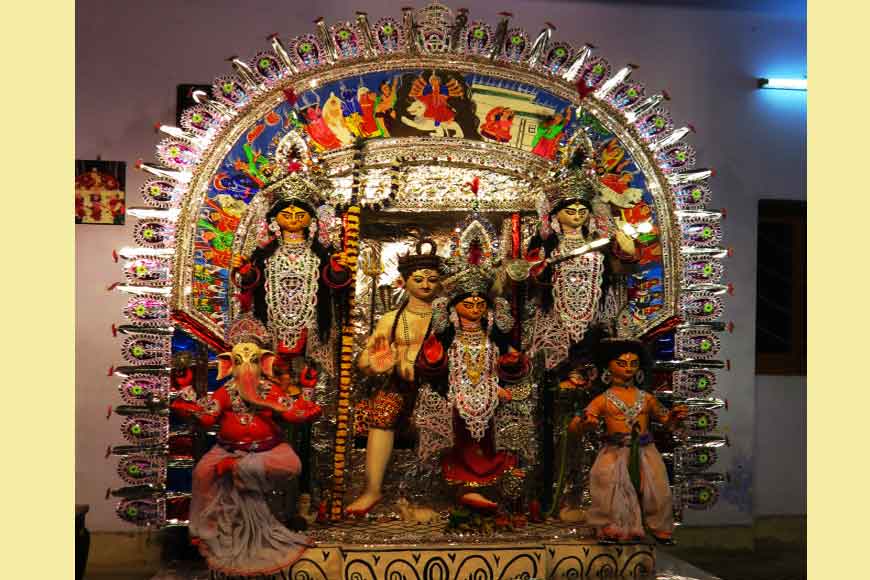 The idol of Maa Durga as worshipped by the Chandra household of Jhamapukur is in the Abhaya form. Here Lord Shiva is seen sitting on a tiger skin with Devi Abhaya Durga on his lap. They are surrounded by their children, Goddess Lakshmi, Saraswati, Lord Ganesha and Kartik. The idols are set against an Ekchala or a single backdrop. The face of Lord Shiva has a strong similarity with the Greco-Roman sculpture.
Forefathers of Chandra household moved from Adi Saptagram to Jorasanko in Kolkata to seek their fortune. They were businessmen who traded in gold and Ramprasad Chandra started worshipping this Abhaya idol in 1761- 62CE. Later, it was Subal Chandra who shifted the venue of worshipping Durga idol to the present address of 24A, Bechu Chatterjee Street by creating the new Thakur Dalan and since then it is continuing with great pomp. However, the original Thakur Dalan created by Subal Chandra has lost its character as it underwent renovations.