'DIFFERENT STROKES'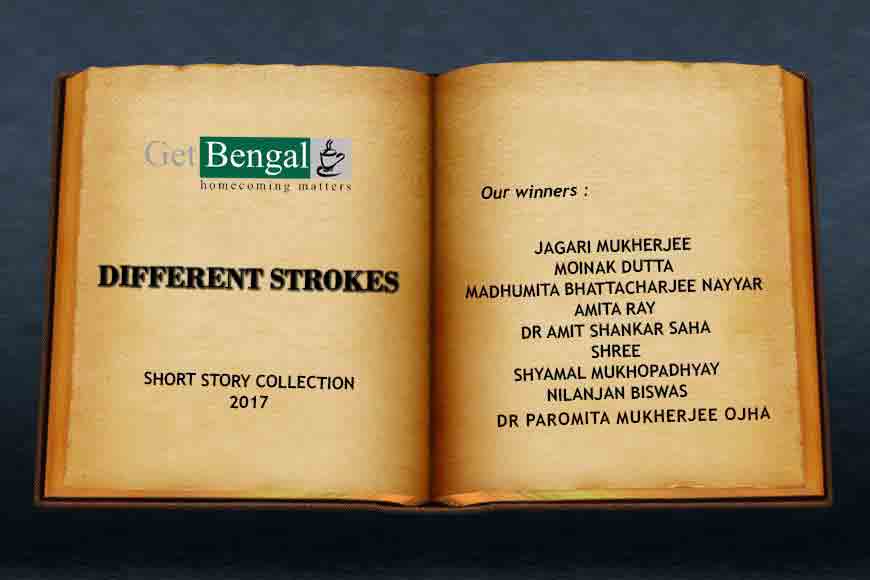 JAGARI MUKHERJEE
THE DILEMMA
Chandrani was happy, and in love. She was about to be married – for the second time, no less! Life, which had handed her lemons so far, had just added a spoonful of honey to her lemonade. Even the poems she wrote changed in context. Earlier, inspired by Shelley and her own widowhood, she had written along the lines of falling on the thorns of life and bleeding. Now, she became a veritable Neruda, aspiring to do to her beloved what spring did to the cherry trees.
Her beloved was Sanjoy, and he was from London. And he was no stranger to her. They had met for the first time twelve years ago (back in 2005), when a common family friend had brought Sanjoy's alliance to her parents. Everybody thought it to be a match made in heaven. Sanjoy was born and brought up in London, and he was an engineer. Chandrani, back then, was still pursuing her master's in English Literature from Calcutta University. When Sanjoy and his parents came to their place to discuss matrimony, she took one look at him and fell in love.
He was not handsome in a conventional sense, but he was charm personified. The first words he spoke to her, in a lovely British accent, were, 'I didn't know you were so beautiful!' Chandrani had blushed. She didn't know what to reply. She couldn't have said, 'You're very handsome,' because that was an outright lie, so she contented herself by asking the lamest of all questions, 'So, what are your hobbies?'
The conversation went on for two hours. It would have gone on much longer had it not been for the presence of elders in the house. Sanjoy and his parents went back to London. From there, every Sunday, he would call her at seven-thirty in the evening. She began to wait for her Sundays. Her parents and relatives were very happy. One fine day, Sanjoy's mum called her mother and told her that her son was thinking of coming to India to formally propose to Chandrani.It was then that reality had hit Chandrani. If she married Sanjoy, she would have to leave Kolkata and live in London for the rest of her life. No more lunches with her father at Peter Cat, no more outings on Park Street on Christmas, no more addas at Coffee House. She would be away from her family and friends. The dilemma bothered her for days. She couldn't sleep at night. Finally, on what turned out to be their last Sunday call, she told Sanjoy, 'I'm so sorry! I cannot marry you.' She wept throughout the conversation.
Everybody was angry and hurt. Her father did not talk to her for days. However, life had to go on, and two years later, Chandrani married a Kolkata-based groom working in an MNC. The marriage had been a happy one, but the candle flickered out too soon. Only a year after the marriage, Chandrani's husband died in an accident. Chandrani returned to her parents' home.
The show of life does go on. Twelve years passed. Chandrani got a job as a schoolteacher, and the company of children kept her happy during school hours. In her free time, she wrote poetry to console herself. She created a website where she would post her poems. She wondered whether her life would have turned out to be different if she had married Sanjoy. However, she did not want to get married again, despite her parents' repeated pleas.
She also missed her husband, and, in his memory, she wrote the following poem, which she entitled, 'Entangled.'
The night tasted of cinnamon;
You were a tangled vine.
I draw back
The heavy curtains of memory
To transform
My dwelling…
Mirror of leaves reflects stars
And offers me a potion
Concocted of cinnamon and vines…
Then the curtains are sewn closed
Tightly
And I am permanently entangled.
She posted the poem on her website, just as she did with most of her poems. However, it was then that Sanjoy contacted her via a private message. His message read: 'Hi Chandrani. This is Sanjoy Chatterjee. It's been a long time since we spoke to each other. I loved your poem, Entangled. Do you think it's okay if we met up?'
This was followed by an exchange of messages, which soon progressed to calls and meetings. Sanjoy had a tragic story too – he had been married but his wife left him for another man. He was bitter about his divorce, but, he said, Chandrani's company erased all his sorrows. He was older and wiser, but his charm remained. His father had passed away, but his mum initiated contact with Chandrani's parents again.
'Life has been harsh to our children. Perhaps now is the time for them to experience happiness. Everybody deserves a second chance.' Chandrani's parents were also happy. Their hearts had been broken when Chandrani had returned to them a widow, and they felt that it was time to start everything afresh. Chandrani finally had a way out of her 'miserable' life.
Sanjoy returned to London after a month, but he kept in touch with Chandrani through phone and social media. They spoke or chatted daily, with their conversations ending in declarations of love every night. Finally, Sanjoy announced that he would come down to Kolkata after two months to propose marriage to her.
And so…Chandrani was happy, and in love. She was about to be married – for the second time, no less! Life, which had handed her lemons so far, had just added a spoonful of honey to her lemonade… She would finally leave Kolkata and the memories of her previous marriage, and live in London.
Chandrani thought about this for long. And as she thought, the reality of what it meant struck her with the force of a hurricane. Her parents were old now, and although sprightly for their age, they were emotionally dependent on her, especially as she did not have a sibling. She would have to leave her school and her students. She would be far from her friends and relatives. And her mother had advised her to throw away all the trinkets gifted to her by her dead husband (which he had bought lovingly from New Market), and carefully preserved by her. She would have to leave her city of joys and sorrows. All the sights, sounds, and smells of Kolkata, where she was born and where she had lived for thirty-five odd years, would be lost to her. True, she could visit Kolkata sometimes, but it would not be the same.
Finally, one Sunday, she took a decision, and called Sanjoy…for the last time. She wept throughout the conversation as she broke his heart for the second time. Once again, she had chosen her city, her life, over her beloved.
The next poem she published on her website was a haiku:
Light is joined to Dark;
I wait for words of comfort –
All is transient.
(Jagari Mukherjee is a freelance content writer who lives and breathes words)
MOINAK DUTTA
HOMECOMING
Ashalata was trying to do her thread work on a cotton cloth. Nowadays, she couldn't even see well. Age was slowly taking its toll upon her eyes. Her hands also shake a bit. Still, around this time, she sits with her needle, colorful threads, and cotton clothes. For every year, all the way from the country of opulence, her grandson from her son's side would come. She had other grandsons and granddaughters from her daughters' side, but she always secretly adored and lovedthe son of her only son. He bore the title of the family, according to the custom and more importantly he had a very Bengali heart, despite being used to western culture and ethos.
Ashalata had noticed that Snehangshu, her son Santosh's only son, was more interested in anything Bengali, be it food, songs, or literature. So, she would make every year a special embroidery upon a simple piece of cotton cloth. And Snehangshu would take it, and with it he would leave after his two-three days stay. Once Ashalata asked Snehangshu, what he actually did with all those embroidered cotton clothes. He showed her a photo taken on his phone of a small wooden box, where he had kept them, stored, like people store valuables. That pleased Ashalata greatly. She even became a bit emotional. Her only son who had left her alone in the house built by her husband Indranath, soon after his marriage and settled at a faraway town, would come too, with his wife. Her daughters would arrive too from distant towns, where they were settled.
But this year, before Holi, the festival of colors, her daughters had called her to say they would be going with their husbands and children for a tour. Her only son, Santosh, upon hearing that his sisters and their families were not arriving, decided they can postpone their get-together at their ancestral house. Ashalata became a bit morose, but soon she tried to console herself saying that after all she had grown old and overtly sensitive and perhaps sentimental. She blamed her sadness to her senescence. By God's grace, she was informed by Santosh that though he and his wife would not be there, Snehangshu would stay with her at least for a day. She was thus elated.
She asked her only companion and long-time cook cum butler cum errand man, Naru to clean the room adjacent to her room in her small single storied house which her late husband used as study cum living room. She asked Naru to bring vegetables, groceries, fish and meat from the market. She herself supervised Naru when he cleaned the bed, put new bed covers and pillow covers. Since morning she was humming a tune and felt happy.
Around 10am, a taxi stopped in front of her house. She at once asked Naru to go quickly to help Snehangshu offload his bag or luggage. She followed Naru too, but due to arthritis she couldn't move fast. And just when she was about to be on the verandah, Snehangshu came and touched her feet. She took his chin by her hand and embraced him. 'Kemon achodidi?' (How are you granny?) Snehangshuasked. Ashalata smiled almost like a child, 'Now that you have come I am so happy!' The day went in cooking various Bengali dishes and serving them to Snehangshu and in turn listening to stories from him about the country where he had been working for the last four years. 'Will you not return?'she asked.
'Na didi, I have work...'Snehangshu said.
Granny and grandson kept on talking, laughing, exchanging stories till night. Snehangshu gave his granny a beautiful scarf and some tinned food items. Granny had given the grandson another embroidered cotton cloth. After dinner, when he was about to go to his room, Snehangshu said, 'Didi, this time I would leave soon...by tomorrow afternoon...will that be okay?'Ashalata turned her head to one side. She was hurt when she heard that, but she couldn't plead her grandson to stay for a day more. He might have work, she thought. She couldn't be selfish. Next morning while having tea, granny finally gathered some confidence and asked: 'Dadu bhai, how wonderful it would have been if you would have stayed for at least one moreday.''But didi, you know, I have work. The company where I work in that foreign land is thinking of opening a subsidiary here ... and I shall remain busy thus,'Snehangshusaid. Ashalata again agreed.
The hour of departure came. 'Uff! Tumi ja khawaleynathamma...akhonohojom hoi ni' (You served so much food, I could hardly digest!) Snehangshu tried to ease off the grimness that loomed over his granny's face. Ashalata tried to smile. Naru had managed to arrange for a taxi. It would take Snehangshu to the railway station. The taxi was waiting at the gate. Snehangshu touched Ashalata's feet. Ashalata tried to maintain her composure. Just then, Snehangshu'smobile phone started ringing. He took out the cellphone and went a few paces away.
'Oh! Really! That's fabulous!' That was the last bit of conversation which Ashalata could hear as her grandson came near her. 'Granny!' The grandson was visibly elated. 'What?'Ashalata asked. 'In just a few months, I shall be in this country!'
'What do you mean?'
'I asked my boss to keep me posted if there would be any chance of fitting me into the subsidiary that would open here, and he just informed me that if I wish, I could join the subsidiary unit once it started operating...and that is only a few months away!' The grandson gushed.
'But your parents? Santosh? Mugdha? Will they be happy?'
'Why not? They would get their son at home,' Snehangshu added.As an afterthought, he added, 'If they are worried about my career options, my future, I would convince them... Why worry?'Ashalata felt that she had given away those embroidered cotton cloths to the fittest person in the world. She smiled. The sky of spring had wondrous hues, that spread like a canvas dipped in a riot of colors. Ashalata thought Doljatra or Holi had arrived early at her home. A bit too early.
(Moinak Dutta is a teacher, novelist, poet and blogger)
MADHUMITA BHATTACHARJEE NAYYAR
JUST ONE LAST TIME
Dr Sunayna held the letter in her hands, her face had a strange expression. She looked a bit confused and in pain. She had just entered the house and was longing for a strong cup of coffee after a tiring day at college when she saw the letter. Malti must have taken it out and kept it there on the side stool.
A letter...but whose letter? It had her name and address but not the sender's details. Her son who studied in Manipal never wrote letters. He communicated through WhatsApp or emails. Her daughter was married here and never wrote letters. All her friends were also here. Then who was this letter from? She was too excited and opened it before Malti got her coffee. She tore it open and started reading ...
My dear Suny,
....
Yes she was addressed as Suny and it was only Vibhor who called her that. Vibhor was her best friend Sumita's brother-in-law, with whom she came in touch with during her friend's pre- wedding days. A thorough gentleman, he was with the army. But that's all she knew about him. Why a letter from him?
She started reading it with the first sip of coffee.............
I know you are surprised to hear from me out of nowhere. I still remember you as the most beautiful girl at Sumita and Vivek's wedding. The girl in the pink chiffon and pearls never actually left me. Your sweet voice was so mesmerising and held everyone, including me under its spell.
You were soft spoken, skillful, intelligent but I guess you never looked into my eyes or else you have not missed yourself in them. The way you decorated the house, arranged the trousseau all showed your creative side...and your paintings, the ones I had a chance to see when I visited your house with Vivek were just extraordinary. Your musical laughter was also extraordinary and have given me company till this day.
Vivek's Mom, my chachi (aunty) did not miss my feelings for you. She could sense my emotions for you and she asked me in a straightforward way. I could not lie to her, she had brought me up like her own after my mother left and bared my heart to her. Yes Suny, she did see you in my eyes and my heart but she was too tied up by the societal norms. She told me, 'Vibhor! We are Saraswat Brahmins. We have never had anybody from outside our caste in the family. Sunayna is a Kayastha and nobody in the family will accept her. After your mother as it is, only your Dad is there for you. Do not break his heart and go away from him.'
Throughout the ceremonies I always longed to see you. I would always plead with chachi to help take my love story forward. But her stern looks always reprimanded me. Then one day the ceremonies were over, and I was back to my regiment. I know I should not be saying all this now that you are well settled in life with a loving and caring husband, a mother of two and a grand mom. Yes, I came to know about your wedding from Sumita. It was through her that I came to know about the various phases of your life.
Dad and chachi's constant pleadings and all efforts never helped them find a daughter-in-law, perfect according to society's rules and they passed away expecting one...endlessly waiting...
As I wait for the end now. Yes Suny, I am waiting for my fast approaching end. I took voluntary retirement from the army and spent my time roaming the country. Then one day I collapsed. I was diagnosed with blood cancer. I am here, in your city, in the cancer ward of the army hospital...breathing my last. But I do not want to die without letting you know of my feelings. I do not want to keep you away from the truth nor do I want to keep myself away from that feeling. I had once taken down your address from Vivek's diary and that's how I sent you the letter. Hope it reaches you!
Sunny, I just want to see you one last time...just one last time!!
Looking forward to...
Just yours...!
The letter ended and tears rolled down DrSunayna's cheeks. She never nursed any feelings for him. Nor could she ever see his feelings for her. Now.....
Now what should she do? Should she grant a dying man his wish? Should she tell her family? Her husband? Will he trust her? As soon as DrChintan entered, he sensed something amiss. He asked Sunayna and she broke down. Wiping her tears, she handed him the letter. DrChintan wrapped his arms around her as he read the letter. He then held her hand and walked out with her to the car. The ignition on, the car raced towards the cantonment and stopped outside the army hospital. DrChintan, a medical professional himself spoke to someone on the phone and then led Sunayna to room number 406 in the cancer ward. There on the bed was him, an emaciated, pale, aged picture of Vibhor. He was in pain and had much trouble breathing. He saw Sunayna and Chintan together. He looked at Sunayna, smiled, took one deep breath and closed his eyes. Satisfaction writ all over his face, he slipped into an eternal sleep.
(Based on a true story. Names of characters changed)
(Madhumita Bhattacharjee Nayyar is a bilingual writer(Hindi and English), poet, blogger, lifeskill counsellor, healer, social commentator and loves life and all things about it)
AMITA RAY
A CHANCE ENCOUNTER
The morning was dark, damp and depressive. It had rained for two consecutive days, the wind howling through the disheveled leaves. The low-pressure trough had induced unabated downpour and ruined the sojourn to our birthplace, Kharagpur, since a couple of days. On the last day of our stay armed with umbrellas to parry the persistent drizzle, my sister and I set out for an early morning saunter. It had to be then or never.
As we ambled aimlessly through the familiar roads, meandering lanes and bye-lanes rendered somewhat unfamiliar with new constructions, beautifications, we marveled at the shops, malls, multiplex, new temple which had come up. Kharagpur, as now, is rightly entitled to the status of a city. Mesmerized by the placid beauty of an early morning and rejuvenated by the aqua drops playfully caressing our face, we suddenly found that we had reached the locality where we had spent the best part of our life, our childhood.
Nostalgia swept us off our feet as our memory unleashed a vista of rosy images of those fairytale days. Yes, this was the field, where we played choo kit kit and yonder down the road, was the railway quarter where we had spent our childhood. We beamed in ecstasy. For a while, we stood petrified, as time stood still. Only memories tucked in the fold of those bygone days, decades back, were palpably alive.
"Look that is the institute where our first school was housed. Oh my God! It has turned into a G.R.P. rest house," cried my sister. Looking around I found that the bakul tree, where we had spent many a balmy evening was missing too. Only such shocking revelations struck the chord of the immediate present and derailed us from the nostalgic spell.
The turn of the road brought us to the local bazaar. My grandfather with my sister and me in tow would take us to the market and pamper us with lozenges, biscuits and sundry dainties. We found the layout of the market place same as before, but many alterations and additions had given it a cluttered look. Moving around, I suddenly spotted the name Geeta Maity on the letterbox in front of a shop. A flash flood of memories and my mind raced back to a humble grocery shop, situated at the same spot, the owner of which was a certain Maity Babu. The shop as well as Mr. Maity was quite well known in the locality as the owner was quite a polished person, much unlike the other small traders around. Groping in the hoary antiquity of memory I stumbled on the name Geeta, Mr. Maity's sister. I remembered her as a girl in her teens, a beautiful face flanked by two plaits. She frequented our house to seek help and guidance in her studies from my grandfather, after which she would intrigue us with fascinating tales. That was more than half a century back. Could it be she? My heart leapt up.
In front of the house was a signboard which signified that it was now a ration shop. The front gate of the shop was secured now with a locked collapsible gate, unlike the readily accessible grocery shop of the past. Behind the gate was a sturdy, polished wooden door, which was closed too. No windows, no bell, not even a knocker, so that I could send a signal. It seemed to be a veritable fortress! I bitterly mused, "Does anybody actually stay here!" On asking the neighboring shopkeeper, we learnt a lady by the name of Geeta (called as Geeta aunty) does stay there. She is a recluse and hardly interacts with others except for her business dealings. He then advised us to go to the rear side of the shop where she resides and call out her name.
With wavering mind and faltering steps, we appeared at the rear side and to our dismay found more or less the same ambiance. There was a little backyard garden, with an iron gate, topped with a stout latch pronouncing prohibition to intruders. We wondered whether it would be proper to step into the seemingly prohibited premises and what our approach should be as we were intent on paying her a visit. The sound of utensils and gushing water from tap gave the inkling of human habitation.
Summoning courage I cried out, "Geeta di, are you home?" Two or three full throated calls were enough to stir up the mild dragging response of a female voice from inside the house. "Who is it?"(Keee?)
We stood nonplussed. How should we introduce ourselves to a septuagenarian behind barred doors, someone who might not have the faintest memory about us as residents of that locality half a century back? Urging her to open the door proved futile. Fortunately, in stepped a young boy of the locality. Our savior cried aloud, "Geeta aunty, open the door. You have two visitors and they want to meet you."
The familiar voice of the neighbor did the trick. The latch of the wooden door succumbed, the door became ajar. Did we expect to encounter a Miss Havisham or a Bertha Mason? The slight figure of a lady with a round pleasing face draped in a cotton sari loomed in the doorway. The bespectacled gaze first rested on me and then drifted to my sister.
She asked, "Who are you?"
"Can you recognize us Geeta di?" I enquired, trying to pick up a conversation.
She came forward, her wrinkles twitched, for some moments she stared at us trying hard to figure out who her visitors could be! Then she shook her head and said that she couldn't recognize us.
Introducing us, I said, "Well, we are sisters and have come here from Kolkata to pay a visit to our cousin's place. We were born here and lived in the railway quarters right here but left this place when we were quite young. You used to go to our house for academic guidance from my grandpa…"
My introduction was cut short. Her face lit up with a smile of recollection. "Wait… wait…are you the granddaughters of Rabi dadu sans the beard?" My grandfather had earned the epithet Rabi dadu (Rabindranath Tagore) because of his looks and erudition. On affirmation, she welcomed us warmly, hugged us affectionately and for the next half an hour we got lost in a conversation harking back the past. We gathered that at present, she lived in that house annexed to the ration shop, all alone. Her elder brother had shifted to his own house in another part of Kharagpur and lived there with his family. She led a solitary life, cooking her meals, listening to the radio and looking after the ration shop, bequeathed to her by her father. We too narrated snatches of our tales of joy and woe. Soon it was time for us to quit, as we would return to Kolkata that very afternoon.
Bidding her adieu, we walked away down the road where we had left tiny footprints innumerable times. The once petite woman, now frail and abandoned stood at the doorway waving at us, as long as we were within sight. A sigh emerged from within me. Would we meet her again? The pleasant spell of reunion after half a century left a note of yearning for a next time visit, the fond feeling of never to let go, lingered on. The bonds nurtured during the tender years of one's life are as everlasting as the distant stars shining upon us. Yes, we do have to meet soon! We didn't ask her many things, the most important one being whether she was married and had children. To seek that answer we couldn't possibly wait for another half a century.
(Amita Ray is an associate professor in English (Retired) and Ex-Vice Principal of a Howrah college)
DR AMIT SHANKAR SAHA
HAGIA SOPHIA
Chandni never knew what she was getting into. It was going to be a long night. The trigger was the Istanbul bombing. She was there just a couple of years ago with Dipankar at a seminar on the importance of place in a writer's life. She was covering the event for a media house and Dipankar was a budding writer then. So, when she accidentally met him again that day in Kolkata at the British Council on the occasion ofa talk being delivered by Amit Chaudhuri, she did not know how to react. The news about the Istanbul bombing streaming on the mute TV screen came as a relief and became the talking point. But Istanbul was also the place of fond memories for her.
It was in the Byzantium of the Megareans, the Constantinople of the Romans, the Istanbul of the Ottomans where they met. On the promontory by the Bosphorous strait through the Marmaray tunnel near the Hagia Sophia destiny had led them away from the city of Kolkata, where they were born and grew up but never met, only to meet at far-off places, where two continents meet in one country. There was nothing historic about it, not even historical, and yet in the petty chronicles of their individual lives it formed a milestone. Everything around was laced with history, even the seminar they were attending, and how prophetic that it was about the importance of place in a writer's life. Dipankar, the writer searching for a place of his own, had fallen in love with the baroque architecture, the many mosques built in Art Nouveau style, with the famed Hagia Sophia and with her. She was the anomaly in the list.
What Dipankar could not realize first was that Chandni was not a part of the city he had fallen in love with and decided to live in. Chandni was still a Kolkata girl and her trip to Istanbul was not to find a place of her own but a temporary retreat from the place she called her own. Her silk road had led her to Pamuk's land only as a visitor and not as a refugee. Whereas Dipankar was of the tribe of the Greek, the Megarean, the Roman, the Christian, the Ottoman, the Turk and all the other settlers who came across the Sea of Marmara and made Istanbul the city it has become. She left after the week-long seminar and Dipankar stayed to write his proposed saga of love, but ended up writing a non-fiction account of living in that city.
So, when at the British Council they were discussing the bombing of Istanbul, they just did not want to give up the discussion and bring it to an end. What if they did not find something else to say? Or, what if they do find something else to say? By the time they had reached the point in their discussion about the ISIS involvement in the suicide bombing that killed innocent tourists, they had already reached the parking area where her car was parked. The discussion had to be paused to open a couple of doors. They had never been to each other's houses because they were meeting in Kolkata for the first time. But they had shared with each other details about the localities they grew up in and why they hated or loved those places. In two years' time span was it still the same? And what about their lives?
Chandni never knew what she was getting into when she asked Dipankar whether she could drop him home. It was going to be a long night just like that other night at the Hagia Sophia when they had made the organizers of the seminar worry about their whereabouts throughout the night. The discussion about the Istanbul bombing continued as traffic thinned on the roads. They were not driving towards any destination and every time Dipankar saw his house nearing he asked Chandni to take a turn that took them away from it. Dipankar's house had always been for him filled with sad memories and he feared approaching it especially in the company of Chandni. They went around the city from Camac Street to Park Street to Park Circus to Beckbagan to Ballygunge Phari to Hazra to Princep Ghat and so on. They also halted at a dhaba to have a light dinner and talked a bit about food. And then it was back to the Istanbul bombing and the ride in the car. It was as if the perils of the world were a cushion for the turmoil in their heart and mind. It was quite late in the night, when they were quite exhausted of talking, that they found themselves coming to a halt near St. Paul's Cathedral.
Chandni had played along with Dipankar's misdirected navigations nonchalantly and now that the news they were discussing had spent its topicality for the time being like any other news item, their personal lives came to the forefront as victims for identification. Have they married? Are they in love with anyone? What are their plans for the future? What are their feelings for each other now? Can they start all over again? What are they doing now? Yes, in the car, bursting with possibilities... They sat there, side-by-side and so many atoms came out from one's body and entered the other's body. There was such an intimacy involved in the process. Without any transgressions they were becoming one – one with the infinite, mingling with the cosmos. One day this moment of time may become an everlasting eternity. Nothing could be distinguished then. They will become the universe. They could feel the pulse of such an inevitability in the cloistered space they occupied within the car.
Soon the first rays of the sun touched the pinnacle of the cathedral at the back, overlooking the city. They could see through the windshield a police patrol car passing by, a sweeper cleaning the road, a newspaper vendor cycling, a tea-stall owner opening his shack, a morning jogger peeping in the car window, an early morning heavy vehicle plying furniture for a dwelling, and a taxi coming to a standstill. Dipankar got into the taxi and Chandni kept wondering how long the night was, how long! Their love was always the Hagia Sophia, a place of worship, sacrosanct, and later a museum.
(Dr. Amit Shankar Saha is the author of "Balconies of Time", co-founder of Rhythm Divine Poets and Assistant Professor in the Department of English at Seacom Skills University)
SHREE
THE PASTORAL CALLING
The ghastly shaman with his blatant eyes was waiting in Agam's huge bedroom to start the ritual of black magic in front of a deity, which he considered to be the Goddess of fertility. Raya screamed and tried to free herself desperately from Agam's ferocious grip. Agam pulled Raya by her long hair and dragged her all along the decorated marble balcony into his bedroom and hurled her on the luxurious bed filled with petals of marigold. The room was dark and filled with some weird fumes. The shaman was pronouncing some prayers vehemently. Agam shut the door of the room and whistled his enormous pet dog to guard it. The ritual began. Raya was still fighting Agam. But the shaman hypnotised her and she finally gave in for intercourse with Agam.
Agam was middle-aged and one of the wealthiest men in the town. He was the owner of a palatial and posh mansion in the city of Burdwan. He was utterly arrogant, cruel, and made his subordinates work like slaves. Before he met Raya, Agam was childless from his first wife, and was actively looking for a young woman with whom he can possibly have adescendant for his colossal dynasty. Comparatively, Raya was a young and pretty girl, from a middle-class family. She was ambitious and wished to become affluent someday and lead a comfortable life. She was hooked to the pomp and lavishness of Agam's lifestyle, unaware of his nature. When Agam sent a marriage proposal to Raya, she was completely dumbfounded and was over the moon. She began to weave dreams of herself leading a luxurious life like a queen. Quite naturally, her family was completely against the marriage. But Raya's eyes were on Agam's wealth and she battled the family hostility to eventually marry him.
Inevitably after marriage Agam began to force Raya to fulfill his desire of having a child. But Raya was not too keen and expressed her discomfort several times. However, due to his vile greed, Agam never cared, and maltreated her almost every night. Shoshi, a young man, came from a northern village searching for a job in the city. Impressed by his farming and gardening skills, Agam appointed him as the in-charge of the aesthetic garden at his mansion. Shoshi sometimes sneaked through the windows of the breakfast room whenever he heard some commotion inside and witnessed a few unpleasant scenes. Within days, Raya's charming smile entirely disappeared. She had bruises on her face and was unable to eat. Whenever she refused to come to the breakfast room, vicious Agam ordered his maids to compel her to come. No wonder Raya turned into a pugnacious woman and used to put up a fight with anyone who touched her. One day, Shoshi managed to get hold of one of the maids and learnt about the cause of the frequent mayhem inside the mansion. Shoshi felt sad at Raya's plight. He thought it was atrocious and sincerely wanted to rescue Raya from the ordeal. But knowing his carping boss Agam, he realised he required to carry out the dangerous task with much adroitness. Ultimately one night as pre-planned, Raya managed to drug Agam, he fell intoa deep sleep. Raya escaped with Shoshi to a country-side village called Garlang in Darjeeling. Despite being town-bred, Raya was somewhat loving the vast green pastures, numerous cattle grazing lazily for hours, the gentle burble of the flowing streams and the strange birds chirping in the dense woods. Yet, there was a somber, almost savage wildness about that village. Raya was ecstatic that she could flee the barbaric experience she was going through in Agam's mansion. But simultaneously, she sensed a furtive linking of the joy of life with the terror of unseen things.
Shoshi arranged a room for Raya in his farmhouse, which had basic amenities. The kitchen was outside on the rear patio. In front of the house was a triangular slope of turf and some neglected bushes of Fuschia. Raya was almost in sync with the rustic surroundings. One day there was a sudden knock on her door and she shuddered. It was Shoshi who came to check on Raya. He suggested Raya could go for a walk in the fresh air. But she refused, she felt terribly traumatised.
'Do you believe in the worship of the Goddess of Fertility?' asked Raya very inquisitively.
Shoshi nervously said 'Yes.... I do to some extent.'
'Do you believe in black magic? Please, tell me!' Raya insisted.
'I don't, but the villagers do.' He replied, hesitantly. 'But you don't worry. Nobody's going to bother you. You are completely safe in my house.'
Raya was not very convinced. She was tired and needed some sleep. Shoshi left her at her own comfort.
Raya actually slept well that night and woke up to a beautiful morning, with fresh fragrance of the greenery and the gentle sound of the waterfall on the creek. She went out of her room and could see only nature as far as her sight went. She followed the narrow stream next to the untreated road and trekked until she reached a wide open green meadow where the cattle were grazing. Then she paused at the breath-taking view of a magnificent harvest field of peaches. She ignored the signpost of 'No Trespassing' in local language and entered the farmland. She sensed an uncanny attraction which pulled her, and she kept on responding to it. It was a serene place, but the peace suddenly broke due to the abrupt appearance of an old and shaggy fellow with unfriendly eyes and blackened teeth. She yelledin fear.
'The worship of our Goddess never dies out,' the old man hoarsely whispered. 'Don't be a fool to disbelieve her. Or else your children will be stillborn.' He laughed like a beast, with blood stains in his tongue; his breath smelt like horrible swine flesh. Raya wanted to escape from that incredulous scene, but her feet were as heavy like massive boulders.Weirdly she felt the obtrusive eyes of the shaman from Agam's mansion was chasing her. She ran for life, gasping and hustling through the peach farm, the woods and the pools of mud, until her surrounding transformed into a scene of cheerful bustle of the village again.
Shoshi found Raya at the patio, perspiring and awfully frightened. She could barely describe what she had experienced. Shoshi did not seem to believe whatever she murmured. He explained that her fear was haunting her and she needed to relax. The lady next door brought in some delicious home-made food for her, and eventually convinced her to have some food and sleep. But Raya was extremely horrified and had scary dreams of being desolated amidst owls and cobwebs. A stealthy hostility lurked among the shadows of some unseen objects.
Following morning Raya woke up with unknown fear, apprehensive about what more horrific incidents she might face. Unable to control her curiosity, she followed the direction of the waterfall. She arrived at an open space beyond the grazing meadow, in the centre of which stood a stone pedestal surmounted by a small bronze figure. It was similar to the deity which she saw in Agam's bedroom and it brought back all her horrendous memories at once. There were numerous peaches offered to the Goddess, implying a religious celebration of fertility rituals. Raya was fuming and snatched the peaches angrily from the pedestal. Some contemptuous annoyance dominated her thoughts and she screamed, 'You cannot harm my future babies, you understand? You are only a piece of metal and I don't believe you can curse me, okay?'
She threw away the peaches as far as she could and began to run homeward, breathing rapidly. Her gasps gave way to a sharp frightful feeling. Immediately she could see those ghastly eyes of that shaman scowling and cursing at her. Raya sped forward without waiting to give a closer scrutiny to that sudden apparition. Her heart was pounding hard, her clothes were torn and full of mud, her hair disheveled when she finally reached home. The neighbours came running for help and before they could discover what happened, she fainted.
When she came back to her senses, she lost all control and tried to run away, howling: 'I saw him! He's going to kill me!'
Shoshi was back home by then and tried to soothe her. He asked, 'Who did you see?'
'That shaman, from the city!' She replied frantically.
'How could he be here? He doesn't know that you are here! You are hallucinating, trust me.'
'Please believe me, he is here,' she broke down, sobbing.
'I suppose she has done something dreadful with our Goddess and suffering the consequences,' one of the villagers mentioned.
Shoshi quickly prevented him to ignite Raya's rage further. But the villagers insisted on finding the truth.
'I snatched and threw the peaches away. I was furious,' said Raya, watching the villagers' impassive yet annoyed faces. They asserted she will be punished by the Goddess for her outrageous act.
'I don't believe it, it's all nonsense!' retorted Raya.
It was all nonsense, indeed, but the eerie ambience seemed to rear a brood of uneasiness within Raya. Her mind and body could take no more and she passed out again. She remained unconscious till afternoon. When she woke up, the course of her next ramble took her instinctively to that open space behind the green pastures. The docile ram that fed on a sloping paddock near the meadow, abruptly showed every sign of restlessness, which seemed to have some subtle connection with the rustle in the woods. Raya hiked higher up the slopes and proceeded towards the waterfall. She saw a dark body, breasting hill after hill and crossing the valleys. Raya was panting and grew tense with the progressing calling which came surrounding the figure. The sound was relentless and took over the silence. A pack of hounds followed the figure. The loud cry seemed to die away for a moment. She could hear the subdued warble of the shaman instead. Raya's heart sank. She stood well aside from their path, half hidden in thick bushes, and watched the scene.
The flanks of the figure were dark with sweat, the coarse hair on the neck and back showing light by contrast. As the figure approached closer, Raya could infer, it resembled the deity she saw near the meadow the other day. She could fathom the dark plight which was engulfing her. The shrill cry suddenly soared around her again, and unpredictably that restless ram from the meadow slewed round and bore directly upon her like a mammoth beast. She was dreadfully terrified and looked around hysterically for a glimpse of oncoming hounds. Another huge spiked beast was within a few yards of her, and in a flash of numbing fear she remembered the villager's statement, that she would be punished. Then within a flicker of her eyes she glimpsed the deity figure stood a few paces aside, glaring at her.
Raya shrieked for help. But the figure was unresponsive.
The horned beast drove straight at her breast, its pungent smell was in her nostrils, her eyes were filled with the horror of her gruesome death. The shaman's cunning and ambiguous laughter echoed in her ears.
(Shree is a Houston-based author and IT professional)
SHYAMAL MUKHOPADHYAY
UNFINISHED STORY
It was a suburb, around 25 km from the city centre. As common to any such municipal area at the periphery of Kolkata, it had all the perfect amenities needed for a busy town life --- from buses, railway connections, movie halls,dining outlets,bars,school,college and perfect residential complexes. However, local trains were much preferred by residents as a means for commuting daily to Kolkata. They were economical as well as comfortable.
A young man was born in such a locality.The protagonist of this story is this man who joined as a probationary officer in a nationalized bank's Burrabazar branch.He hops regularly on to the 8:20 local to Sealdah Station,then takes a bus or tram to Burrabazar; and follows the same route while returning. The typical mundane routine life. Every morning he jostles through thecrowds on the platform, and then stands transfixed before a group of college girls who giggle and enjoy amongst themselves. It has almost turned into an obsession for him to glance into the kohled eyes of one particular girl.
Once he fell ill and could not attend office for 2-3 days. He still had the weakness in his limbs and while passing slowly by the group of girls, someone whispered: "Where had you been?" He just looked up, and met the same kohled eyes, only that they were today looking directly into his! The train chugged into the station. Life seemed to stand still for the young man. Suddenly he got lost on his tracks!
(Shyamal Mukhopadhyay is a freelance intruder in creative writing space)
NILANJAN BISWAS
A SUNDAY AFTERNOON
Raju and Romit followed their mother with listless steps through the main gate. It was Sunday afternoon and they did not like to go out. They simply hated to miss their favourite cartoon programme. But their mother became so morose after receiving a telephone call that they could hardly protest. They unwillingly dressed up and came out of their flat.
'Where are we going, Ma?' asked Raju, the elder brother. His mother hesitated, 'To Behala.' The mere mention of their destination lit up the two young faces. 'To visit grandma?' they asked in unison. Raju looked at Romit. He vaguely remembered their grandma. They only knew that she lived in the same city – a half an hour tram journey took them to her. But their mother always showed reluctance to visit her, and they were never invited even during festivals.
The tram journey was dull. The boys were always well behaved on trams except that Romit sometimes put his hand outside. That did not happen this time. Nothing happened. The two brothers just sat and stared across the passage. When they were getting down from the tram an old man said to their mother, 'Your sons are very well behaved.'
When they were climbing the dingy stairs of the house, their mother looked at them anxiously. Raju felt irritated at her nervousness. What was she worried about? They were well-behaved kids and always left a good impression wherever they went. They were polite and people forgot about them and then remembered and said how nice they were.
As soon as they entered through the open door, they felt the heavy fragrance of incense sticks and flowers. Their mother who maintained her composure till then, broke down in tears before the body covered with white sheet. Everything was white of different hues - the walls, the bed sheet, her hair, the flowers. Raju and Romit felt uneasy. They had hardly expected this to happen. They thought that visit to their grandma's house would compensate for their missing Tom & Jerry cartoons.
They saw two young women comforting their mother. Their mother asked her, 'When did all this happen?' An elderly lady replied, 'Just after lunch. She was not keeping well for the last couple of days.'
'And nobody thought it necessary to inform me before it was too late?' She sounded a bit emotional. Your mother did not want you to know, she never could come to terms with your marrying against her wishes.' As an eight year old, Raju began to realise her mother's reluctance to visit grandma. The whispering continued and they were supposed not to hear a word of it. So at their mother's instruction the maid servant led them to the drawing room and made them sit on the horrible prickly sofa that tickled and stung the back of their legs.
They looked around and immediately the showcase with different kinds of toys caught their attention. 'Let us play with the yellow car,' Romit suggested. Raju requested the maid servant to bring it out. The two brothers sat in two opposite corners, facing each other and began to shuttle the car between them. They were still playing with the car when their mother came to fetch them. She was very pleased to find them calm and quiet and they were equally pleased at the prospect of going home. There was more whispering at the door and unwelcome glances towards them, but they were too bored to pay any attention.
Going down the road, Raju asked his brother encouragingly, 'Do you remember our last visit?'
'No,' Romit replied shaking his head. He added thoughtfully, 'Her face had a stony look.' As they were engrossed in conversation, they were left behind. So their mother turned round and waited for them. 'Come on, boys. Your father will be waiting.' Romit was the more courageous of the two brothers and asked his mother, 'Ma, do all faces become stony still after death?'
Startled at the question, the mother asked, 'What do you mean?'
'Will you become stony looking after death?'
She nodded in her astonishment and did not know how to react. 'Will dada's face turn stony after death?'
'Don't talk that way,' mother said firmly. But Romit got his answer. It was the first time, he saw a corpse so closely. Once she was his grandma. Today she is just a stony cold face.
((Nilanjan Biswas lives at English Bazar, Malda. He is a WBCS officer currently posted as Child Development Project Officer under Department of Women and Child Development & Social Welfare, Govt. Of West Bengal) )
DR PAROMITA MUKHERJEE OJHA
EARTHEN HUES
The ultimate tragedy is not the oppression and cruelty by the bad people but the silence over that by the good people.
-Martin Luther King, Jr.
The rain drops slithered snake-like on the glass pane, the view outside the window was misty and sombre echoing Basanti's state of mind. Her view of life had become equally misty and grey due to the upheaval unleashed in her life by Indra. She decided she had to find a way to put a plug to Indra's wayward ways, he might be her husband, but it was time to start demanding her right to live with dignity.
On such lonely days, Basanti missed her childhood. Days of frolicking with her girlfriends in Narail, a district in south-west Bangladesh. She remembered the lush green paddy fields, the lingering taste of Hilsha caught from the river Padma, delectable food and its aroma from her mother's kitchen and most of all, her home in Bangladesh. Basanti looked outside and watched the temporary rivulets gushing down the street. She was reminded of the rivers in Narail district and was happy to realize she still could recollect beautiful names of rivers of her district --Madhumati, Nabaganga, Bhairab, Chitra and Kajla.
She missed watching the sparkling rivers on a moonlit night that had a spectacular beauty. She used to spend hours on their banks, mesmerized by the deep silence around, occasionally broken by the splashing dip of oars and songs of boatmen. Her hometown was like a painted canvas. When she closed her eyes, she could still hear chirping birds andimagine brilliant sunrays and the setting sun on the confluence of the river and sea. She missed her home in Bangladesh, a land of romance and beauty. Today, however she left pining for her homeland and resolutely moved towards the door to catch her husband red-handed with his new paramour --- a maid from a nearby slum.
Basanti had left Narailfor Kolkata at sixteen with a heart full of love and hope. Her poor parents thought that they would earn a lot of piety if they offered their fifteen-year-old eldest daughter in 'Gauridaan.' They searched for a suitable groom and believed they had found one in twenty-five-year old Indra. They married off their teenage daughter. Basanti in her teenage gaiety believed Indra would shower her with love and attention and they would obviously live happily ever after in a beautiful cottage by the Ganges.When she saw Kolkata for the first time, she was awestruck by the hustle and bustle of the city, it was nothing like the tranquil serenity of her hometown. Indra took her to his rented two room accommodation in Titagarh. The moment she entered the dingy alley, crowded with migrant labourers from Bihar and Uttar Pradesh she first assimilated the bitter taste of broken dreams.
There were strange work-worn faces, peering at her curiously from the chawls nearby and few asked Indra in Hindi whether this was his bride? Indra replied in the affirmative and instructed Basanti to walk faster instead of shuffling her feet. Basanti was appalled to see the dingy two-roomed house Indra calledtheir home. Nothing was bright in those dimly lit rooms and Basanti's bright hopes of a rosy conjugal life was shattered. She was pushed into a life of domesticity, sharing the dingy house with her husband's cousin brother Bipin Pal, who along with his wife had produced a brood of five children. Bipin had recently lost his job, so the entire Pal brood was financially dependent on Indra. Her days passed in a whirlwind of activities ranging from cooking, cleaning, scrubbing the floors and catering to her husband's demands. She was left with no time, her once waist length black hair that used to bounce with life with every movement, now turned to a tangled mess, her peachy complexion turned ghostly pale and she became a mere shadow of the once lissom woman she had been. With so many mouths to feed, she was forced to eat frugally and the result was evident in her now frail body. Indra worked as a life insurance advisor and he frequently travelled far and wide leaving Basanti to deal with myriad domestic problems.
With passage of time, Basanti conceived her first child, a joy that gave her fresh hopes, something new to look forward to. She counted days for the arrival of her bundle of joy and 'he' did arrive, full of vigour and infectious laughter. Basanti concentrated on bringing up her baby with utmost love and care. She named her little boy, 'Anando' or 'joy,' and he did bestow joy and laughter to all who were fortunate to be in his vicinity. The joy little 'Anando' brought in his mother's life however proved to be short-lived. While his mother was busy with household chores, little Anando, then five years old, slipped and drowned in a pool in the neighbourhood. Basanti was devastated, her joy, her pride, lay lifeless in front of her and nothing she did, could revive him back to life. Indra was not much affected by this loss as he already had sired two sons with his mistress.
After a few years, Basanti gradually accepted the fact that her little 'Anando' had left her. She listlessly performed all her domestic duties. Her hopes were slowly raised when a little colourful bird started visiting the windowsill of her small bedroom that was made of temporary asbestos sheets adjoining the main house, a small room of her own. The way the bird chirped and frolicked on her window, reminded her of 'Anando.' She started believing her son had returned as a little bird. She completed her work every day, well before time and waited every afternoon for the little bird to arrive. She spent precious minutes talking to the bird that didn't show much interest in her talk, except in the grains she brought for it.
Meanwhile, Indra claimed his rights as a husband on the bed and after many attempts impregnated Basanti again. In her new-found joy of motherhood, Basanti pretty soon forgot about the little bird and started weaving dreams for the arrival of the new baby. This time also she bore a son followed a few years later by a daughter. Basanti spent her youth, energy and emotions in bringing up her children. She was over the moon when both her children grew up educated and secured Government jobs. Slowly and steadily their fortunes improved, despite a father who was rarely there for the children. Fate still had some more tests in store for Basanti and to put her resilience to further test, Basanti lost her daughter in a road accident.
Basanti prayed day and night to overcome this loss but her zeal to prove her mettle to God was waning. She held on to her life for the sake of her son. At a suitable time, Basanti got her son married to a compassionate girl. She was happy to see her son happy. She asked her son to move his family to a new house where they would be able to start their family life peacefully.
Basanti continued staying on in the old house and cater to Indra's cousin's brood and to Indra's demands whenever he dropped in. With age, Indra became more abusive as well as indolent and it was impossible for Basanti to cater to his demands anymore. She heard from a neighbourhood gossip monger that Indra had got involvedwith a woman who lived with a teenage daughter in the nearby slums. The woman worked as domestic help. Basanti decided to investigate the matter.
Basanti got wind of the woman's house in the slum and determinedly landed there. She stood outside the door which was locked. She was about to turn away, when she heard muffled screams from inside, she tried the windows and finally found a window of the one roomed house open, what she saw inside froze her blood and she felt like retching her soul out. Indra was trying to force himself on a young girl; the girl was struggling to escape but was failing to do so due to Indra's brutal strength. Basanti was numb with shock.She had heard stories about his brutish ways but never imagined his soul had become so murky. She realized that the girl must be that woman's teenage daughter and though Basanti didn't have much sympathy for both, yet as a woman, she felt the need to rescue the adolescent before the girl was emotionally scarred for life.
Basanti looked around the tenement and found a second door at the back of the house, she pushed hard and the rusty hinges of the door gave way, giving Basanti access to the room. She leapt on Indra like a tigress and dragged him away from the hapless girl. From where Basanti mustered the strength and courage she herself didn't know, but what was foremost in her mind was not to let the girl become a victim of Indra's callousness and the girl's mother's carelessness. She pushed Indra hard, who staggered back in shock to see Basanti there and in the melee hit the wall behind him. Before Indra could recoup and retaliate, Basanti caught that shocked girl's hands and pulled her out of that house. In the drizzle, Basanti walked steadily and purposefully with the girl,towards the local police station. She met the station-in-charge and narrated the entire incident as she had witnessed. The police officer assured them that Indra would face the consequences of his action.
Basanti requested the officer to ensure that the girl's mother was informed and the girl's safety was not compromised again. After being assured by the officer,she walked out of the police station. When Basanti stepped out in the rain, it suddenly dawned on her, all at once. She reminisced all these years she had lived, what she had and hadn't done (what was required of her but she did nothing about it, tolerating insolence, abuse, deception, ignominy). She remembered everything now, and her heart broke. She had read somewhere, that painful endings always hold the seeds of a fresh beginning. Basanti wiped the single drop of tear threatening to topple down her eyes with a determined hand and traced her steps towards the railway station, never to be seen again. Her son and daughter-in-law moved heaven and earth to trace her but to no avail. Basanti seemed to have evaporated from the earthen landscape.
((Paromita Mukherjee is a facilitator by profession, blogger by choice and an orator by chance) )