Durga Puja from Europe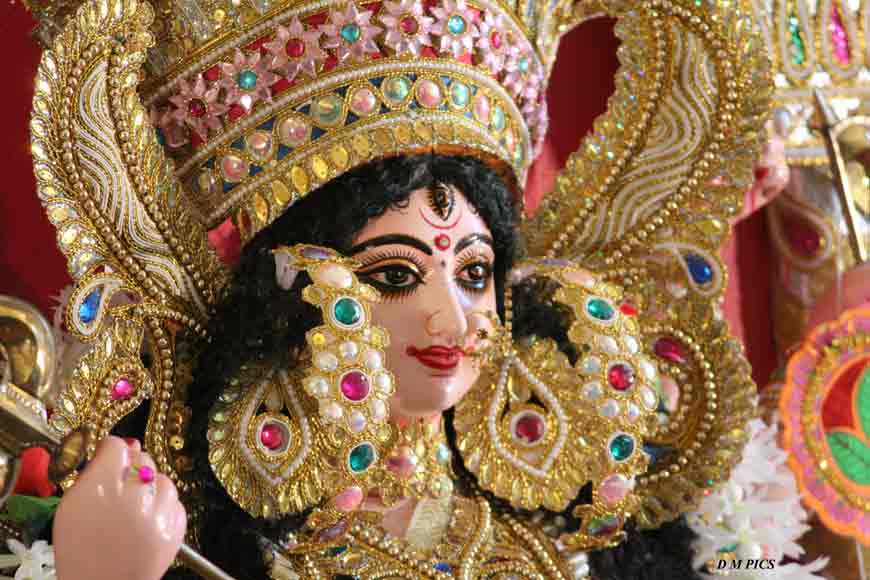 Oslo Durga Puja
'Nostalgia, thy name is Durga Puja,'this is what participants of this puja feel, at their new home away from home, in Oslo. Started in 2009, nine years down the line, Oslo Durga Puja continues to be an initiative driven essentially by women- a true celebration of the indomitable spirit of women. It is only a small community of women and men who raise funds and celebrate Durga Puja with aplomb every year. Their idols are shipped from Kumartuli and the height of their idol is close to 182 cm in height. This year, they will organize a Virtuoso, a Sarod player of international repute to perform.
Address: Oslo Durga Puja
FurusetVel, Furusetveien 1, 1053,
Oslo, Norway
Ireland Durgotsav Committee
First time in Dublin, Durga Puja will be celebrated for five days. Rituals will start from Shashti on 26th September at 6 pm and will continue till Dashami on 30th September.

Mantras and rituals are strictly followed in this pujo. Priest MrAsim Banerjee of London is their main priest who has been performing Durga puja in England since 2003. Every evening they will hold a cultural program for kids and family (like, sit and draw, dance program (classical and Bollywood), music, instrumental, sat-sang).
Address: Commercial Rowing Club Dublin
Longmeadows, Islandbridge, Dublin 8
SWISSPUJA
Founded in 2003 in Zurich, SWISSPUJA is a non-profit socio-cultural organization, committed to promotion of Indian culture and its values,intending to work towards facilitating integration with the local community. With this vision in mind, SWISSPUJA organises socio-cultural events throughout the year. Swisspuja had humble beginnings. A band of Bengalis came together in Zurich, in 2003. Everyone had the same thought in mind: enough of feeling nostalgic about Durga Puja, let's start a Durga Puja in Switzerland!

From a 100-strong crowd of attendees in 2003 to over 4000 visitors in 2016, people come from Switzerland and its neighbouring countries as well.
Address: Schwerzisaal, In der Schwerzi 4, 8135 Langnau an Albis (near Zurich), Switzerland
Camden Pujo Kings X
This year's theme of Camden's Pujo is dispersion of light. The pujo will be inaugurated by the Chief Minister of West Bengal as they have tied up with TridharaSammelani of Kolkata. Both the pujos will be opened together by click of a button and Camden Pujo is part Bengal-London pujo initiative. Special attraction of this pujo this year is the Jatra Pala Draupadir Bastrohoron.
Address:
Camden Centre
Bidborough St
Kings X
London, WC1H9JE
Wimbledon Cultural Association
This Durga Puja is famous for a homely atmosphere. The presentation of cultural programmeseveryday during Puja is appreciated by all, with special emphasis to promote local artists, singers, instrumentalists and classical dancers.

From Shashthi to Dashami, local kids and women along with artists from London and India will perform. UK's famous band Euphony will sing Bangla and Hindi songs on Bijaya Dashami.
Address: SAAM's Hall, 6-12 London Road, Morden, Surrey, SM4 5BQ
Munich Sarbojonin Puja UdjaponParishad
Munich Sarbojonin Puja promises to be ameeting point of east and west Bengal this year. Celebrated in a complete homely environment, like every year they will have different culturalprogrammes and welcomes everyone from across Germany. It is where the old meets the new, where you get to know your community and feel the pulse of Bengal far away from home. This year Munich Sarbojonin will have a cultural extravaganza on 29th September and on Bijoya Dashami on 30th September, a special sports meet is on the anvil.
Address: Talhofstrasse 13, 82205, Gilching, Munich, Germany.
Public Transport: S8 from Hauptbahnhof towards Herrsching. Stop name: NeueGilching.