Durga Puja from Europe - 2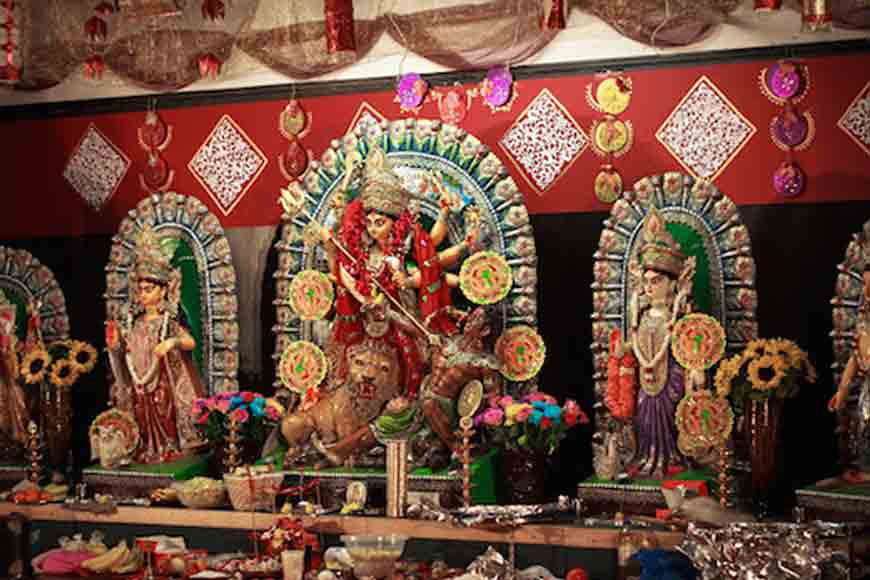 Indian Cultural Society Cambridge
This year, ICS Cambridge reaches its 15th year of Durga Puja celebration and the journey has indeed been enjoyable for them thanks to members, visitors and guests. Cultural programmeat this pujo held in the University town, includes musical repertoire, Bollywood Hungama, recitation, Bengali dance drama, Bengali drama, Sit n Draw competitions, kid's talent hunt and many more! These programmes being in the mood of the pujo and a slice of Bengal in the land of the British..
Address:Atrium Hall, Netherhall School Queen Edith's Way, Cambridge CB1 8NN.
DurgaPujo Franken
This pujo is comparatively new and started only last year. But Durga Puja Franken team has again come together to organize a grand Durgapuja festival from September 26 to 30 this year. Their main aim isto continue with their endeavor to create a vibrant opportunity for the people of Indian subcontinent to showcase their colorful cultural diversity and share it with everyone else in the adopted country.
Address:Gemeindezentrum Frauenaurach, Gaisbühlstr. 4, 91056 Erlangen It is 10 minutes walking distance from Erlangen Media Markt. Nearest bus stop is FrauenaurachWallenrodstr by bus no. 281
DusseldorfDurga Puja
ahishashur Mardini over the air waves, that distinctive scent of shiuli, kaash blooming-- it all adds up to one of the biggest and brightest Indian festivals: Durga Puja. As MaaDurga embarks on her annual voyage to her paternal home, DuesseldorfDurga Puja makes a journey of their own to create a slice of the coveted Bengali experience away from home.

Cultural programmes, sumptuous food and more. They help to rekindle bonds, forge new ones, and partake in ageless traditions. For them Goddess Durga, symbolic of perfection, knowledge, wisdom, action, and energy, is an inspiration in the midst of festivities. Her triumph over Mahishasur and all that is evil is as awe-inspiring as ever. The familiar sounds of dhak and anjali transport the whole community back to where they all long to be at this time of the year. This year, they are flying in a Bengali purohit who will come along with 108 lotuses for the Sandhi Puja.On 28th they will hold a cultural programme on Odissi Dance and on 29th, there will be a 2 hour musical concert with a sarod recital.
Address: Goethe-Hafez-Saal (Brunnenstraße 21, 40223 Düsseldorf, Germany). Near Dusseldorf Archaden at Dusseldorf Bilk
AnandadharaDurgotsav Netherlands
Durga Puja, the annual Indian festival that reveres the Goddess Durga, aims at reiterating the belief in triumph of truth over untruth, good over evil, light over darkness and knowledge over ignorance. For every Bengali, it is the stimulation of all the five senses well before those actual days of celebration. The rhythms of the "dhaak" ring in the subconscious mind. The smell of 'Dhunuchi,' evokes nostalgia. The sights of the city, all lit up and people in their new and colourful clothes flashes in front of our eyes. The mouth waters while imagining the food fare! A feeling touches the heart which transcends automatically to a smile on the face!

Though the festival is a religious and a spiritual event, we can choose to be religious, or abstain from any religious overtone entirely. What stands out is, that Durga Puja brings together people, in a celebration of our cultural ancestry, our love for food, and our fondness for chit chat /adda.

Anandadhara wishes to recreate that essence, and spread it across all in this home away from home. Our Puja is free for all and no registration for attendance is required.
Walk in to offer prayers, and be a part of the Puja or just choose to chit chat with friends. Witness the undiscovered as well as established artistes perform or participate in games and contests. Enjoy a mid-meal snack or choose to try the sumptuous lunch/dinner arrangements at the premises.
Address: Muziek en Dansschool Stadsplein 99 1181 ZM Amstelveen The Netherlands
Durga Puja Stuttgart by Bindi
For the entire Bengali community DurgaPujo is a festival which brings together the entire family and the parato worship the goddesses. With this comes an infinite amount of fun, frolic and pet pujo.Durga Puja in Stuttgart is going on for 33 years. Bindi keeps this Bengali Puja tradition alive. Like every year,MaaDurgacomes again to Stuttgart this year and all childhood memories are revived.

Nowadays DurgaPujo by Bindi is the most talked about in Stuttgart.Team Bindi has involved itself in social welfare activities round the year. The Government of Germany has acknowledged the social welfare activities performed by Bindi and has conferred on it the status of a "GemeinnützigerVerein" (Charitable Trust).With the above objective in the fore and an inherent quest for jubilation and celebration, members and well-wishers of Bindi have planned the mega event also this year with greater enthusiasm, energy and excitement with a resolve to make it even better. This year the Pujo will be celebrated from the 26th of September 2017 to 30th September 2017. During these days, cultural events will be hosted, including sangeetprabhakar, Parna Mukherjee, flying in from India to perform her classical music and bhajans.
Address: Turn und Festhalle, WeissacherStraße 44, 71254 Ditzingen.