GB begins Poush Parbon festival with a variety of pithes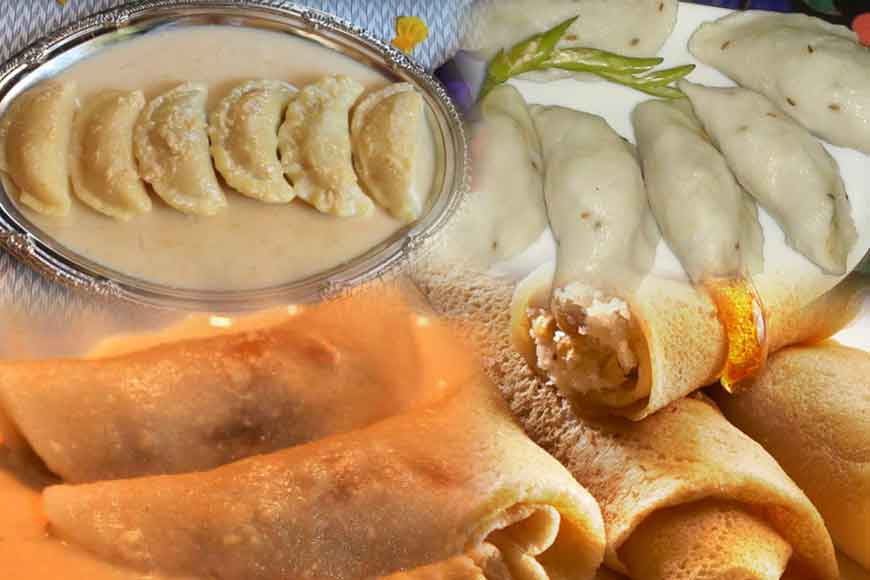 Folk festivals like Poush parban are a wonderful mixture of several traditions that originated from rites and celebrations that were held to keep the agricultural gods and the goddess of wealth and prosperity happy. With Nabanno round the corner, pithe pulis have now turned into a must have delicacy in every Bengali kitchen! The first batch of pithe is made with the rice offered to the gods and the first is fed to the family's cow and then begins the feasting, starting with the ritualistic nabanna -- a blending of uncooked harvest produce including rice, coconut and moong dal -- and moving on to the main attraction, the pithe.
Pancakes and dumplings - pithe and puli are prepared with rice powder, fresh date palm jaggery, coconut and milk. These are first offered to Goddess Lakshmi, the goddess of fortune, to seek her blessings for the year ahead. Traditionally, the first variety of pithe cooked, is the delicate Ashkay pithe - an almost translucent pancake. It is first offered to the Tulsi plant and then to a pond. This is called Gurir haat. After these rituals, feasting on pithe begins. The large varieties of delectable pithe in every shape and size churned out by the rural women is simply mind-blowing. From Shajer pithe, Ranga Alur pithe to the more familiar ones like patishapta, Gokul pithe etc, name any and the recipes vary from home to home.
'Payesh' or 'Kheer' or 'Payasam' is traditionally cooked during any auspicious occasion and the Poush special payesh is made of rice, thick milk and 'khejurgur' or date palm jaggery/molasses. So, we begin this Poush-Parbon special with sharing the know-how of a few pithe-puli recipes. We begin with Nolen Gurer Payesh.
Nolen Gurer Payesh or Jaggery-flavored rice pudding is a signature dish of Makar Sankranti. Nolen Gurer Payesh needs only three basic ingredients -- rice, milk and jaggery.
RECIPE:
Preparation Time: 05 mins
Cooking Time: 30 mins
Ingredients:
1. Full cream milk: 1 ltr.
2. Rice (washed and drained): 4 tbsp (traditionally Gobindo bhog rice is used)
3. Jaggery: 6 tbsp
4. Bay leaf: 1
5. Green cardamom: 2-3, crushed
Preparation:
• Boil milk with bay leaf and crushed green cardamom in a heavy bottomed saucepan. Once milk starts boiling, simmer it until it reduces to half of the original volume. During this process foam will be formed on top of the milk. Don't discard it, mix the foam into the milk with a wooden ladle. Scrap off the sides of the pan and stir the milk from time to time.
• Add the previously washed and drained rice into the simmering milk and allow it to cook on low flame for 10-15 minutes or until the rice is almost done.
• Keep stirring the milk continuously otherwise rice will stick to the bottom and the 'Payesh' will have a smoky burnt smell.
• When the rice is almost done, simmer the flame and add the previously made milk jaggery mixture slowly. Don't forget to keep stirring continuously. Simmer the milk for another 5 minutes or until 'Payesh' thickens a bit and has uniform color.
• Switch off the flame and allow it to come to room temperature.
Transfer to serving bowls and serve at room temperature. Some people like it warm, some people like it chilled; it tastes great all the way.