GB reveals themes of 3 well-known city pujos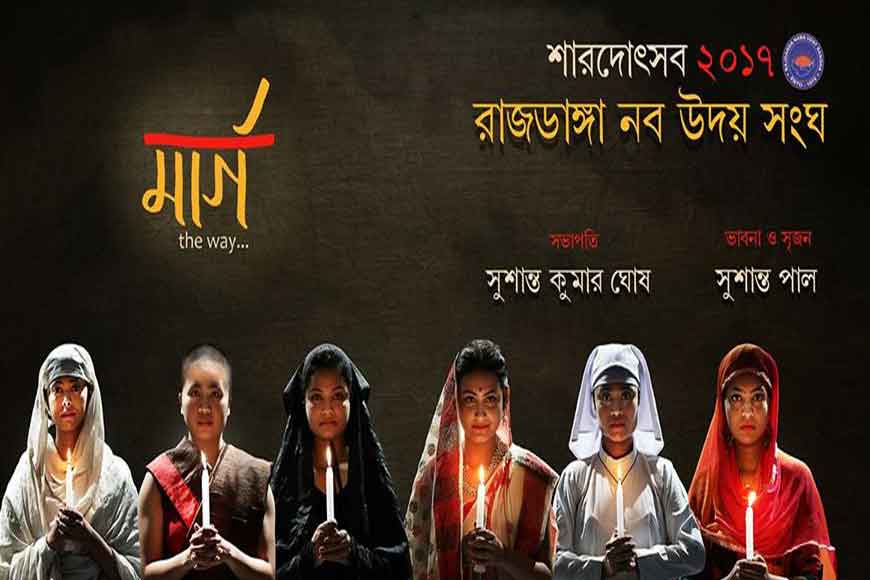 Come Puja, Kolkata transforms into a vast exhibition space. Durga Puja has turned over the years toone of the biggest public art events and street festivals of the world. Professional or mainstream artists joinleague with traditional idol makers to 'design' new forms of Puja, popularly referred to as 'Theme Puja.'
This trend started in the beginning of the 21st century and caught on public imagination like wildfire. In no time, the trend became a norm with big corporate houses sponsoring the enormousaffair. For professional artists, the event provided an opportunity to step out of the confines of galleries, where only the connoisseurs of art visit and take their work to the masses. One of the earliest artists to join the fray was Susanta Paul.
A wizard of installation art, Paul is a much-sought after artist. The man who did his Masters in Visual Arts from the Government College of Art & Craft, specializing in textile design, joined the film industry to eke out a living. He has worked with many stalwart directors, including Rituparno Ghosh and has also received the prestigious National Award for Costume Design for 'Chokher Bali'.
Paul is a multi-faceted talent, a man for all seasons whose vast artistic repertoire include costume designing, textile designing, painting, sculpting and his outstanding eminence as an installation artist. Watching his larger-than-life creations seem like dream sequences from movies, an aesthetic, surrealistic tourdeforce that mesmerize the masses.
This year, Paul is handling three well-known Puja pandals of Calcutta: NaktolaUdayan Sangha, RajdangaNabauday Sangha and 95 Pally, Jodhpur Park. Each venue has a unique theme and requires tremendous physical and creative power to execute them perfectly. Paul has an eclectic taste and gets inspiration from nature and all forms of folk art. His work also carries influences of masters of Western art. His favourites are 19th century symbolist artistslike Gustav Klimt to French trend-setters, Henri Matisse, Pablo Picasso and Swedish abstract painter Paul Klee.
Will we get to see any of these influences in his three installations at three well-known theme pujos of Bengal this year? While, at Rajdanga Nabauday Sangha the theme is 'Marg', where revelers will get a chance to choose the path to reach the pandal interior. There will be six paths but they will all lead to the one and all: the ultimate power. He will be using optical illusion to bring about a new impression. While Naktala Udayan Sangha has a theme of 'Asu Anta', shifting between life and death. Paul's third work at 95 Pally is 'Adhara'. One has to visitthe pandalto find out if Maa Durga will be out of bounds!
Paul enjoys his work and feels proud to be an integral part of the city's annual jamboree. Nothing is more satisfying for him than watching jubilant viewers coming out from the pandal wide-eyed and expressing their support and admiration. This is Paul's reward as an artist at the end of the day and he savours every bit of it when he is finally discharged of his task after the Puja and he gets time to sit back and recapitulate those heady days.