Is present day Indian society free of Ravanas?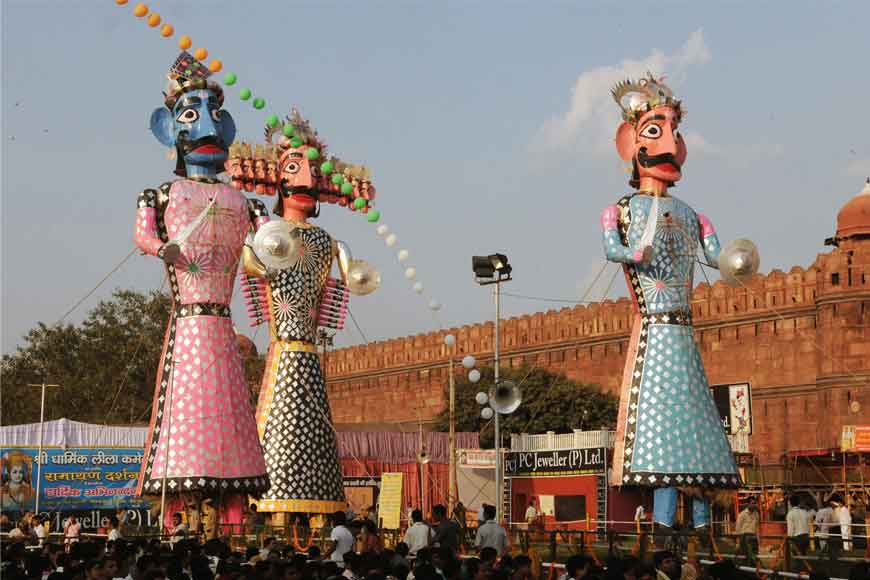 My earliest memories of 'Dusshera' spring from an army cantonment called Tanga Valley, aquaint hill station in Arunachal Pradesh,a place where families of armed forces were stationed, while our fathers served at Tawang Valley along Indo-Chinese border.One evening,I saw huge effigies of Ravana along with his ten heads being burnt,it was a spectacular sight,a memory of which is difficult to erase. Later, my mother explained its significance– 'Ravana was a wicked king who kidnapped the good king Rama's wife Sita, and Ravana was killed by Rama,so we celebrate triumph of good over evil.'
This story intrigued me for days on end, it had the power and the pull to captivate a four-year-old child. Since then the idea of 'Ram' and 'Ram Rajya' haunted me.Infact,our childhood was spent uttering Hai Ram at a drop of a hat, out of innocence,our parents not one bit perturbed about our naivety,the fact that I was Muslim never even occurred to me.
The usual greetings to Army officers by jawans was 'Ram Ram' which was the proverbial Good Morning, to which I remember my father wishing back a resounding 'Ram Ram.'Since then Ram has remained the epitome of goodness and justness in the world where one grew up believing that all is well and evil is something that just doesn't exist and the term wickedis just confined to story books, portraying evil stepmothers and witches.
In the modern era, 'Ram Rajya' is defined as a society principally run on the values of Lord Rama.The Ramayana preaches one to attain 'Moksha' or the final liberation through one's exemplary deeds.'Ram Rajya' also talks about a democratic set up, where the ruler rules with the consent of his subjects,a social order where justice is not denied even to the poorest of the poor.The moral values are expected to be so strong, that one would not need to be moderated or reprimanded in that society.
When modern day government speaks of this 'Ram Rajya,' doesn't the idea strike today as Utopian? Just like those fairy tales of my childhood. In Greek terminology 'Utopia' literally means no place,a book by Sir Thomas More imagines an ideal society free of poverty and suffering, not a society where 'blind bhakti' results in downward spiralling effects.
However, the power of one leader cannot lead to formation of a Ram Rajya just like Rama is said to have done, because that leader needs to be one whose leadership has inspired revolutions, one whose dedication and sacrifice led to freedom, such as Nelson Mandela, Mahatma Gandhi, Netaji Subhash Chandra Bose, Fidel Castro and so on. Can we call an autocrat like Adolf Hitler advocating ultra-nationalism or one resulting in mass genocides, ethnic cleansing a leader who can at all create Ram Rajya?
And don't we have enough Ravanas raising their heads today, being patronised by the very leaders who promise to create a Ram Rajya! Take for example convicted guru –Ram Rahim, the Dera Sacha Sauda chief who raped and killed women, or even the Falahari baba accused of raping minors. What happens to these so-called Ravanas? Well, though we burn effigies of Ravana on Dussehra, we actually bow before these crooked evil Godmen. We allow Ravanas to have a grand time. So 'Ram Rajya' in India is still a utopia.
The story of 'Ramayana' and the essence of 'Dusshera' is the essence of our Indian culture and ethos. India is not India, without these legendary stories passed down generations, but in the present context they need to be told and retold.