Khichuri does not feature in Durga's bhog menu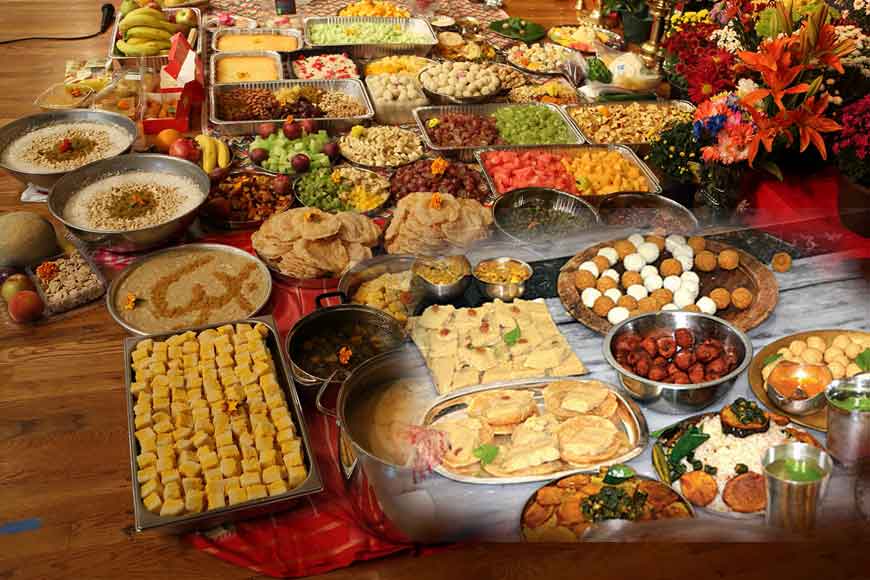 After three months of incessant rain and thundershowers, the dark monsoon clouds ebb into the horizon and the azure sky appears, resplendent and ready to usher in Maa Durga in Bengal. Durga Puja and Bengalis are almost synonymous. The ceremonial five-day worship of the Goddess is performed according to rituals, set in the Markandeya Chandi. Though the Goddess is worshipped as an epitome of Shakti, in Bengal, she is ushered in as the daughter of every conventional Bengali household.
The scriptures have a detailed list of the items required for the five-day Puja of the Goddess. It all begins with Kalparambho, the ritual before the actual Puja begins with Mahasnan(the ritualistic bath) including anoffering of Pancha Shasya (five types of grains – rice, whole green gram, til or sesame, mash-kolai, job or millet), Pancha-Gabbo(five items obtained from the cow – milk, ghee or clarified butter, curd, cow dung and go-mutra), honey, jaggery, items for noibeddo (fruits and cooked food items), Madhu-parka (a mixture of honey, curd, ghee and jaggery) for offering and items for cooking Bhog (edibles).
Incidentally, in most traditional houses where Goddess Durga is worshipped, khichuri does not feature on the bhog menu, because only Brahmins have the privilege of offering anna bhog, or cooked rice, to the Goddess. Most bonedi(traditional) families stick to age-old rituals when offering Bhogto the goddess. Traditional vegetarian dishes like deep-fried brinjal, pumpkin, bori(lentil pellets), shhak, Labra (an assortment of vegetables like sweet potatoes, radish, pumpkin and colocasia cooked with paanch phoron) are offered to the Goddess. These side dishes are come with luchi or radhaballavior even khasta kochuri and rounded off with chatni, sweet meats and payesh. Not with the Bhoger khichuri that we are used to having during most pujos.
Like in Sovabazar Rajbari,the Goddess is offered an assortment of sweetmeat (monda mithai) including white motichoor(a type of laddoo), mitheygaja, chauko (square) gaja, pantua, peraki stuffed with cinnamon-flavoured kheer, katkati, shingara, nimki, and radhaballavi , luchi and aloordum.Sweetmeats and snacks like kochuri, radha-ballavi, luchi, shingara, payesh, rabri top the list of offerings in most traditional houses including the Puja held at Ghosh Bari at Pathuriaghata, Dutta Bari at Balaram Dey Street and Laha Bari.