Let there be love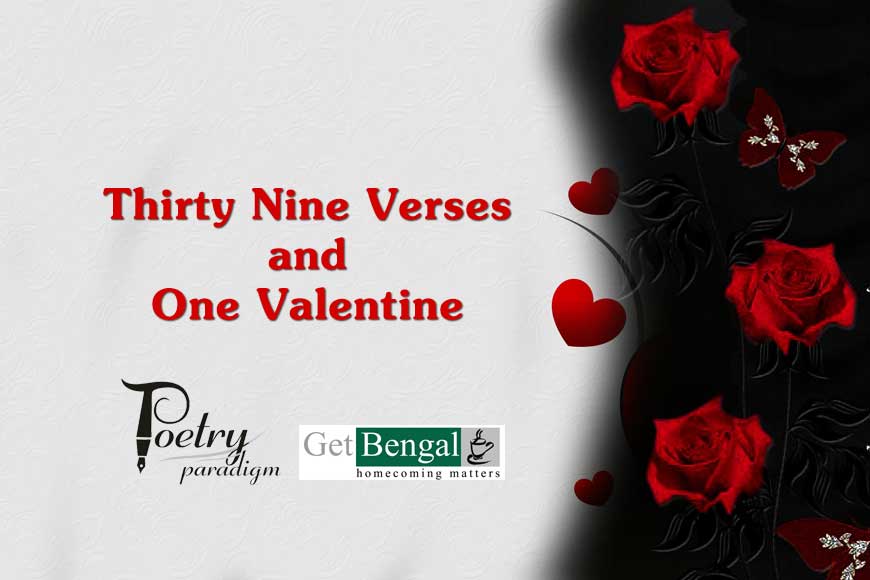 By Reena Prasad
The pointed quill
The fragile paper
Two beautiful excuses
To love or hurt each other
A poem lies between them
Trying to make amends
By Jayashree Bhattacherjee
It is springtime.
All is drenched with the redolence
Of cuckoo's melodious song.
The birds chirp in joy,
The butterflies hug the flowers.
Season's seductive music
Fills a lover's heart with dreams, bright & beautiful.
It is in these moments
That I need you by my side.
I wait for you
To sing our song of love.
Like the maple and the pine,
To whisper to each other
Resonating in the whisper of the soothing breeze.
You are far away and I want to be with you.
I want to feel the love in my life
I want you by my side.

This pink-hued page
Will carry my poem of love to you,
From a heart struck with Cupid's arrow.
Will you be my Valentine?
Tell me, o darling, will you be forever mine?
By Mou Majumdar Sarkar
Sometimes when the fountain of thoughts gets dry,
Poetry in lines don't inspire anymore,
I feel like getting closer to you then,
To touch your heart which lies cold like clay,
To hold you tight in an embrace wild...
To sit next to you and look into,
Those magnetic dark eyes,
To immerse myself...and inhale,
That earthy smell of yours,
Take pause... and search,
For that rare dragging smile,
To wrap my arms on,
Those brown shoulders...bare,
Draw you closer and,
Softly nibble your ears,
Your gaze held in mine,
My shyness slowly eases away,
That moment will be so divine,
When our bodies will be all aligned,
We will make music of love,
Like two hands in one big glove!
By Aminul Islam
So many valentines come and gone
Still this bosom is sheer alone
I haven't gotten the one yet
This heart is yearning for to date
Which clime unknown you belong to,soulmate?
I've gingerly kept you beneath;
Know not when Cupid will make us meet
If he helps not us,
All my effusions will go supercilious
Meet me erelong; wait is sore too much
In this life very much motley
Veracious love is too much costly
Some lasses lure me with lust
They know not the definition of love just
Salacious love isn't built on mutual trust

Loving poetry, I became monastic
While all are growing utterly capitalistic
No one loves me 'cause I'm harbourless
Poems are valueless to them these days
Who'll love me? I've neither property nor pretty face
If beauty lies in the eye of the beholder
Day and night I only ponder
Is it your coldness you find no beauty in me?
Don't you find any flower in my tree?
I've been awaiting you for decades two or three.
By Jagari Mukherjee
We met so late –
Past the age of cards
With red glitter hearts
And stuffed teddy bears pink;
But it is not too late
To share with you
Just a drink –
A cup of romance
In a Swiss tearoom.
I look at you and forget
The silver strands combed into my
Once long locks black-jet –
And you hold my hand
As if we are still sweet sixteen.
For you, I did bloom.
I do not think
What the Past was
Or what the Future could be;
I only know
That I want to savor
The first silver Valentine
Of you and me.
By Sabahat Fatima
In between the tick-tock of the clock,
and the buzzing of the fan,
the flapping of curtains,
the snore of shared blood.
In the aura of silence, deep silence-
of the outer and the inner..
My weary twin of laughter
for a moment when the mighty mind dozes,
and the vermilion heart exposes.
yes then, my weary twin of laughter
wants to speak:
through lips of lakes clear
untouched by dirt,
which at times appear stagnant,
at times boiling coldly
How does it call out to you, my love, then?
With the truthfulness of the truth
With the loveliness of love
With the wistfulness of the wish..
A blink, I see how basic, my love, then
It was for me
A you- existent
A you- flesh and blood.
The hand, the bosom,
the smile,the shoulder,
Consolations, dumb
The Satan of the ghastly night would so have fled
With him the stifled, silent twin
Like they had seen an angel pure,
Like they had seen the angel ,my cure!
By Lopa Bhattacharya
Every time I have let loose, I went flopping, I drifted ashore,
My pain, lopsided anguish charring me with the embers of my torn poetry.
The silver swirl of my words, my unquenched thirst you had never known, my husband,
Voices floating inside my lovelorn being, in your brother's bonhomie, had found delightful symmetry.
For you, beneath your spectacles and uninviting cool, had never known how
While I chewed on betel leaves, I scraped inside like crimson paint, pummeling my raw pages like dough.
Did even Amal know, when we wove our silken dreams of our clandestine garden, our little lake, idyllic ducks,
How I craved to be princess of yore for you both, slithering in your mediocre love, every then and now?
A damned, accursed princess, seated unaware, beneath the shady canopy of the hog plum tree,
Burning my untainted silence of moments, dreaming of inconsequential poesy that was never to be.
Running away, surreptitious, from my frayed edges, Amal, didn't you trip over our shadowed world, for once?
Only if I had known before, our twilight hill would be crushed, our rhythmic melody broken down, thus.
Silent, ebbing and swelling inside, my domesticated footsteps censured me, "Charu, be the cloudburst, but never the rain.
Enter my wet, plundered earth, my husband, let us take each other in our lost catharsis, let me be your loving wife, the adulteress.
By Pramila Tripathi
My dear K,
I had known your habits like no one knew.
I had known you liked to sneak peek into the phones of the co-passengers
As you believed it will give you stories
To tell yourself at night, to make you fall asleep,
To hum in my ears and of course to remind me of my medicine.
I never realized the connection between your sneak peeking,
Story searching stupidity with the medicines, but you had laughed anyway.
I had known you were afraid of fairy lights.
That they reminded you of the lady who had died inside a bathtub
Wrapping the lights around her.
Not a tinge of cotton.
Every inch covered by fairy lights.
Burning.
A glowing corpse.
I had known you screamed in your sleep as you dreamed of the lady.
And I had also known that it was that lady who had made you go hard.
Paradoxes of you, only I had known.
Smell of petrol drenched paper,
P
By Subhojoy Ghosh
With dusk in the eyes
we return
with the words
scribbled on our palms as letters
trying to decipher the language of warmth
in the words of strangers
we have tried to locate
the togetherness
that we have woven
over the years
in each other's arm
with dusk in our eyes
we return each night
in the hope of a dawn
to a four-walled structure
that perhaps
could have been a
Home..
By Sasha Cardozo
"The fuchsia flowers in your frivolous fingers,
the balmy hue of red still lingers,
the lanterns will be at their best ochre,
Love brimming in your pot of simmering mocha."
"I will awe you in muted resilience,
choking on my pretentious tears of vengeance.
Wrappers and ribbons ranting away,
the scheming conspiracies in your mind's gray."
"Yet my soul will follow your suit,
like a lonely woman's midnight cheroot.
The precarious cries of whimpering balloons,
will relish in the sight of the bed sheet's maroons."
"The satin in the curtains drape around me,
Like streamers strangling my voice that wants to flee.
And then I'll study the cringing contours on your face,
Hiding its deception in the luxury of lace."
"Our silhouettes will dance on the walls of doom,
In the lusty light of a candle's loom.
The cards penned in malicious ink,
resonating empty promises in my fertile rink."
"At last I'll undress my present,
Searing it's extravagance of expensive bezant.
Then slitting your throat with my thirsty spear,
I'll watch the lies curdle in your bloody smear."
"Oh Valentine! Oh Valentine!
Don't be so nice to me tonight.
For the love in your heart is too sour for me,
Just like the grape in wine."
By Rituparna Chakraborty
Regrets are better I guess,
than revealing the unspoken truth to you.
A manifestation of sorrow,
is engraved in my heart.
The scars of fear, one can read in my eyes.
My mind is engrossed in the gravity of my emotions.
My body is spirited by rain soaked trees
My throat is thirsty, with mirages on sand
My hands want to touch your soul, indeed.
My senses are buried, in the coffin of your body
My words are locked, in the verge of your lips
My passion is through, I m out of lust.
Thus I submit my unconditional love
at your gentle feet.
My tears
honest residues,
of my silent love.
By Satyaki Dasgupta
To me, you're the cradle of beauty,
Not that, you croon the most mellisonant melody,
Not that, you possess the most lambent eyes,
Or maybe, the purest of hearts.
But…
Those eyes of yours have the ecstasy that I long for,
Your laughter is like the fluttering of the wings of the ladybird,
Your perfume is like that of a freshly painted mint wall,
While your soul retains an aura of mystery.
Thy walk is no mortal move,
A naked Eve in olive cocoon,
The silver steps where thorns swoon –
Roses bleed sparkling drops of dew.
This silent burning never tires!
Youth from its cell retires.
The heart…a hearth on fire,
up, up and above.
And thus, I call thee
My beloved, in equal to God,
Yet, kindred to human.
My love, solely for thou, a chiliad more lines
My love for thou, is something that won't die,
As long we don't give up, as long as we try.
By Mousumi Roy
When did people become places?
Places which you could visit,
where you could travel through the lanes of someone's veins;
eat , live ,laugh , strike a few chords here and there.
Your breath mingling with the dusty air my lungs exhale,
you once belonged to this place, this place was me.
I mistook your sojourn for an eternal stay, ..stay, stay, ..
…Stay, stay, stay, …. Pleads were in vain.
You were a traveller, I mistook for an immigrant.
You collected a few souvenirs in the form of memories, words and smiles
only to continue onto another new land.
Without a reason, with some momentary grief of separation,
when did leaving become so easy? Maybe a traveller learns to let go,
and letting go is the only thing that the place travelled on never learns.
Somehow washing away the footprints only means emptiness,
cause no other hand will ever carve sand castles near the shore of my mind,
like you used to …in the lonely afternoons and sleepless nights.
Why do people even build sand castles?
Only to let the place cry at its own ruins ?
And if at all people were places , you would be my home,
the only safe haven where I thought I could return to, always…
till that day, when you went away
and since then I've been homeless … and still hoping
with all my heart, that you find a home in some other place,
Like I found mine
in you.
By Sourav Ganguly
She cast a spell,
Weaving the wand of her eyes.
Eyes so deep and profound that the galaxy could lose itself in it,
Eyes in which he found solace, serenity and tranquility too;
Her smell age-old yet so new.
In her denial through thick and thin,
In the comfort unprecedented and unforeseen..
In the haven of her loving embrace;
He buries it all - heart, soul and face.
One life isn't enough to live it through with her,
So he wants her a little now and entirely in the birth after..
He drinks to the lees from her candy lips and porcelain skin,
His soul high on her in times good and bad akin.
Sometimes it's more about the path taken and not the goal;
Sometimes it's about the things that are heard without being told.
In the dark of the night;
He lies awake in fright-
Of getting the bullet catch wrong;
Where has the soldier in him gone???
Turned into flowers in her garden everyone
But he will fight,
And fight he must -
Like a lion heart till he returns to dust..
By Sayani Adhikari
There are thousands of unsaid words and plethora of feelings inside,
As the Valentine's Day approach, I sew few letters together,
Conveying the love that reside,
Long ago as we met on the drenched streets of Kolkata,
The cool breeze managed to warm up our hearts and I still don't know how,
I rose in love with you!
A shoulder to cry upon to a punching bag you are,
Your touch ignites my soul and your dimples soothes my aching heart,
My dear Valentine, you mean the world to me,
Our lives entwined,
My day remains incomplete till I hear from you every single night.
As we start our marital journey in next 20 days,
I promise to be your li'l-darling throughout my remaining days.
Dear Valentine,
Let's celebrate Love, Laughter and Life.
Cheers!!
By Arindam Dey
A letter bomb to me 'What we lost is lost --
Your lips against my warmth, my back against your promises,
your care against my tearful eyes, my palm against the fleet of your arteries.
Some broken words are looping around the futility of our togetherness.
I have some pain wreaking despair. Good bye.'
My love, now it's a blank paper against a fanged nib,
and here my words beckon you into my arms
for you are still my Valentine.
Nothing is lost in this world, we just leave them there.
What is pain? certainly it doesn't belong to the giver.
Give me your pain and let me love you,
tonight let me share my soul and embrace yours,
my love, see the spring melting through us-- a journey where thousand of kisses are not enough in a day,
where gloomy nights are inhibited and smile can breathe.
Let's use some words for the very last time for love is told through eyes,
for we should admire the silence,
for nothing is lost between you and me.
By Dipanjan Maiti
Often I used to think of running away,
Away from the razzle-dazzle of the city streets,
Streets full of people..
People, once gifted ones – but now none but empty vessels,
Empty vessels, left with a pinch of emotion at the corners,
Corners where the neon is yet to shadow the moist of setting Sun..
The setting Sun that brought you to me,
Me! Just a someone,
Someone who never imagined this city to be a destination of love,
A destination where the life would ever be worth enough,
Enough is nothing but a compromise around you,
Around you is this world evolving each moment,
Each moment that I save when you smile,
A smile that wipes off my every bit of insecurity,
Insecurity of losing my existence somewhere in the mundane,
The mundane no more startles my alleys,
Alleys those alleys which lead to the city,
The city that homes you..
You my serene island of soul,
My soul no more urges to drift apart...
Apart nor the death can lead us ever,
Ever forever we will be together
Together at peace we will rest in each other's serene island of soul
By Amanita Sen
Every time my phone-cleaner flashes,
" Scanning for vulnerabilities",
I imagine the radar probing
deep inside me, scanning my own.
One that I see with dignant eyes,
One that I attribute to the
sacred spontaneity of the
chance called life,
One that holds me entranced
in time's slow dance.
The wonder captured
in its unadorned beaming,
The vulnerability- joyous
for its unabashed being.
By Srijanie Banerjee
Oh! I wish!
When he crossed the road of the airport
And came towards me -
I welcomed him with a hug.
Oh I wish! The moment would freeze-
And I would never let him go.
When he touched me-
It made me blush,
And gave
an adrenaline rush.
Oh I wish! The moment would freeze-
And I would never let him go.
When he kissed my lips -
I closed my eyes,
And lived my life at one go..
Oh I wish! The moment would freeze-
And I would never let him go.
And then in a week -
His promises faded
tearing my soul.
Holding his memories
Today I wish..
That moment I lost
would forever freeze.
By Sampurna Banerjee
Just like petrichor on a sultry day.
The syllables I dropped at the end of every song
(As my teacher corrected me for the fiftieth time)
The relief of an inhaler to an asthmatic -
You felt like an essence of me since yore.
The tales that the creases of my blanket write
Upon my skin every night
Holds an anagram to a map
The map that could walk us
To the enchanted cave of the Forty Thieves.
We could walk there, right after you rescue me
We could bathe in the rubies
Or burn it all and bask in the heat.
We could just vanish from the battlefield
We could just appear somewhere.
By Koushik Sen
Dearest P,
We have written a lot about bodies.
About their needs, about their oozing of love
The place between your legs that you hide from winter
Is a kind of winter herself.
Every time you close it with warmth,
You think it would grow into a red madder bud.
You should have known.
The watering you thought she needed, was inside of her.
You thought my dirty hands and nails would defile her
But I was no man when I was with her.
We both rested within each other and now you know.
The times you screamed, you were dreaming.
Because, by the time I made coffee,
you were already reading and praising my letter.
Burnt cigarettes and crooked nose,
K
By Palomi Dey Sarkar
I remember
all those nights
when the world ceased to matter,
and us, just us,
hiding in my closet
because the lights
were too damn bright for you.
You said
I looked beautiful in the dark
and pulled me close, so close,
that our breaths mixed into one
and the warmth
ran wild through my blood.
You kissed my palms and whispered,
'Take care my love!
The stars shine only when it is dark',
'Hold me a little longer', I said,
as the wine of your loveliness
went to my head.
And I still remember all those nights
when people ceased to matter,
and us, just us,
weaving stories in the dark,
because it was
a love unforgotten.
By Madhu Jaiswal
It's long since I embraced and held your dainty arms.
It seems like a beautiful memoir from life's realm.
You may have outgrown me but still my little kid with whom I want to play a while.
Your warm eyes, wobbly steps, and that enchanting sweet smile.
As I let you learn walk holding my hands, playing vibrant cajoles.
Life seemed in harmony, as if paying payrolls.
Running around, playing, teaching you various aids.
I wish life could take a ride back for some serene retakes.
Quickly time flew away letting you now at your will.
The tantrums you laid then, makes me nostalgic still.
Playing and laughing around, you were the naughtiest.
You are my forever valentine, thou art the sweetest.
From the very day you formed inside my womb I embraced you in my heart.
Love you abundantly O' my sunshine you are my inseparable part.
Wishing you a zestful life, full of ecstatic galore.
Blessings for thee my child from my heart's core
By Paromita Mukherjee
As I hold your fragile hands tonight
I am praying with all my might
To let this moment never fade tonight
Enveloped in the pristine white of this room
I let my heart's hope bloom
My dear, will you let me be your groom tonight?
I bow my head before my beloved
My heart trembling in fright
Lest, she rejects me outright
Time, the treacherous soul
Was that night beyond our control
Every precious second ticking
Was leading to the inevitable culmination
I looked up when at last I heard her sigh
She blinked her almond eyes twice
There- I got my cherished prize
With cheers of few souls' present
In that pristine stark room white
I wedded my moon crescent
I held her precious drops of sparkling tears
On my fingers with joyful hands
I did crimson on her forehead smear
I held her, her tight, hoping, against hope
Let her win this fight for life
Let not the final sting
The sting of cancer wring her soul tonight
Let her be forever mine-
Let this night never end tonight
She held on my hands bravely
My beautiful bride-
Till her life force left her body safely
The light in that sanitized hospital room faded
My bereft heart bled in grief
For that stupendous joy I assimilated though brief
I looked at her peaceful face
How can death have so much grace?
I walked to the single window to gulp in fresh air
And then I noticed it had rained last night
There was a rainbow of hope right there-
My beloved giving me new hope-
If not in this life, there would always be a next
Where we would be able to build our love nest
You made me rise in love again, build hopes again
My dearest- Dasvidaniya- Till we meet again
By Mallika Bhaumik
There is a sense of renewal
as the green thrusts itself from the brown bark of the tree,
trusting the warmth of the sun.
I too , push open the window
the printed curtain,
the dusty writing desk ,
the drawer full of inked love of long ago melt in the gold of the sun.
I close my eyes
half truths cover half lies .
The sparrows are lovers like us ,the morning after ,
the window sill holds them as they spill over each other .
I am left with the forgotten sensation of me flowing ,
the boundaries of our skin merging...rewriting new script
-the warmth of your mouth on mine .
The slice of the peeping sky becomes a sheet
I scribble my rippling desires on it.
Will you check mail ?
Will you drop in ?
By Sonali Sarin
I often wonder dear, whether we are still in that age,
When we should get all mushy over celebrating Valentine's Day,
Is this not something more suited to someone of our children's age,
Why then do I wait on this morning, to be surprised in an anticipatory way.
Over a score years have passed, since destiny brought us together,
Love was something that has developed over the years,
Though I had often read, and romanticized about "Love at first sight",
I now realize love means being there for each other, facing ups and downs, through smiles and tears.
As I reminisce about the beautiful memories we've been able to create and share,
I am aware that life has not always been a bed or roses; we've had our share of thorns too,
Could it have been possible, to overcome the hurdles without each other's support,
Isn't it true that our bond has grown stronger, together seeing the troubled time through?
I admit that we have had difference of opinion on more occasions than one,
Being like the opposite sides of a coin, we could only view the problem from our angle,
Yet it never did take us too long to understand the other's point of view,
With empathy and understanding, we have often evaded any wrangle.
Hope our love and commitment towards each other may never wane,
May we always be sharing a common vision, growing old together, hand in hand,
Hope the trials and tribulations of life do not weaken our resolve to have an enriching life,
Visualizing our hopes and dreams, seeing them actualize the way we have planned.
By Debanjan Chatterjee
Sometimes it feels good to sit back and dance to the favourite radio numbers
The room was lit that day and the space between us was countless
We never usually had any arguments regarding spaces
We fell for each other and
found that every exit is a poem of longing
Longings are sudden derailments
Bruises dry up faster than stains.
The breakfast had been ready in casserole
and your love has left travelling without it
Sometimes it feels good to be incapable and sit back and dance to the cheap item songs
Love's better alive this way.
By Sarbani Mohapatra
i
Crumbs of salt lace my lips; half drowned in tears
I seek an excuse for my weakness
His memory clings to me like the air in a familiar room
Yet another blow would wrench it apart at the seams
Till the loose ends are picked up again, once again.
I look past the drizzle; the streetlamp sending shards into my eyes
It had been many years...or perhaps decades since I'd left
Though not until they forced.
The void growing on me like moss on wet stone
The time condensed as warm breath on glass
I still remember the last time I'd held those arms
The lean yet steady fingers curled lightly round a book
Clammy like the air that bothers me now, as if I'd touched them moments back
Even ages since then I couldn't picture them having changed
Having lost their solidity, their assurance
The slight dent of his nose reminded me of a rabbit; I never got a chance to tell him though
I can almost see how he would have giggled at that
Darting glints from the corner of his eyes
Till the lines round the brows eased into plainness
And his shaking shoulders rested on a thought.
Weren't his letters meant to be proof of his being around?
But he never got to know I wasn't brave
That while stars were shining and breaking and dying
I still deal the same cards we'd played once
And still lose like I always did.
ii
I'll cast love songs into the seas,
Then look for signs in the clouds
Will you shout back
The lyrics you catch?
Will you ask for the tunes you miss?
It doesn't last;
The glory and the shame
Can play another day
We'll spend our breaths counting the waves
Maybe they'll know.
When autumn undresses the trees
Will you write my sighs
Into the corners of your page,
And read them to me
In the day light of your dreams
As I fall in love again with the love of fall
We'll clutch at rain drops from the leaves
And string them together
To make a swing set
Perhaps that's the closest
We'll ever get to a story.
As the night fixes on its bruises
We'll gamble all our words
For the tricycle we never had
And call the lost time
Our little escapade.
By Aditi Stromayer
Lilacs
In Greece a story is known
Pan in love
A nymph by the name
Syringa
She runs in fear
He pursues his love
She turns into the form of a
Shrub, a lilac shrub
He searches but can't find her
At his feet he finds the shrub
From the hollow reeds
He makes a pipe
From this pipe
Sad songs, songs to his love to
Return
However unknown by him
She has already answered
With the hollow reeds as a gift
And her flower color
Lilac
Her first love
By Nandini Sen Mehra
Let me bite softly into your desires,
they taste of an apology i do not need.
We will gather these faded, yellowing dreams left tethered to the bedpost too long;
That silent hesitation in your eyes, look.
A little tendril wraps a promise around the iron bars at your window,
that squirrel you see every day, scurrying across the parapet,
an oversized guava between its teeth, there is still time.
Meet me on a sunny winter afternoon up on the terrace that opens to the sky,
the blue above belies the chill in the air; the sun is yet to concede.
I will roll your dreams off the folds of my skirt and lay them down on yesterday's newspapers so they awaken.
Soak in the sounds of the streets below,
the sanguine sun gently stokes their forgotten fire.
Neat rows, next to the amla drying, sliced, quartered and salted,
eaten, well before they can be bottled.
The heady tartness and salt will cling to our tongues and lips and fingers and then,
that unexpected sweetness when our mouths are at the tap,
lapping in relief like thirsty summer puppies.
I will find a place to sit cross-legged as we used to do as children and sing you a song of death in a language you do not know,
and you will crack warm peanuts open and feed us both.
And then, among the scattered shells of the past,
we will teach each other forgotten things,
and in this little corner of the world,
all things will be possible.
By Ridhi Chaturvedi
"Let me?"
I bit his earlobe,
And whispered softly,
"Hmm?"
He couldn't respond,
His eyes were closed,
Sweatbeads like dews.
But it was an affirmation;
For he gulped,
Squirmed, tensed muscles,
And a feeble groan.
How could he say no to me?
"So, was she better?"
He was in fluid now.
"Worth betraying me?"
He squinted his eyes.
"Sexy Valentine?"
And he finally begged,
"I'm sorry!"
And the red fluid dripped.
"Matches the stain
On your shirt", I smiled.
"Happy Valentine's Day!"
I lulled him to sleep.
By Shruti Goswami
It's cold. And dark.
Darkness all around.
Just the warmth of your love
And I could die a million times over
Just this once
I do not want to die
Before I hear you say
You're mine.
I wanted you
To be my life divine
You, my love
My Valentine.
By Shyamal Mukhopadhyay
Should I opt to pen or email my feel
For a while, need to organize mind drill:
Old days should possess language skill
To open up whatever brewing within to reveal,
Now my dear, while caressing my letter
Your deep black eyes glancing over
My passionate syllables ecstatic to shiver,
Love blooms my heartbeats cheer-
Before the whole of world to declare,
That you adore my first love letter:
For it`s no ordinary piece of paper
Hidden my heart in-wait to bare.
Here my dream monologue; I crave sunshine,
Until then wait.. Oh my dear valentine.
By Niladri Mahajan
Essence of
Very belongings
With words.
Existence, dream and reality
Woven and written
Perhaps in water,
That bears no mark
On the pages.
Empty and white
Perhaps, transparent
The day you rejected
That nothing
Perhaps my "everything"
The verses afloat in my eyes
Are of negligible moments…
The un-profound poems of my heart.
By Debdatta Ganguly
Incessant failures left her utterly broken,
The shy, quiet, Introvert had loads unread and unspoken.
She was way different from the teeming majority,
Which made a topsy-turvy of priorities.
Just when she deemed everything to have been over,
Slit of hope beamed around the corner!
That Pen truly is mightier than the sword,
He made Her believe that she too could!
Daunted with immense responsibilities,
He helped her slowly unravel those hidden creativities
Nervous and scared was she at the beginnings,
Seeking His refuge at the simplest of things
"Should I do this or that or nothing?" questioned She
"Wait, think, analyze then dive-in" answered He with certainty
Trust, Confidence, Reliance, slowly got familiar
Days flied as their joint venture slowly got stronger
Helping her to believe in her strength served the best
As gratitude mingled her fulfilling interests
Their bond is an inexpressible one
And His goodness can never be undone
All those pent up emotions left unexpressed
In poetry She did find solace.
Meek fragile humble insensitive She,
Couldn't have been so without 'Him'
Thus, for a bond so sweet and strong
Fusion of Art and Muse shall carry along!
By Charu Gulati
Keep me there forever,
In that fine line of your smile,
Keep me there, my precious,
For I feel like staying a while.
My image is in shards,
I wince when I touch my face,
Death quietly spreads it gallows,
I plead for mercy…a little grace.
I dream of us by the river side,
Feet entwined as our hearts drum,
Clouds shyly glance by two of us,
Within my heart, I simply wish to run.
With you by my side I will betray,
Demons of demise around me,
I am a human shallow and astray,
For love, I will turn worldly.
Pull me closer in your embrace,
I would die to live once more,
My bones are prepared to renounce,
But my spirit hums of love galore.
I hear faraway stifled voices,
Maybe the holy convoys are here,
Your love has evolved me much,
Yet, never will I ever dare to share.
I will merge with the earth soon,
Let my contour fade off in your memory,
Don't mourn; find me in every morn around you,
A translucent, damp, dew drop almost filigree.
By Sravani Singampalli
I see the trees swaying
in the nostalgic wind.
I can smell the perfume
of contentment as it
rains heavily outside.
I see water everywhere.
The rain reminds me
how the romance in his
mesmerizing words vaporize
and diffuse through my room.
By Poulome Mitra Shaw
Days turn
I let hours mingle with stillness
In search of words that reach reflections
That travel distance
That touch feelings
Those that ever felt like love.
Night descends
But no page to ascend the staccato
No waves rage to conquer tracts
No corner to puddle
No cup to spill over
No feelings that feels like curls.
All that was entangled looks sorted
All that ever crackled has regards for the heaped ash.
All that ever mourned has cupped the light
All that ever longed has migrated to nostalgia
Love, Oh love-sometimes you led me to believe
We write letters to bloom, to burn, to harden to cool hips and hearts.
Today I write to remembrances
That I once loved love
Like love loves kisses that tremble
Whispers that madden
Men that melt
And women who grow absent eyes.
Today I again write letters
As the moon mounts over the roofs with tender eyes
Caressing lovers and loners all alike.
The eyes melt, the moisture slips in, the dews reclaim
Pages meant for love
Days when I collect love to lament and blaze.