GB brings you Bonedi Pujos serving aamish bhog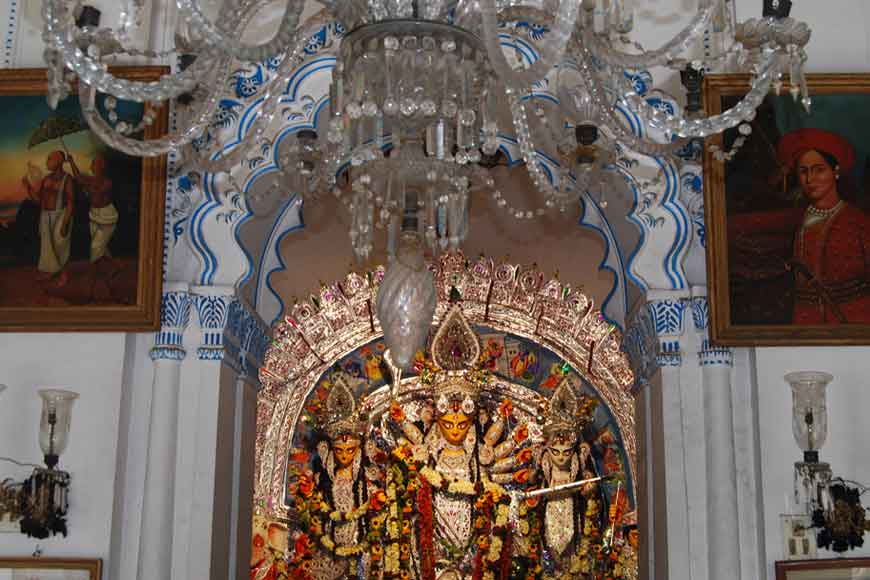 Maa Durga and non-vegetarian bhog, well that seems to be quite sumptuous, though animal sacrifice before the goddess, raises questions on the very ethics of sacrifice. But there are different bhog platters that do contain non-vegetarian dishes.
The Sovabajar Rajbari family's Durga Puja dates back to 1757, when Raja Nabakrishna Deb, the scion of the Deb family started this puja. It was a huge, pompous affair that combined the fervent religious flavour with an equally impressive display of grandeur in honour of his British guests. After centuries, the Puja is still held religiously at the RajbariThakur-dalan (the courtyard where the idol is placed and worshipped amid rituals). The family offers an assortment of sweetmeat (Mithai-bhog), all made by Bhiyen (sweetmeat maker) who arrives at the palace from Odisha annually to prepare fresh foodstuff for the Goddess. But Navami, is strictly non-vegetarian when the Goddess is offered a specially cooked mete-chochhori(mutton liver cooked with vegetables).
At the Mittir Bari of Darjipara, the women of the house usually have a meal of shukto, shaak, maachh and achaar offered as part of the bhog, on Vijaya Dashami before concluding the Baran rituals.
The Dawn family at Jorasanko have been worshipping for the past 171 years. They follow elaborate rituals. During Sandhi Puja, the male members of the family offer the Naibyeddo that is prepared with 40-kg rice, decorated with 45 pots of food items. From Shasthito Dashami, all members of the family have vegetarian food but on Dashami, the day of immersion, they eat a proper meal of Maach-bhat(rice and fish meal) before beginning the Boron rituals to see off Maa Durga on her celestial journey.The Chatterjee pujo of Chorbaganis 150 years old and a unique aspect of this Puja is offering of fish every day to the Goddess as bhog.
While the Kundu Chowdhury family of Andul have vegetarian food during the Puja, and allowed to eat fish on Dashami after the idol is brought down from the Thakur dalan and prepared for Visarjan(immersion). No cooked food is offered to the deity.
The Roychowdhurys of Shibpur have been worshipping Goddess Durga since 1685. Boli or animal sacrifice is still prevalent in this family. On Saptami, Ashtami and Nabami, 'PanthaBoli' (goat sacrifice) takes place and the goat is next cooked and offered as bhog.
All said and done, food is the great leveler for any Bengali, who look for the slightest opportunity to indulge in gastronomical delights. It, therefore, comes as no surprise that Bengalis offer their favourite dishes to the Goddess to seek her favour and indulge in non-vegetarian bhog.