North Bengal pandal celebrates plight of a girl child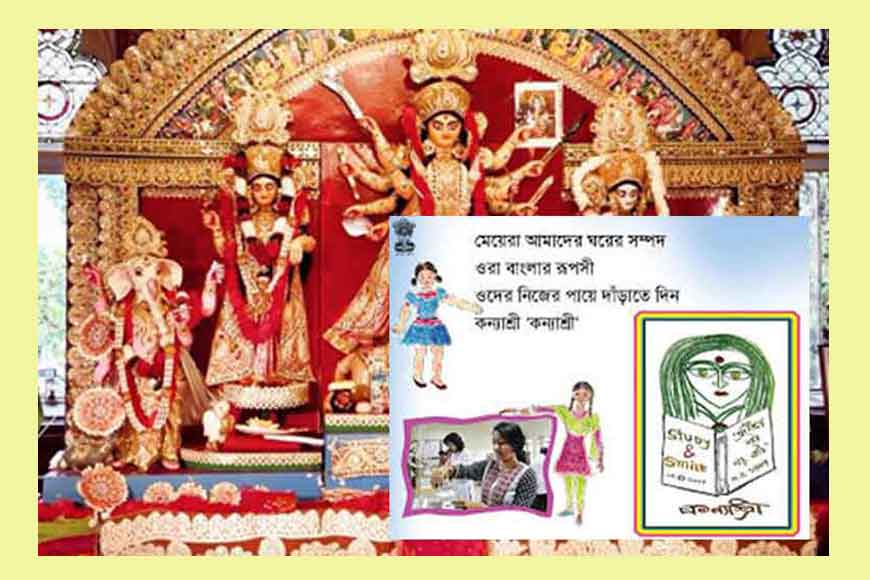 Here comes a pujo from North Bengal that truly celebrates woman power. The theme of Puja highlights success story of 'Kanyashree' Project and pays tribute to womanhood. It also protests against female foeticide, female infanticide and child marriage. It highlights the need to save and care for a girl child and how she helps parents later in life. Rathtala Sporting Club, Siliguri, celebrates puja this year to sensitize the public and appeal to all to take care of the girl child. Pandal artist Shyamal Sarkar of Aurobindo Pally has worked on this theme, just like he has done another big project of North Bengal this year at Bhaktinagar, New Jalpaiguri (NJP) where he is designing the Puja of Agrani Sangha.
Koli-kaaler Rongaloye MaayerProsad' (Kali Yuga is the last of the four stages the world goes through as part of the cycle of yugasamid which we mortals partake Mother Goddess' Prasad). Since 1991, Sarkar's creations have mesmerized viewers and he has been topping the list of award-winners. Over the years, his rich repertoire of creations haveincludedreplica of the Titanic ship, vignettes of Kargil War, London Bridge, the Universe and Mangaldeep. This year too, he hopes to impress viewers and judges and win a few more trophies to add to his collection. This year the 80-ft long and 60-ft wide pandal at Rathkhola Club has been decorated with flowers made of ribbons, foam and ropes. The inside resembles the Heaven where fairies will be seen gliding in to get a glimpse of Ma Durga and herein lies the message that a girl child should not be neglected. If she is nurtured with love and care and provided with equal opportunities, she can prove that she is at par with any male child in every sphere of life.Sarkar said he intends to propagate the various aspects of Kanyashree Project through messages here. This is an expensive project and its construction might be close to Rs 7 lakhs.