Pata Durga with a difference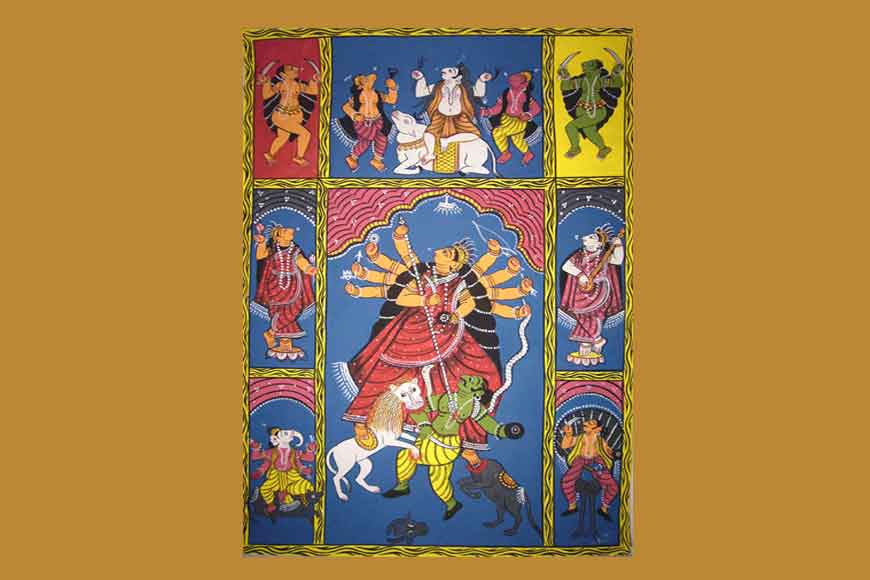 Durga idols through paintings on Patas, have been one of Bengal's earliest artistic display of creativity and exquisite craftsmanship. These patas have been handed down generations in different families and the idol makers also make them as a family tradition. Not just the idol of durga, such earthern patas also depict tales of Maa Durga's triumph over evils, rural Bengal's traditional folk tales surrounding Durga Pujo celebrations and many more.
Out of these pata durgas, one of the most famous is the Pata Durga of Malla Rajas of Bankura. Since the time of King Jagat Malla, this pujo is taking place and 82-year-old sculptor Bhaskar Faujdar meticulously paints the tales on patas. Three different patas are made including one for Bada Thakurani, one for Maiton Thakurani and the other for Chhoto Thakurani. Interestingly, these patas are never immersed and collected in the family's Mrinmoyee Temple. Maiton Thakurun is actually Kola Bou and Chhoto Thakurani is known as Pateshwari.