Chronicles in Pen and Ink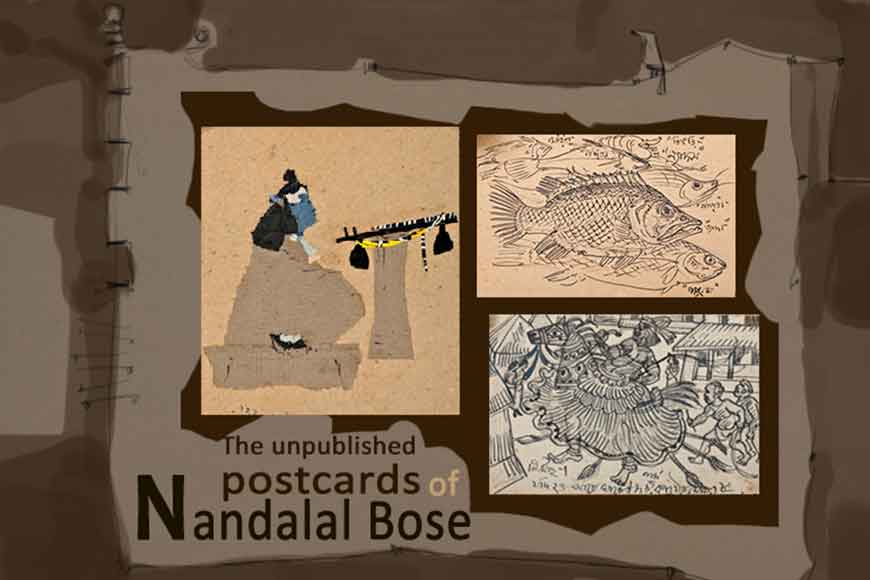 The age of hand-written letters is now lost. Sending a postcard, trading news through letters, and dropping a message or a greeting inside a post-box are practices that have long become obsolete. Nowadays, we rarely write notes to near and dear ones on special occasions just to make them feel special. We don't even know on which street and at which crossing there are the signature red post-boxes that facilitated today's so-called snail-mail. However, countless tender moments and memories remain captured in the postcards of yore. In that vein, let's take a look at a few tiny postcards illustrated by celebrated artist Nandalal Bose.
To see The Unpublished Postcards of Nandalal Bose
Click here
Bose's pictures speak of an intractable bond between illustration and narrative on the canvas of the postcard. He used to send original postcards to countless friends and relations including his daughter Jamuna Sen, his grandson Nimai and son-in-law Sebak, his other daughter Gauri Bhanja and his second grandson. While travelling he would come across a dancing wooden horse specially brought to celebrate the occasion of a Santhali wedding and lo and behold, he would render it flawlessly in sketch before sending it to his grandson. In Gopalpur, he would be mesmerised by the myriad shades of the oceanic crabs and later, he would freeze them in time on yet another postcard containing detailed notes about the colouring of such crabs. In the local market, a plump fish would catch his eye and instantly, he would draw it for the purpose of sending it to another family member. Along with the drawing the card would contain questions after the recipient's wellbeing as well as information about his own health. In this manner, Bose had pioneered a profoundly topical, sentimental and at the same time, light-hearted tradition of letter writing via simple pen and ink. In the course of time, this was taken up and continued by Bose's multifarious student body.
Photo Courtesy - Akar Prakar
Photo Collector – Nimai Sen