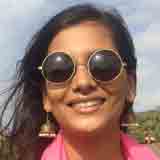 Saldanha Bakery: The 83-year-old bakery of Kolkata
• Since when are you operating in Kolkata?

Saldanha Bakery has been in the city around 83 years.

• You are from Goa. Is there a thriving Goan community in Kolkata?

Yes, the community is definitely still thriving in the city. My father (Mr Saldanha) was a chartered accountant. I (Deborah Alexandra) was a banker. There are still so many businesses run by Goans in Kolkata. There are music stores owned by Goans. Spectacle shops such as Lawrence and Mayo owned by Goans.

• What is so special about Saldanha's bakery products?

Our bakery products are freshly baked, sourced and tasted by us personally. We provide ingredients which are of the finest quality, which makes all the difference. We are also very generous with the amount of ingredients we use.

• Has your next generation joined your business? If so what new expertise they have brought in?

My daughter Alisha Alexandra studied from Le Cordon Bleu, London, and is a pastry chef. Since she has travelled abroad, she has definitely made us more aware of different variety of products. We have kept the old range of products and also introduced new innovative products such as KFC Chicken Bucket Cake, Macaroons, Lemon Meringue, etc. We sell a wider range of products now at affordable prices.We are also more aware with the presence of social media.

• Who are your competitors?

We don't believe that we have any competitors. No one other than us can provide such good quality products at such affordable prices. We believe in retaining existing customers. We want our customers to keep coming back to us. We have had loyal clients for years now.

• Do you feel Saldanha will survive inroads of new fashion and boutique bakeries?

Since we have been doing business since last 83 years, we understand our clients very well. We want to provide our customers the ability to purchase products in order to retain them. Our business runs on goodwill and word of mouth. We grow only because of our clients. So, we make sure that the needs of our clients are met. The other shops will have no sustainability if their price is extremely high.

We are a flagship, we make friendly relationships with our clients and make a homely atmosphere. When clients come to visit us, they not only make a purchase but also meet with our family members, sit for a chat and maintain a relationship.

• What are your future plans?

Since our daughter Alishahas now joined the business, we are looking forward to doing even better in future.

• Which are your famous signature products?

Walnut Cake, Coconut Macaroon, British Tea Time Cake, Apple Tart, Chicken Patty.

We have also extended our savoury menu.

• Who are your primary clients?

We have a wide range of clients, from corporates, banks, individuals, etc.