This Durga Puja, USA NRIs enjoy Bengal's sarees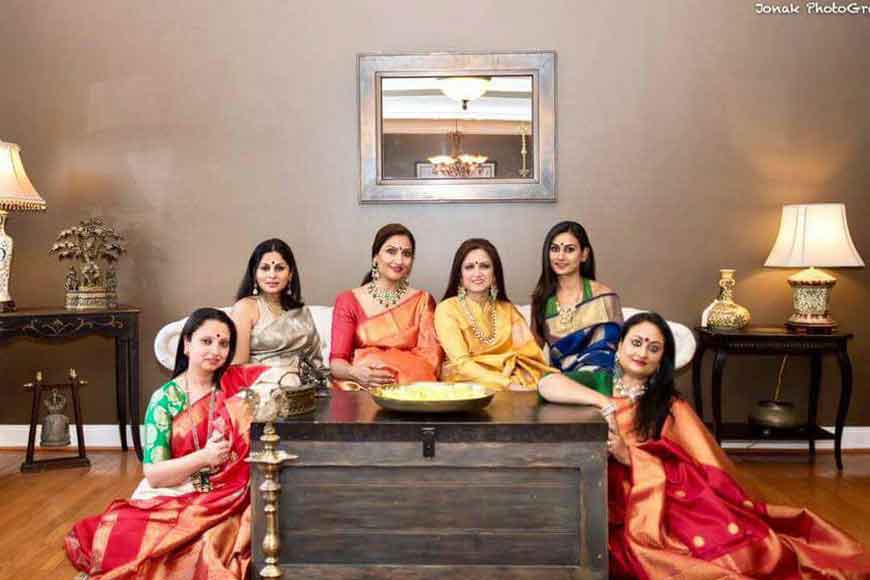 'A drape should complement and complete who you are'… that's what Shumona Mitra of Woven, believes. Her only motto was to bring the exquisite weaves of Bengal to an international audience. Mother of 7-year-old twins, Shumona from Philadelphia, has now made those nine yards wonder from Bengal, a much sought-after attire among devotees of ethnic/handloom sarees in and around USA.
Woven's mission is simple.Shumona doesn't have a brick-and-mortar store or an e-commerce site. She strives for a more intimate relationship with her patrons – selling primarily in Trunk Shows and to her loyal followers.Her models are her customers. Shumona's clients look forward each year to what has now become a tradition – the photo shoot titled 'Olo Shoi' after Tagore's famous song. Shumona and her six 'shois' or friends – each with their own distinct 'everyday' look and relatable personalities, showcase her creations in every day settings.
For the homesick hearts, far away from their Motherland, such shoots and drapes from Bengal are not just a pick for Durga Pujo, but carry a whiff of their land of birth. Woven brings in that ties to their roots and nostalgia.
This Pujo the women from USA will carry that legacy, embroidered in nostalgia and tradition. Have a look at what they plan to wear.