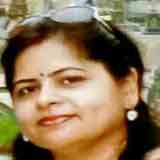 Special Ashtamibhog at Guha Mustafi bari
According to family records, Ramchandra Guha Mustafi, an ancestor of the Guha Mustafi clan of Lake Gardens, received his title from the fourth Mughal emperor, Jahangir. He settled ina village called Rayeshgarh under Srinagar police station of Dhaka. Till 1946, this Puja was celebrated with great pomp in undivided Bengal. The deities were laden with pure gold ornaments and the entire house lit up. Despite partition and relocation of the clan, the puja till continues at their house in Lake Gardens. Madhusudan Babu, the present patriarch of the family, made a concrete Thakur dalan and planted a bel tree, an essential ingredient of Durga Puja. The sapling he planted long ago has grown into a massive tree.
The rituals of this family include placing five ghat (urns), of which the Durga-ghat is made of brass and is slightly bigger than the other urns. After arati, provisions are made for her to rest and sleep. The Goddess here is treated more like the pampered daughter of the family and every precaution is taken to make her stay peaceful and joyous.
The bhog offered to the Goddess is unique in many ways. Previously, she was offered anna-bhog (cooked rice, lentils and vegetables etc) but it was discontinued for some unknown reason as was the ritual of boli (animal sacrifice). Shukno-bhog (dry offerings) like that offered to Lord Jagannath at Puri is carried out these days.
Uncooked rice lentils and cut and diced vegetables are beautifully adorned on both sides of the Goddess. Mixed vegetables, aloo-phoolkopi (potato and cauliflower), panch-bhaja (five types of vegetables for deep frying) are diced to perfection and offered to the Goddess. Each vegetable plate is embellished with ingredients required for cooking dishes like mustard oil, salt, chillies and other spices. Raw fish and ingredients required for chatni (sweet and sour sauce) are also beautifully offered to the deities.
The goddess is offered only home-made sweetmeats including narkel-naru, tiler naru, moili pora and icha naru. A sweetmeat, made to resemble a lobster's head (Icha) is a special traditional dish that is a must in the menu. Another significant offering is luchi made of semolina and Kheer (condensed milk added with various dry fruits and nuts). On Dashami, Goddess is offered panta (a meal prepared by soaking rice, generally leftover, in water overnight) and shaluk-shapla (the stems of water lily) bhog.On all the four days of the Puja, 24 naibeddyaand two bhog tems are placed before the Goddess. During Sandhi Puja, 108 plates of naibeddyas are prepared.