Special panta bhog offered to Maa Durga in Bakulia House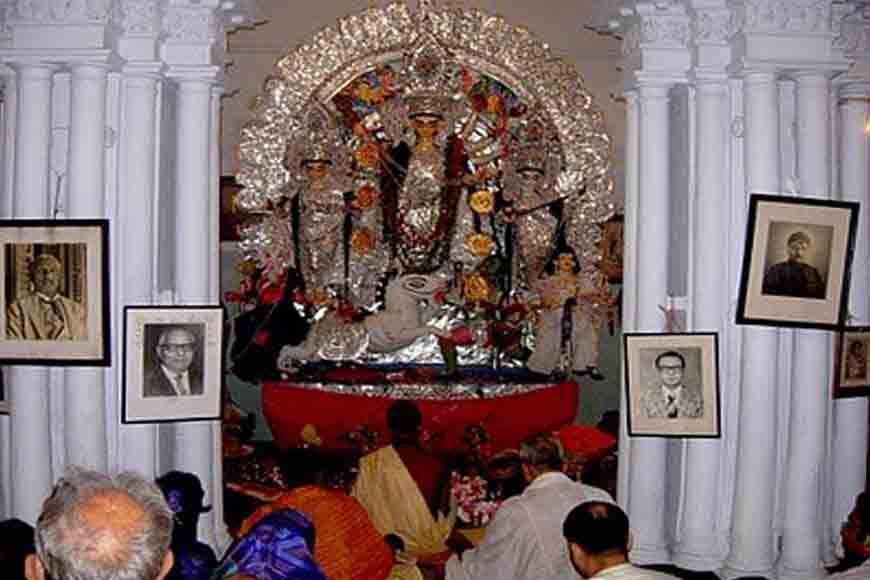 While passing down the bustling and crowded Watgunge area, one cannot miss Bakulia House, especially during Durga Puja. It was here that illustrious Bengali entrepreneur, Bishweswar Mookerjee started the Durga Puja, almost 155 years ago. Since then, for generations, artisans from Krishnanagar come over after Janmashtami to start idol-making. Prior to this, the ritual of Kathamo-pujo is performed with great fervor.
Puja is performed according to age-old family tradition that includes a variety of bhogs offered to the Goddess, from naibeddya, bhog, shetal, mishtanna and panta-prasad and each one has a specific connotation. Naibeddya comprises of rice, pulses and fruits. This offering signifies worship of the deity in the form of the Goddess of vegetation or Naba-Patrika. A simple but very tasty bhog is cooked with seasonal vegetables. Along with offering white boiled rice, khichuri of moong, arhar and Korai lentils is a speciality of the family bhog tradition. Five types of fried vegetables including potato, pointed gourd, pumpkin, coconut and bori are also on the platter. The exclusivity of the offering includes fried Porer bhaja with besan (gram flour) and Thor (banana pith or plantain stem).
Only vegetarian food items are offered to Durga on all Puja days. On Maha Saptami, the main anna-bhog is accompanied with lau-ghanto, cabbage curry, arhar dal, aloo-potol-note-shaak chochhori (green amaranth fried with potato and pointed gourd), aloo-potoler dalna and Payesh.
The Maha Ashtami menu comprises of mochar-ghanto (banana blossom curry), Maan-kochur dalna (colocasia curry), chholar dal, mixed vegetables with pumpkin, aloo-phoolkopi, panipholer kaliya (rich spicy curry made of potato, cauliflower and water caltrop and tentul-amsatto chatni (a sweet and sour cold sauce made of tamarind and mango).
On Mahanavami, the Goddess is offered Koraiyer dal, chhanchi kumro (ash gourd), Kochu shaak (taro leaves), aloo-potol-enchorer kaliya (spicy curry of potato, striped gourd and raw jackfruit), thor-bhaja (fried banana pith) and chaltar chatni. In the evenings, the Goddess is offered luchi with deep-fried seasonal vegetables, and variations of kumro (pumpkin), bandhakopi aloo, aloo-phoolkopi, aloo-potol and chhenchki (light curry). On Maha Ashtami, she is offered aloo dum(rich spicy potato gravy). Sweet dishes include payesh, kheer, curdetc. After each meal, the Goddess is served daab(water of green coconut) and paan(beetle leaf) or dry, spicy pieces of amloki(Indian gooseberry) to aid her digestion.
On Dashami, the Goddess is served panta-bhog. The sub-tropical heat in this region of the country is often unbearable during autumn and hinders digestion. So, to aid digestion after a heavy meal, locals seek refuge in cold (panta) meal. It is prepared by soaking rice, generally leftover, in water overnight. This is offered to the Goddess to cool off after heavy meals.
The offering of cooked parts of plants and various types of leaves other than traditional vegetables like kochushhak, kochu(colocasia), thor, mocha, noteyshaak(colocasia, banana pith, banana bloom etc)are symbolical as a way of expressing gratitude to Devi Shakambhari, Goddess of vegetation. Similarly, offering cereals, pulses and sugar signifies the celebration of a fresh harvest (Nobanno). Offering Narkelnaroo(coconut and jaggery dumplings) is again a thanksgiving symbol to the Goddess. Thus, the clay idol is a personification of Mother Nature and a representation of the sun-kissed, rain-drenched fertile land of the region.