Kolkata Tramways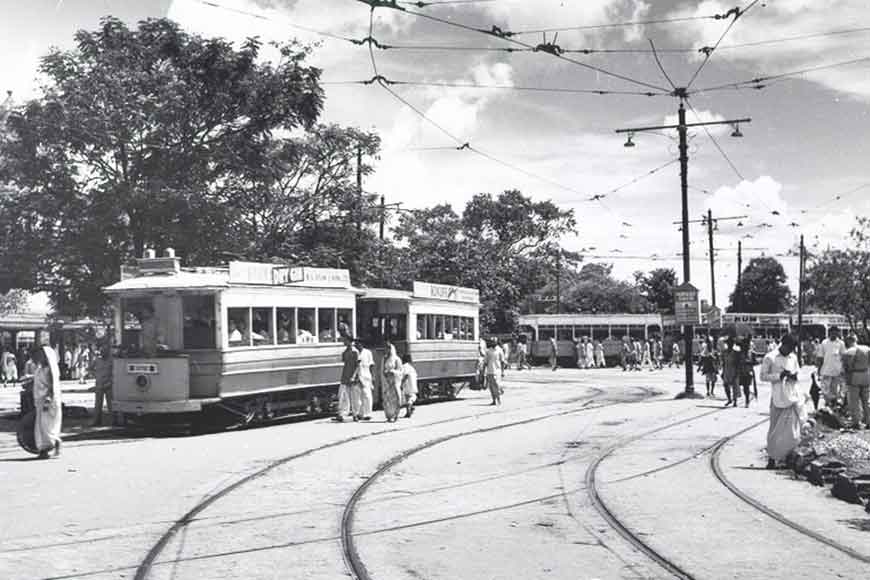 The day is not very far away when the 24/29 number tram service will meander through the lush green maidan along race course, navigate the busy Dalhousie streets and probably travel for the last time into the BBD Bagh depot into oblivion. The thought of Kolkata without these harmless, pollution free lazy rides hurts.
'We want to add a wing to the City of Joy, and that wing is motion'. This was the copy of a series of advertisements designed by poet-artist Purnendu Patri while tunnels were dug for metro railway construction. Each layout carried either an image of old Calcutta structure or a picture from Kalighat Pat painting to convey a very simple the message that, we can add motion to the city without ignoring the cultural heritage, our old city.
Tram service in Kolkata was initiated from 24th February, 1873.Old trams driven by horses used to travel from Sealdah to Armenian ghat then. That was not the era of advertisement but the intention was clear. It was adding up motion to the old city. Twenty seven years after the first tram service was launched, Kolkata trams began running on electricity. More than hundred years passed since then and Kolkata tram service is still here, carrying the nostalgia.
From 19th century onwards, till the middle of the 20th century, Tram route map had been expanded in undivided India. Small cities then like Mumbai, Delhi, Chennai, Karachi, Nasik, Patna and Kanpur became a part of it. But during 1960s, Indian government started considering tram as a slow-motion vehicle and within a few years, tram services had been completely withdrawn from all Indian cities, except Kolkata.
There is a reason why history of tram service in Kolkata is being discussed here. An important piece of the city's heritage is on the brink of extinction. But what exactly has worsened the condition?
Tram service first started in the London city during 1807. In Britain, electric tram service was initiated in 1885 by Blackpool tramway. The route still exists. India initiated to abolish tram service with the underground metro rail service in mind though experts were not convinced with the logic. Busiest cities in the world did not abandon tram. London is carrying tram service for 200 years now, though it started underground tube service 90 years ago. Same holds good for other metropolitan cities like Paris, Los Angeles, Moscow, Berlin, Rome, Melbourne etc.
A recent study regarding the tram service in the world shows, Germany has at least 60 active tram routes, America has 35, France has 18, Japan has 16, Poland has 15, Britain has 10 and China 9. There are many more cities in the whole world, in which tramway services are actively available. Surprisingly, at least 15 countries, which had abolished tram service in the past like India, are reviving it. Those countries include Argentina, Algeria, North Korea, Turkey, Peru etc. Increasingly, more and more countries are taking initiative to start tramway service sooner or later. Dubai, Israel and Taiwan have already started tramway service. As a transport system, tram is environment-friendly, well controlled and inexpensive, can be run with much lesser cost than the underground metro. Considering those conditions, at least 10 countries will expand their tramway service route within next 5 years. Besides America, there are first world countries like Australia, Belgium, Sweden, Denmark etc which are going to launch tram service. India preferred to take an opposite view of the situation for the past 50 years.
In 1960s, tram service from Howrah was stopped by Prafulla Chandra Sen. When coalition front came to power, the then deputy chief minister cum finance minister Jyoti Basu had turned British tram service into state run organization. When the left front came to power, tram route was extended up to Ultodanga and Joka, but as a whole no initiative was taken for the betterment of the service. When Mamata Banerjee vowed to turn Kolkata into London, it was thought that a better version of the present tramway service will be launched. But alas! Garfa tram depot and half of the Tollygunge tram depot have been sold to the local businessmen. Tram has always been regarded as a secondary, less important transport system. When underground metro service was started from Esplanade to Tollygunge, Prashanta Shur proposed to abolish the existing tram route there, which was opposed by the then transport minister Robin Mukherjee. When Subhash Chakraborty became transport minister of West Bengal, he proposed to sell the Rabindra Sarobar land and Tollygunge tram depot to local businessmen. It was opposed from within the left front. Mamata Banerjee herself was on the streets to protest against this proposal!
Tram service is the pride of this city. People of the city have been an integral part of this transport system. It's sad our decision makers have overlooked the worldwide map of the tramway service however much they want to adapt to the developmental model of the first world countries.
It is now left to the people of Kolkata and their demand to restore , sustain and move forward with this mode of transport.