Uday Shankar's experimental movie Kalpana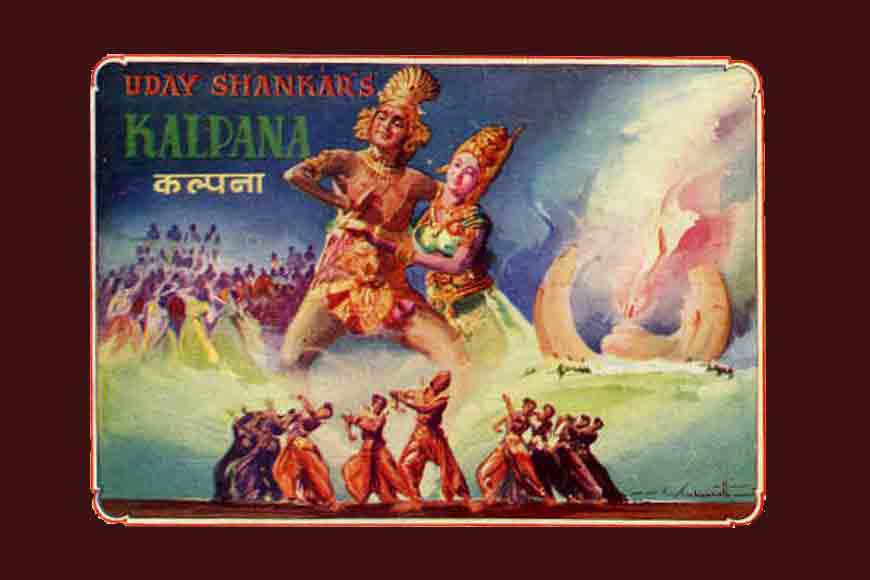 When a movie is presented through a prism of dance and that too a year after India's in-dependence, one wonders who was the talented gem and choreographer of a movie that was in reality an extended dance drama! Kalpana was perhaps the only experimental movie telling a story through various dance forms ever made in India and none other than Uday Shankar could have dared to do it. Kalpana was a mix of varied dances forms, from simple folk dance, Kathakali-based creative movement, classical dance, and modern dance based on social themes. Shankar's style in the movie was influenced by postures and movements of dance forms from Kerala, particularly Kathakali.
Uday Shankar had connections with Kathakali guru Shankaran Namboodiri. The unparal-leled facial control of Kathakali was however simplified by Shankar. According to scholar Ruth Abrahams, Shankar was exposed to Kathakali on his tour of India around 1930 to observe Indian dance forms and create an all-Indian company of dancers and mu-sicians. The first major work Shankar choreographed after his training in Kathakali was Tandava Nritya. In an interview, Shankar once said that he generally avoided using mudras to communicate meaning, because he felt the meaning could instead be shown through the entire moving body.
Uday Shankar also focussed on qualities of psychological preparation needed for impend-ing confrontation. Based on just a few elemental Kathakali movements taught to Shankar by Namboodiri, he brought in a touch of spiritualism, never found in Indian choreogra-phy. Shankar used a story-within-a-story narrative and advocated his vision of a nation, moving towards a future while remaining tethered to its roots. The story of Kalpana revolves around an elderly gentleman who spins a wondrous yarn about Udayan (played by Shankar), who single-mindedly pursues his dream of setting up an arts academy that will liberate victims of an educational system and reconnect them with their artistic traditions. Udayan's journey is told through several elaborately choreographed sequences. Kalpana appears to have been Shankar's response to the closing of the arts academy that he set up in Almora in Uttarakhand in 1938. Money, or rather the lack of it, is a recurrent theme in Kalpana just like it did repeatedly in Uday Shankar's life too.
Kalpana presents his vision for an alternative education system that will forge a better race of citizens. Kalpana's opening titles assert that all the musical instruments used on the soundtrack are Indian, and it is hopeful of being 'worthy of India's cultural heritage.' The emphasis is on synthesising modern and Indian attitudes and behaviours as well as in taking pride in local traditions.
At a second fund-raiser, the arts school's students showcase the diversity of Indian dance styles to an audience that includes clueless royals and wide-eyed commoners. The royals' collective response, which is being relayed live by radio, is measured on a scale whose top reactions range from 'ecstasy' to 'maddening' to 'sex appeal.' Kalpana's negative was restored a few years ago by the World Cinema Foundation on the recommendation of Shivendra Singh Dungarpur, the filmmaker and founder of the non-profit organisation Film Heritage Foundation. The restored version is stored at the National Film Archive of India in Pune.