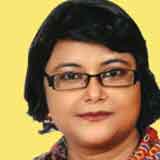 Walking down Andul Rajbari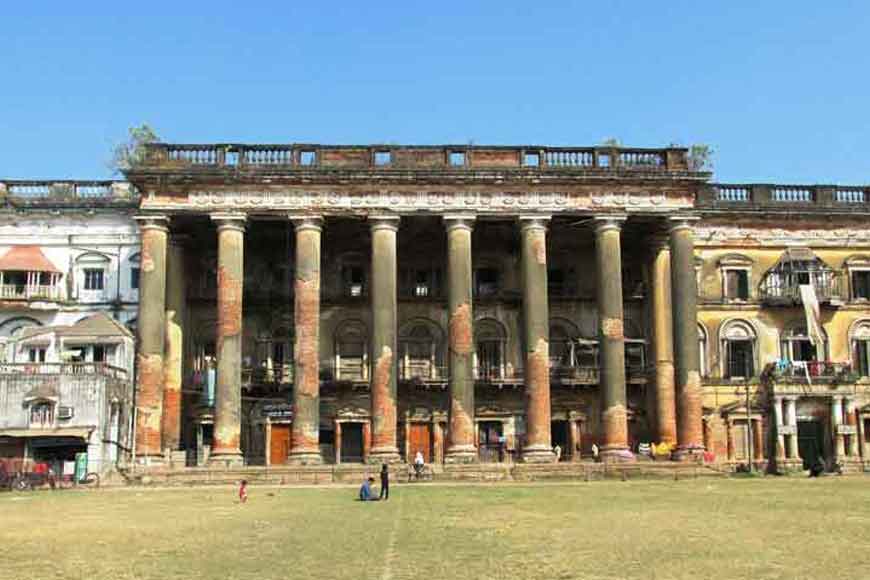 People like me, who are fond of travelling, any time of the year, are always on the look-out for getaways for weekend trips. A short trip is often organised at quaint places and West Bengal surely is dotted with such beautiful destinations -- some are heritage sites and others beckon with their beautiful natural scenic attraction. One fine day, I suddenly decided to delve into the historical past of Howrah district and landed up in Andul,to walk around the Rajbari(palace), established way back in1834 by Roybahadur Raja Rajnarayan.
If you go by road, you drive past a small town called Mourigram and soon after reach Andul. The town seems to attract visitors with its glorious past. The monumental palace is worn out, but one cannot say it is dilapidated. Despite the ravages of time, one can still imagine how impressive and beautiful this vast palace was once upon a time. As you walk through its courtyard, you can feel the pulse of a bygone era and encounter history first-hand.
Locals informed, the famous period film, Saheb-Biwi-Ghulam was shot here. That is quite possible because the palace thrived amid opulence. They proudly informedof other full-length movies that were also shot there. The palace is now a heritage site. I was told the river Saraswati used to flow and kiss its courtyard, butnow the river has receded into oblivion and replaced by a vast open ground in front of the palace. During winter, one can enjoy a lovely afternoon, relaxing on the palace grounds chatting with friends.
While strolling outside the palace, I came across a tablet that said the Rajbari was established in 1834 by Raja Rajnarayan Roybahadur. Every palace is a treasure-trove of historical facts, mingled with unique legends and tales. I heard some of them. Entering the palace, one comes across a small courtyard, surrounded by tall and magnificent pillars. Many people still dwell here but they seemed reluctant to chat or share information about the palace.
So, I sauntered around and indulged in time travel. I reverted two centuries back to the era of the Raj. Now, that the palace has been declared a heritage building, we can hope that efforts will be made to restore its past glory. Near the entrance of the Rajbari,is the sanctum sanctorum of Goddess Annapurna. It is a beautiful temple, and close to it stands an ancient canon. The priest told me, in the past bulls were sacrificed as offerings to the goddess. The canon would be fired the moment a bull was beheaded. The sound would alert all residents of Andul. The main rituals of the puja would then begin. The Annapurna temple is flanked by temples of Shiva on both sides. Many locals sat on the courtyard languidly. They advised me to visit the house of the DuttaChoudhurys' and the Kundus.' They were also local zamindars (landlords) and notable residents of Andul.
At the DuttaChoudhury residence, I saw their 400-year-old Durga temple. Renovation work was on in full swing and from what I could figure out, the ancient architecture and filigree work was being replaced by masons who, I was told, could not reproduce replicas to match the original form. So, it is best not to look for signs of the original ancient structure. I also visited the Kundus' house. Their property has been better managed and they have been able to preserve the heritage structure. All said and done, locals of Andul have something to fall back on. After all, this place is steeped in culture and history.
Despite multiple theories about the origin of its name, Andul can very well be your next weekend destination and you will not be disappointed if you venture there.It takes about an hour-and-a-half to reach Andul by road. Once there, ask any local and you will be directed to the palace. There are direct trains from Howrah to Andul and rickshaws to take you to the Rajbari.