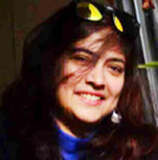 Watch this first of its kind 'protest dance platform'of Kolkata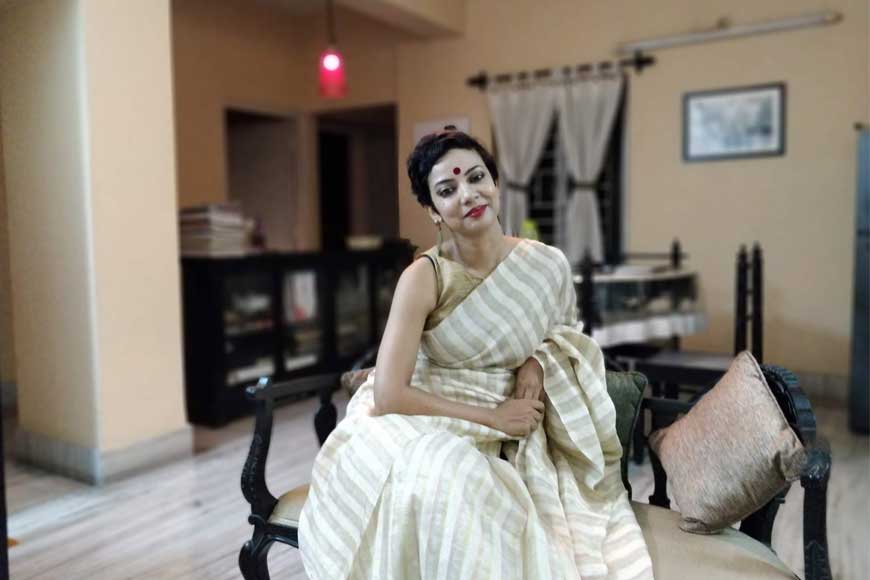 Paramita Saha of Kolkata has been instrumental in bringing a series of protest dance musings and movements to the city across a variety of venues through At the Still Point by Artsforward. The events are unusual in content or context and contributes to contemporary relevant social and political discourse. Beyond performances the initiative curates talks, screenings, interactions and other possible ways of interacting with art/dance lovers of Kolkata. Saheli Mitra speaks to Paramita Saha about this form of art.
• Why did you think of starting Artsforward in Kolkata?
Artsforward connects artists to businesses, usually considered very averse to each other. The point remains that the arts need to be supported and businesses need new ideas, so this is a great way to collaborate and bring forth new experiences for the community. Kolkata is where everything started right through history. So why not in this city!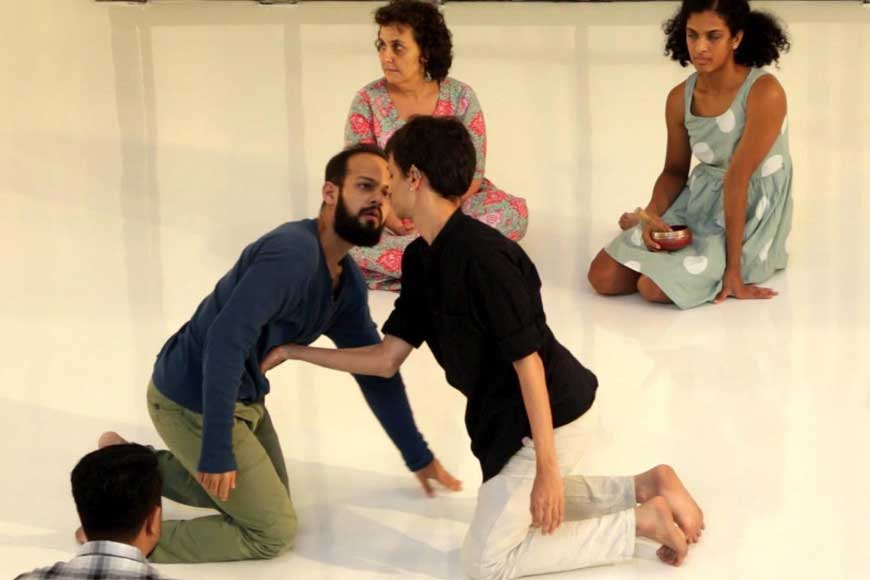 Rorschach Touch by Diya Naidu
• Does this city inspire you and your team? Or is it that you feel any city of India would be as receptive to such innovative ideas?
Yes, the diversity, the madness, the pace, the quietude of this city, they inspire... Any city of the world is usually receptive to art forms.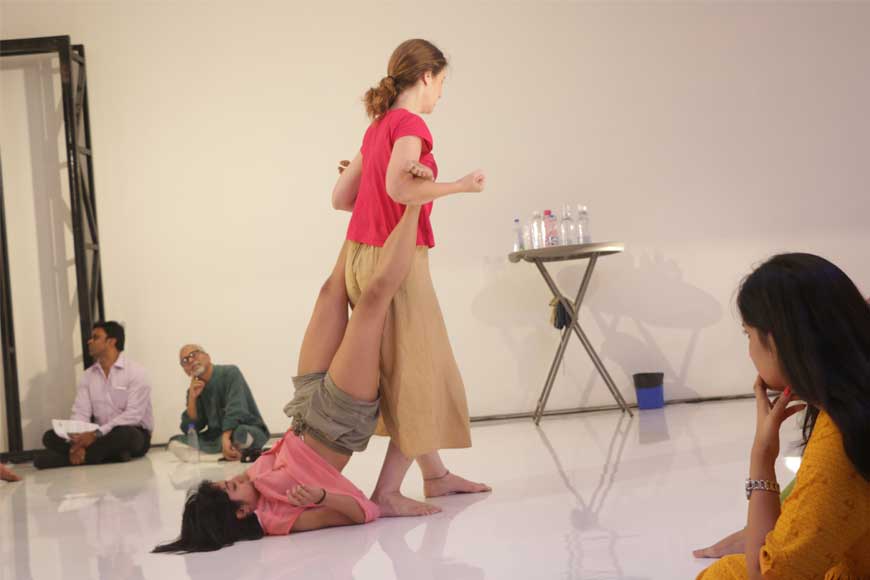 Rorschach Touch by Diya Naidu
• India is now considered to be one of the unsafe countries for women, and Bengal is a topper in the list of domestic violence. How do you think creative art form can bring a difference to these statistics?
The violence of patriarchy upon the female body, the violence of apathy in this context and the violence of class and caste in the context of gender are all concerns that are being explored through artistic mediums across the world. Choreographer Diya Naidu's 'Rorschach Touch' approaches tactile human interaction in its several shades and manifestations. In our lives, violence occurs both subtly and obviously. So here violence can be seen in its nuanced forms along with tenderness, curiosity, hesitation, ambiguity and myriad human tendencies.
• You have spoken of homosexuality and we assume you refer to the LGBTQ community. How does Artsforward work with them?
Artsforward presented Queen Size last year, an iconic piece, a response to section 377 of the Indian Penal Code that criminalises homosexuality in India. Queen-size is a choreographic exploration, that takes the form of a detailed study of the intimacy between two men. Played out on a charpoy, the duet examines the nuts and bolts – carnal, mechanical and emotional – of a close encounter between two male bodies. In deliberately making this encounter visible, Queen-size poses questions around spectatorship, privacy and dissent. The work has been triggered by Nishit Saran's article titled 'Why My Bedroom Habits Are Your Business,' first published in the Indian Express in January 2000.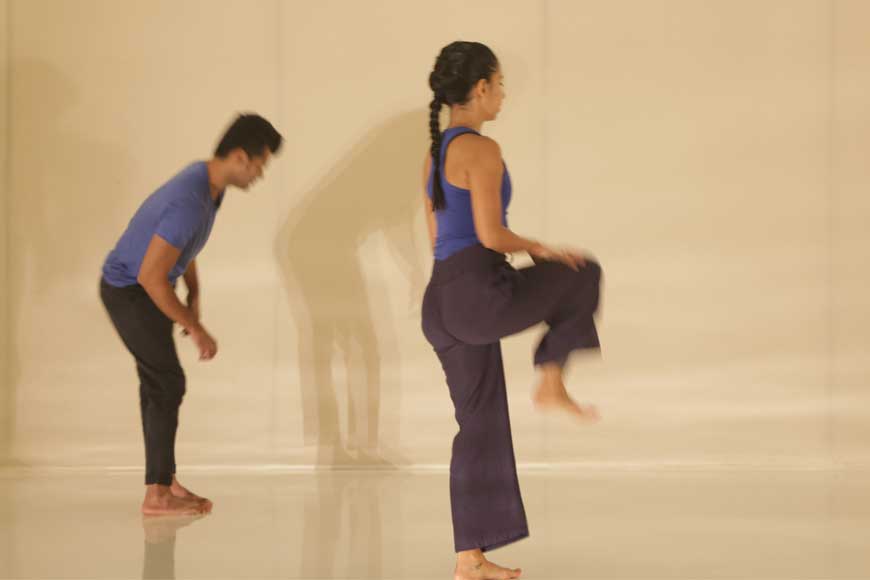 Say, What by Avantika Bahl
Artsforward also chooses to bring work that is unique in its own way and can touch myriad audiences. Like Avantika Bahl's Say, What is? with hearing impaired dancer, that creates a totally new vision for the audience to decipher.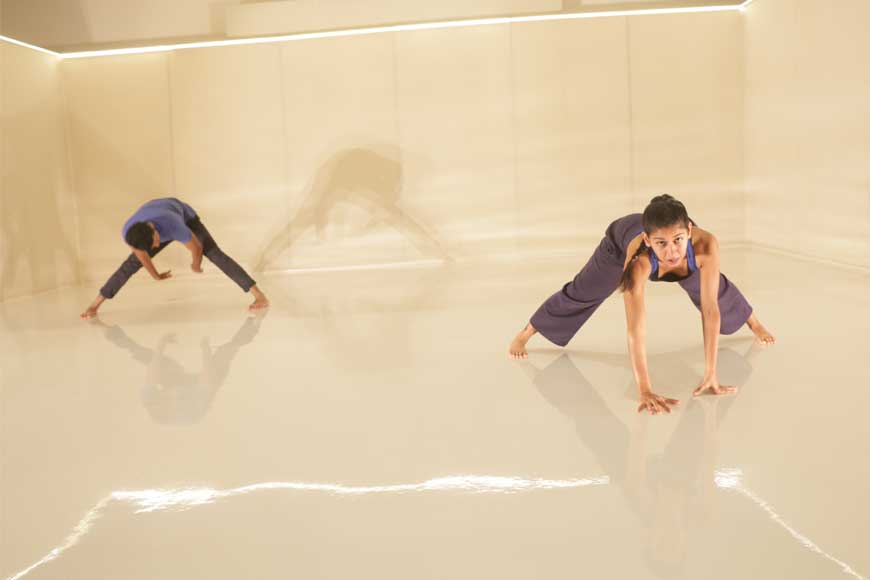 Say, What by Avantika Bahl
• If asked to make a choice: Poetry/ dance... Protests/ Art against social atrocities, which would you choose and why?
All. The more the merrier. One thing is never enough against the powers that keep us down. Such performances organically turn into a conversation with the audience.
Say, What by Avantika Bahl
• Any plans for new projects in Bengal, specially rural Bengal?
More and more work with the youth is the plan. They are our future anytime.