When Maa Durga's lion was rehearsing his role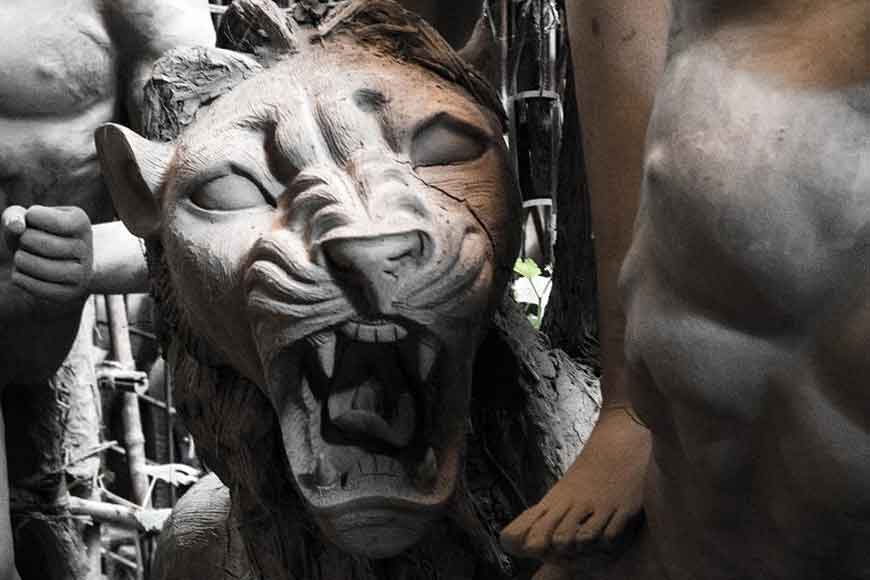 Rehearsals are in full swing to perfect the lion's scary countenance and recreate the booming roar that reverberates when the monarch of the jungle chases its prey. Time for decorating the piece de resistance of the annual jamboree, the lion.Ratha yatra heralds in preparations for Goddess Durga's annual visit to her earthly abode. Her vahana (animal vehicle), the lion is given the cue to gear up for the show.The Asura has to be taught a lesson. Artisans at Kumortuli get frantically busy, giving final touches to the huge installations, depicting the royal battle between Goddess Durga and the villain, Mahishasura. Everything has to be completed before the scheduled date of the Puja, which is just lurking, round the corner.
Goddess Durga is shown mounted on a lion. The lion looks rather fearsome, like the ones you come across on African safaris. Previously, the traditional clay potters who conceived the idols, followed the style of the Dash-Avatar cards or as Nrisingha Avatar depicted in terracotta sculptures on temple walls where the lion resembles a horse. Things changed with the advent of British in India. The British constructed spacious, colonial buildings, embellished with realistic figurines in Greco-Roman style. Local artisans witnessed the regal figures of lions adorning the gates of the Raj Bhavan majestically. They were struck by the novelty and decided to experiment and create something similar. These immensely talented artisans, soon discarded the meek horse-faced lions to create the majestic African lion's muscular body with its intimidating look, using straw and clay. But they did not stop there.
Experimenting with forms have become an integral part of the sculpting process. As times change, so do forms. Old forms are discarded or replaced by contemporary ones to suit the taste of the times. More emphasis is put on delineating facial expressions in detail. Work continues in frenzied pace as time draws closer to the final curtain-call for the carnival to begin.
Goddess Chandika transforms into Mahish-mardini (the killer of the demon Mahish), adorned by Ashta-Nayikason eight corners. She puts her right foot on the lion's back and the left on the Mahish'sback, she holds Mahishasur's mane with her leftpalm and uses her right hand to pierce the trident on his chest. Should we all wait for the day when Hollywood's Lion Kingwill rule the lanes of Kumartuli?