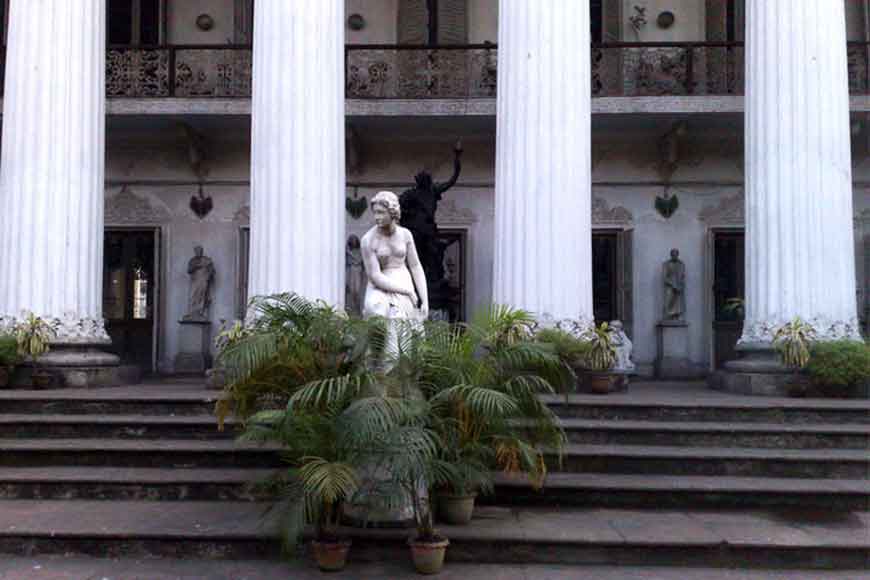 During British Raj, rich Calcuttans developed a fetish for importing marble sculptures of Venus. Hindu widows thought Venus was a new powerful goddess, similar to Goddess Durga. Or else, they argued, why would there be a sudden rush for the new Venus Devi? Members of Young Bengal often floated novel interpretations of existing deities. They announced Venus was like Lakshmi who originated from the seas. Like her, Venus statutes, arrived in the city through the sea route. Goddess Lakshmi holds shells in her hand, while Venus was born in a sea shell. Thus, Venus found a sanctity of sorts among traditional Hindus who began to consider her as Lakshmi's younger sibling. But a glance at her semi-nude sculpture was enough to scandalize locals. They were confused. After all, Venus originates in Greece, but her lascivious countenance and semi-nude posture could in no way impress natives to consider her as a goddess.
Marble statutes of Venus were installed in the middle of sprawling gardens, in drawing rooms of rich aristocrats, on staircase, under springs or amid verdant nature. Venus became a symbol of aristocratic taste and initiated a mad scramble for procuring and displaying these statutes. The moment a zamindar installed a Venus in his garden, another Babu would place an order to install it in his study. The competition got tough with time.
Was this demand for Venus a mere fulfillment of the erstwhile Babus' sexual desire for the perfect, female nude body or was it something else? By then indigenous businessmen became aware of the British and other Europeans expanding business territories in India. So, they decided to reverse the trend and venture in the West to set up business there. The fear of Kala-Pani could not deter these determined lot who were even willing to marry European girls and settle abroad and conduct their business. So, it was imperative they showed respect and obeisance to the European Lakshmi and seek her blessings for their ventures in the West. Thus, Venus sculptures were imported to India to homogenize the deity.
Even today, marble sculptures of Venus can be traced amid unkempt bushes, left in total negligence. Perhaps counting her days till the days of yore are revived by some magic.
Original Article written by Debdutta Gupta
on
www.bongodroshon.com
Translated by