Why was Saraswati Puja celebrated in brothels of old Kolkata?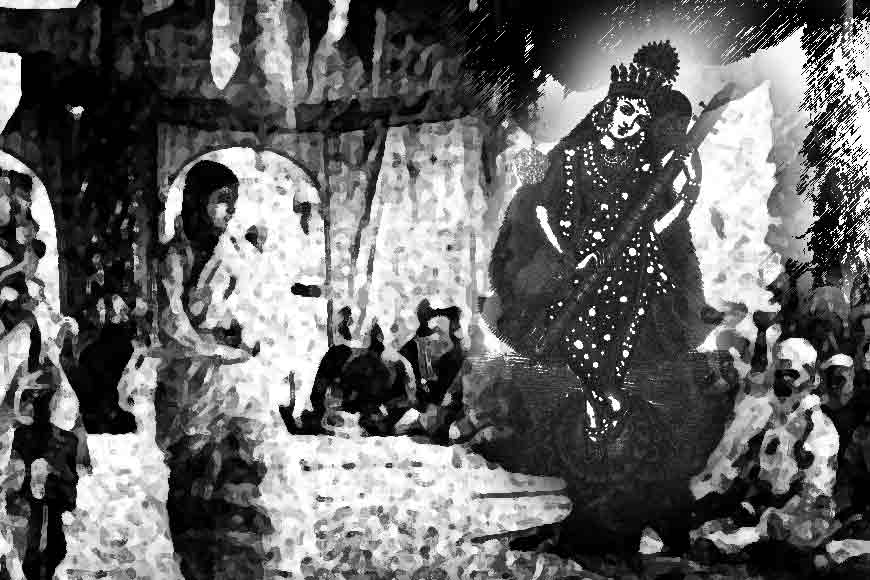 If today's Bengal celebrates Saraswati Puja as Valentines Day, even a century back this pujo belonged to the brothels visited by the babus of Kolkata. This was in no way related to the Bangali bhodrolok para. Saraswati Puja was not an affair of a regular household or of schools and colleges. Saraswati was eulogized more in the forbidden territories of Bengal.
Choushotti kola used to be practiced before worshipping Kamdev. The practice of these art forms began on the very day of Saraswati Puja. Thus the brothels had to be decked up in the grandeur of festivities. Preparations and fun-frolic started days before the puja. Be it dance, music or Jatra- the cultural activities used to be at its peak during this Puja. If you walked through the areas, you would be welcomed by the aroma of belphool, hear tingling of wine glasses and hordes of babus of Kolkata roaming about in mayurpuccho dhoti splurging money on the Puja celebrations. It was not from their devotion for Goddess Saraswati, but they did everything possible to win the hearts of their mistresses who actually worshipped the Goddess.
Be it Halsibagan, Rambagan, Sonagachi, babus of Kolkata and their friends and associates celebrated Saraswati Puja in the nishiddho pallis with great pomp. As author Bankim Chandra Chattopadhyay had mentioned: "One would only qualify as a babu, if he did Durga puja for the sake of celebrations, Laksmi Puja to keep his wife's request and Saraswati Puja to win the heart of his beloved mistress." This was also the time when 'nath bhanga' custom was practiced. On Shukla Panchami night young virgin girls were for the first time introduced to the babus.
However, other than the brothels, there were some famous families too who celebrated Saraswati Puja in those days. Maharashi Debendranath Tagore used to celebrate Saraswati pujo in an extravagant way before he took up the Bramho religion. Later, those like Ramchand Sil, B.K Pal and others also held pujas at their homes. Saraswati Puja at Ramchand Sil's house was unconventional with the idol holding a silver beena and surrounded by other associates on both sides and did not have swan as the bahon. Today, Saraswati Pujo is just confined to the worship of the goddess of knowledge. But it was so different in the old Kolkata.