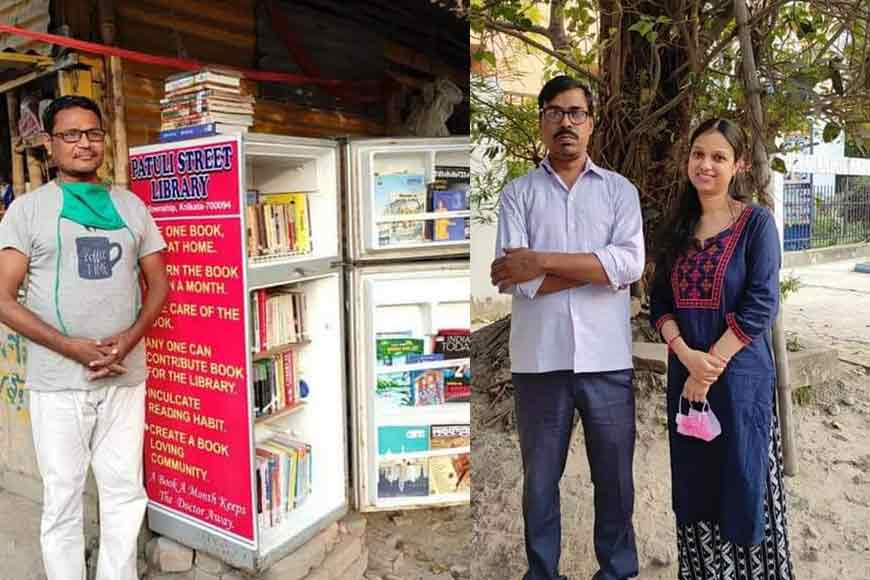 An old fridge outside a grocery store in Patuli. You might think it stores the cool colas on a hot summer noon. But a closer look, and lo behold! A message reads aloud: 'inculcate reading habits' and 'create a book loving community.' This is a free Fridge Library of Kolkata, a model that will soon be replicated elsewhere. The fridge is stocked with a variety of books and any avid reader can borrow books.
The old double door refrigerator stands adjacent to the gate of Dinabandhu Andrews Institute of Technology and Management, with 100 books neatly stacked in. More can be found inside the small shop made of aluminium sheets. From dictionary to novels and even literary magazines in both English and Bengali, the collection is indexed with handwritten numbers. But who was behind the idea?

Two teachers, Kalidas and Kumkum Haldar, who wanted to do something meaningful seeing how children's academic development and growth have been affected by the COVID-19 pandemic, with most staying at home sitting in front of computer screens all day. 'I wanted to start something meaningful in such trying times and wondered how it can be done. Children these days spend far too much time hooked to mobile phones and it's important for them to read and open the window of their minds,' Haldar said.
To start the project, the duo approached Tarapad Kanhar, whose shop is right across the street from his house. They wanted a shop near a college, park or main bazaar, to attract attention. But why a fridge? 'I was looking for something that wouldn't need much space as well as keep books safe all year round. It's covered and I don't have to worry about keeping the books safe in the monsoon,' said high school teacher Haldar. Initially Rs 45,000 was spent to purchase a big collection of Bengali books and build some racks to store them. Now they have nearly 900 and everyday people are coming forward to donate books.
Initially many were skeptical that books might be stolen. But it was just opposite. Those who borrowed books, came back with old books to donate them. From religious books given by the elderly to children's books given by parents of children who no longer need them, the project has now turned into a hit. Pictures of the fridge-bookshelf has now gone viral, and calls are coming from different parts of the city as well as India to contribute to this super innovative library. So now the model can be recreated in different locations if more books flow in. After all there is no other joy than to spread the joy of knowledge.
Image Courtesy : https://twitter.com/VisionHistory