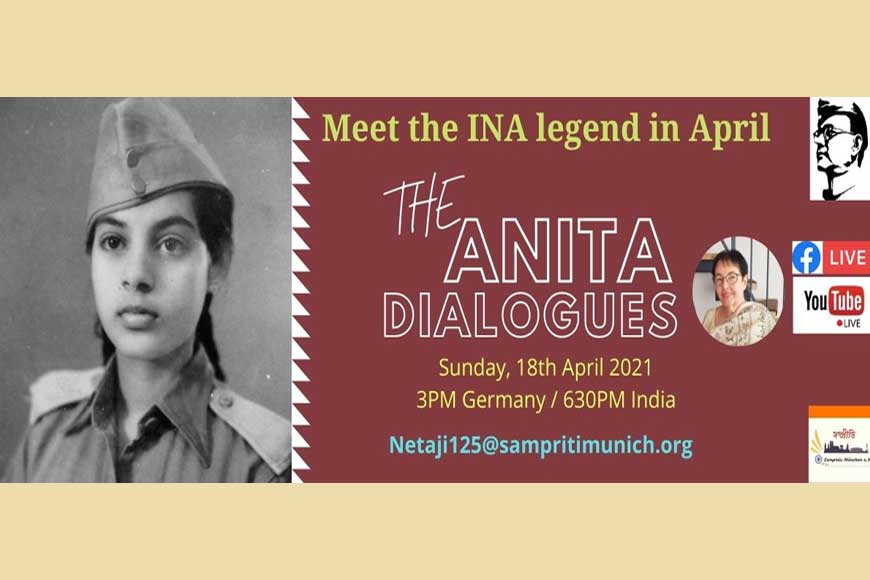 On April 14, 1944, Netaji Subhas Chandra Bose's Indian National Army (INA) hoisted the Indian tricolour on Indian soil for the second time. The venue was Moirang, a small town in Manipur, approximately 45 km from the state capital Imphal, and doing the honours was Col. Shaukat Malik of the INA. The first time the flag had been raised was on December 30, 1943, when Netaji himself unfurled it at Gymkhana Club in Port Blair, Andaman and Nicobar Islands.
The INA's activities lie at the heart of the third edition of 'The Anita Dialogues', a series of monthly conversations with Netaji's daughter Dr Anita Bose Pfaff, aired on YouTube and conducted by Sampriti, an organisation of Bengalis in Germany, to mark the 125th year of Netaji's birth. The conversations, which will continue until February 2022, are being moderated by the Sampriti's founder and current president, Shaibal Giri.

The latest episode of 'The Anita Dialogues' is made truly special by the presence of Lt. Asha Sahay, or Bharati Choudhry as she was known post-marriage, of the Rani of Jhansi regiment, the women's wing of the INA. Now 93 and living in Patna, Mrs Choudhry provides invaluable insights into the workings of the INA and her experiences of meeting Netaji.
Daughter of renowned freedom fighter Anand Mohan Sahay and Deshbandhu Chittaranjan Das' niece Sati Sen Sahay, Asha/Bharati was born in Kobe, Japan, at a time when Rashbehari Bose was actively championing the cause of India's independence in Tokyo. And she remained in Japan until her graduation from college. "Netaji visited Japan in 1943, and my mother asked him if he had any use for me in his army. Accordingly, I travelled first to Singapore and then Bangkok, where I was appointed sub-lieutenant and later promoted to lieutenant," Mrs Choudhry says.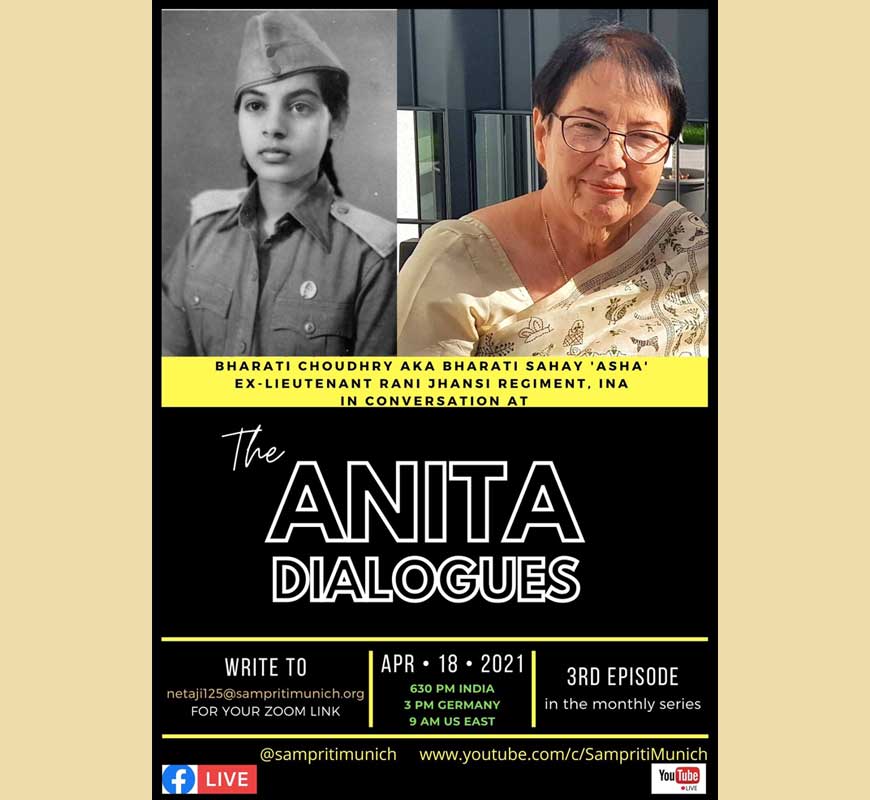 Before that, however, came the meeting with Netaji in Japan itself. "His visit was supposed to be top secret, but we knew about it," says Mrs Choudhry. "He said I could join the INA when I grew up!"
In 1945, the young Asha joined the Rani of Jhansi Regiment (still the only all-women regiment in the world in modern times). And it proved to be a serious job, as she was trained in the use of weapons, hand to hand combat, and eventually led her platoon into war as a young lieutenant. However, she and her comrades had to retreat from Burma back to Bangkok, along with the retreating INA. Interned in Bangkok by the Allied occupation forces, Bharati came to India in 1946 with her father and uncle (Satyadev Sahay, director of the INA Intelligence Department), when they were finally released by the British.
These and many more stories, known and unknown, come up during the more than hour-long discussion. Tune in now to find out for yourself.